When the weather turns warm, festival season kicks off in Sydney. From large annual events such as Sculpture by the Sea, Art & About and the Vivid Festival to smaller initiatives like Laneways by George! Hidden Networks, temporary art and design installations have become a particularly popular way to stimulate interest, curiosity and play in previously underused urban spaces.
The most recent of these initiatives, Street Works, consisted of an interdisciplinary design competition organized by the Australian Institute of Landscape Architects. Calling for entrants to "reimagine spaces in the City of Sydney as dynamic, innovative and sustainable temporary public places," the competition attracted a total of sixty-seven entries from international teams. Five winning proposals were selected by a design jury to be installed throughout the Sydney CBD in October and November 2011.
Street Works was conceived as a pedestrian walking trail marked by a series of bright pink dots placed in some of Sydney's busiest CBD precincts, including Circular Quay, George Street and Haymarket, with the trail concluding in Redfern. The five winning submissions functioned as punctuation points along the walk, offering opportunities for the public to immerse themselves in a variety of participatory experiences and to explore various themes concerning urban sustainability and the nature of human connection to the city.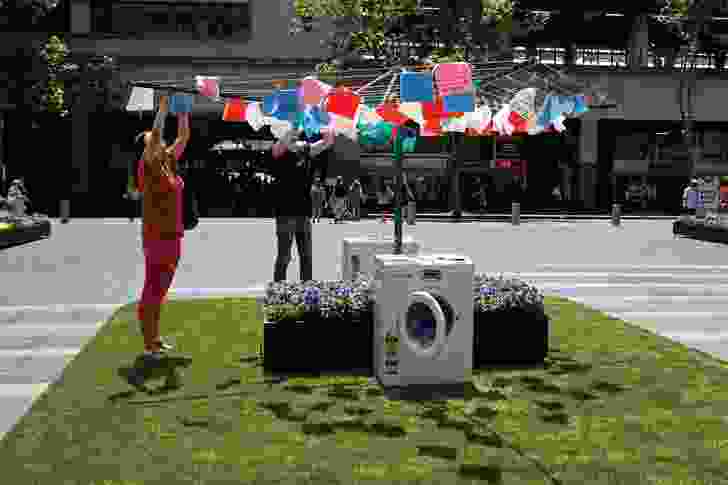 In particular, themes of humour, curiosity and discovery played a central role in many of the winning submissions. Jess Miley's entry Sydney! There's something I've been meaning to tell you, located at the Customs House forecourt, marked the beginning of the walk. Consisting of a pop-up outdoors laundromat complete with washing machines and Hills hoist, the work encouraged people to anonymously write down their secrets or "dirty laundry" on napkins, which were then hung out for public airing.
The idea that people's individual stories make up the collective social life of the city is not a new concept, but it is still a powerful one. The absurdity of the laundromat – traditionally a space that hovers on the border of public and private domains – was a particularly clever way to break down the public masks that most people employ when navigating through impersonal urban life.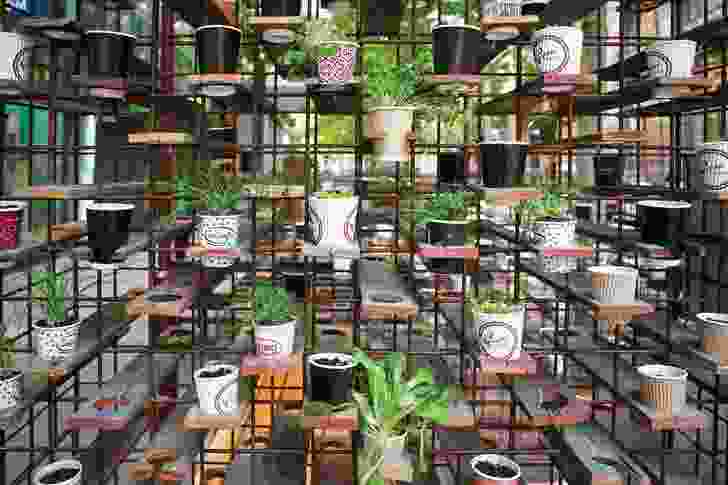 In contrast, Green is Gold presented a more subtle visual presence in a small city square in Barrack Street. Designed by a student team from the University of New South Wales, the installation draws awareness to the wasteful consumption of non-recyclable coffee cups by inviting the public to reuse them as pots in a green wall of planted herbs.
According to observers, some of these coffee-cup herbs have since been "adopted" by passing pedestrians, possibly an unintended effect, but rather poignant when imagined as a series of herb colonies travelling across Sydney to become established in more spacious locales.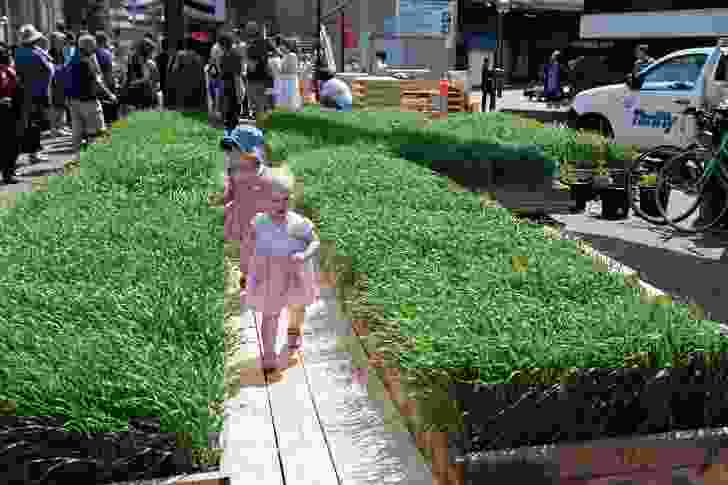 Also drawing upon the idea of urban agriculture was Beerline from Barley to the Bottle – the largest and most ambitious of the Street Works entries. Developed by Delia Ngay, Luke Wolstencroft and Glenn McIntosh, the work references the brewery and grain industries that once contributed to the streetlife of Haymarket, reproducing in miniature the agricultural and manufacturing processes involved in the creation of beer.
The project cleverly incorporated time and process as an integral part of the installation, with a planted expanse of bright green barley morphing into a public display of brewing and fermentation processes, followed by the climax – a party involving five hundred bottles of Haymarket's own brew.
The project was successful on several different levels, most visibly because of the flash of planted green and much-needed timber seating that had been added to a usually hot and bare public space, but also because it opened eyes to the complex processes and manufacturing chains that underlie even the most innocent of products.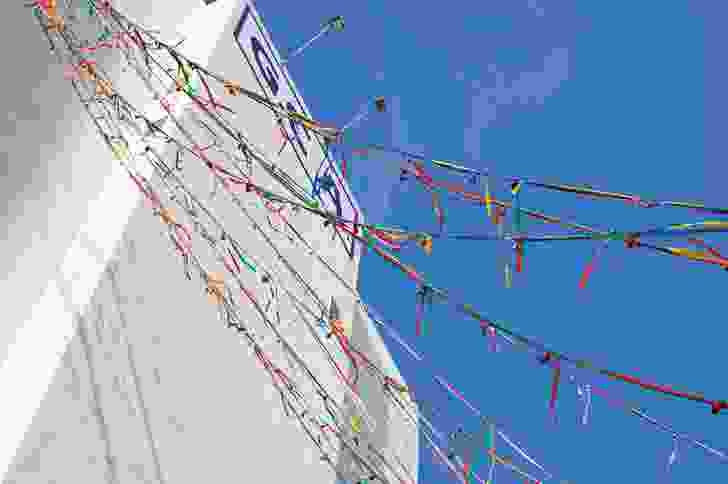 In contrast to the participatory focus of many of the schemes, Kristi Park's Urban Waterfall presented a more hands-off, sculptural and sensory response to the brief. Comprising long streams of moving flagging tape highlighted by solar-powered spotlights, the installation was designed to provoke a sense of awareness about the urban setting and to suggest transformation through the constant movements of wind, colour, light and shadow within the installation.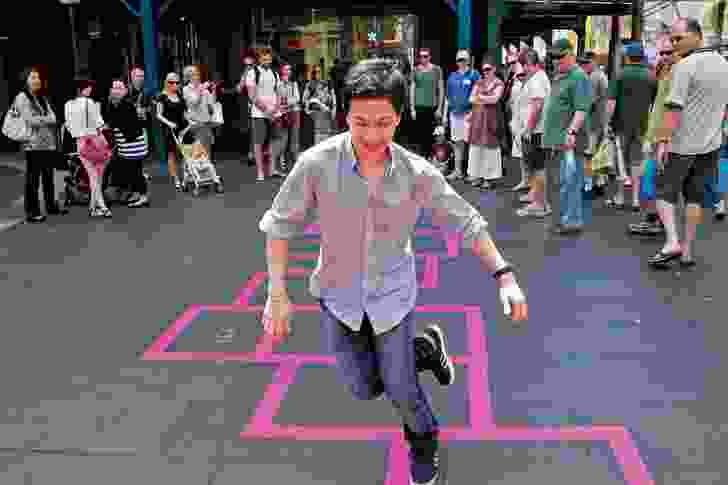 Finally, an entry developed by Timothy Muhlebach, Stephen Tan, Pe Yang Teng and Gerhana Waty provided an important connective link between the Street Works installations. A simple and effective device, Walk the Line comprised a linear trail of pink connective dots punctuated by a series of game boards painted on pathways, stairs and other urban surfaces.
While most of these game boards were too abstract or subtle in design to encourage overt play and participation (with the exception of the universally understood hopscotch), the arresting pink colour and treasure-hunt format of the connective dots stimulated a sense of intrigue and linkage that became vital to the collective understanding of the Street Works idea.
Street Works has certainly taken its place within the new wave of public events that have sought to reclaim Sydney's streets as essentially human places. As urban theorist Charles Landry1 writes, "Cities have one crucial resource – their people. Human cleverness, desires, motivations, imagination and creativity are replacing location, natural resources and market access as urban resources."
The continued focus of attention upon the beauty and diversity found at the human scale, such as that found in Street Works, represents an important step towards the revitalization of urban space.
Streetworks was on display at various sites around Sydney, New South Wales, from 21 October 2011 to 15 January 2012.
1. C. Landry, The Creative City: A Toolkit for Urban Innovators (London: Earthscan, 2000).
Source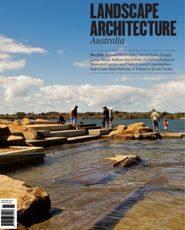 Issue
Landscape Architecture Australia, February 2012
Related topics