JURY CITATION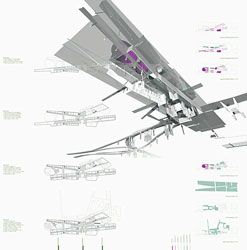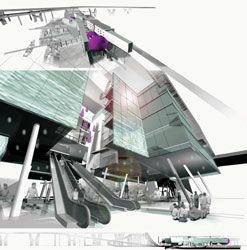 This scheme was distinguished by a particularly principled mission statement which established reassuring objectives.
The challenge as identified by the student is to create meaningful and moral public spaces in a city that is presently spiralling into over-development. It is an [nobr]even-handed[/nobr] presentation involving both thorough primary analysis of the existing Singaporean conditions and an elegant proposal to reinforce the cultural life of the city. It provides an alternative to the contemporary single icon building solution, as it creates an urban platform for Singaporean life. The presentation was enhanced by the analysis of a built model and whimsical collages.
HIGHLY COMMENDED
Andrew Byrne, University of Melbourne, An Architectural Assemblage
JURY CITATION%br%%br%A high level of resolution and a systematic architectural thought process are evident in this scheme. The presentation convincingly portrays a variety of scales and spaces, from the broad contextual presence within otherwise marginal urban spaces to the intimate detail of the working laboratory. The scheme offers a public campus during the day, and at night a communicating graphic within the city. This scheme reflects independent thought.
HIGHLY COMMENDED
Davin Smith, Deakin University, Interfacing the Palimpsest
JURY CITATION%br%%br%This scheme is grand in terms of its masterplan and typologies. It creates an evocative urban landscape within the Docklands wilderness, providing a framework and model for future development. This arresting presentation carries its own authority. The scale and power of the architectural world proposed in the presentation alludes to the optimisms of Modernity.