Sydney Opera House CEO, Louise Herron AM, today announced the second cohort of Australian students who will travel to Denmark in 2015 as part of the Multidisciplinary Australian Danish Exchange (MADE) by the Opera House (2013–2023) program.
The five students are: Nina Tory-Henderson (Bachelor of Design in Architecture, University of Sydney); Alex Crowe (bachelor of landscape architecture, University of NSW); Alasdair Mott (Bachelor of civil engineering and Bachelor of Design in Architecture, University of Sydney); Julianne Lipman (Bachelor of Civil Engineering with Architecture, University of NSW); and Nicholas Werrett (Bachelor of Civil Engineering, University of Newcastle).
Together they will travel to Denmark in January 2015 for the six-week program with host architectural firm COBE, where they will work on a multidisciplinary project, as well as visiting to performing arts venues, cultural centres and significant architectural landmarks.
Passing the batten at this morning's announcement, the first generation of Australian and Danish students spoke at the presentation in the Utzon Room about how the program had given them not only a deeper engagement with Utzon's humanistic design principles, but also a sense of clarified career purpose and commitment to remain part of the ten-year MADE program as ambassadors and mentors to their successors.
Australian students Laura Craft, Jennifer McMaster, Olivia Savio-Matev and Matthew Wells and Robert Martin went to Copenhagen in January 2014, collaborating with host firm Henning Larsen on a 50-year urban renewal masterplan for a one-million square metre development where the 2014 Eurovision Song Contest was held. They also visited significant sites including the Utzon Centre in Aalborg (the architect's hometown) and stayed at the Utzon holiday house, Can Lis, on the Spanish island of Mallorca. Robert Martin remains in Copenhagen, having been offered an position at Henning Larsen.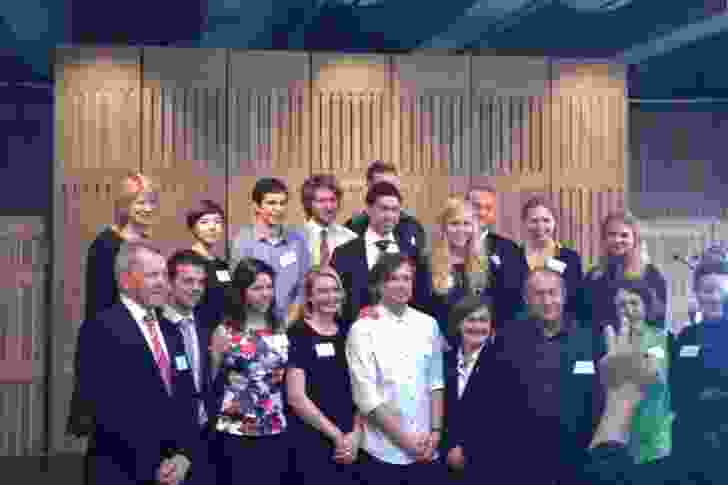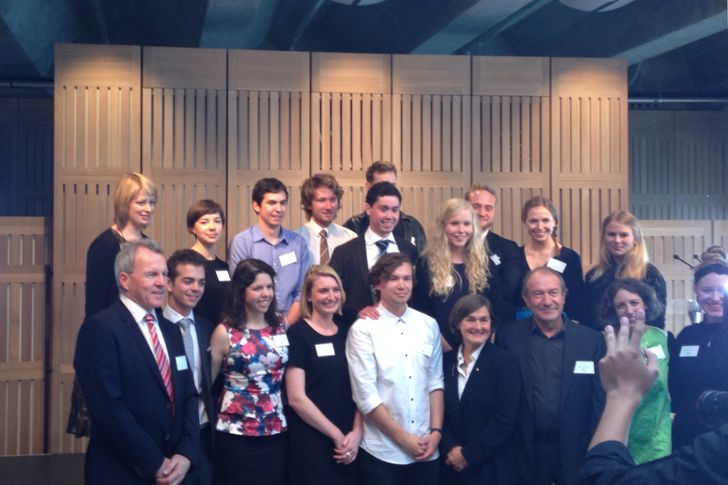 The presentation was also a farewell to the first cohort of Danish students – Jakob Franijeur Holmqvist-Larsen, Karina Korsgaard Jensen, Pernille Krieger, Caroline Richardt Beck and Jonas Snedevind Nielsen – who have just completed their six-week, working with host firm, Hassell, attending masterclasses in urban planning, wayfinding, theatre planning, acoustics, wind engineering and lighting. They spoke of their time in Sydney, and of coming to a deeper understanding of the Utzon legacy in its Australian context.
Sydney Opera House CEO Louise Herron AM said: "Inspired by the multidisciplinary and multinational collaboration that created the Opera House, MADE gives students a strong understanding of contemporary international practice across disciplines and hemispheres."
MADE focuses on the disciplines that collaborated to construct the Opera House – architecture, engineering and design. From 2014 and each year for ten years, five Australian and five Danish students will each receive AU$6,000 to attend a six-week exchange program to Denmark and Australia respectively. The program was launched in October 2013 by Crown Prince Frederick of Denmark during the Opera House's 40th anniversary celebrations. By the 50th anniversary of Sydney Opera House, the MADE will have an alumni of 100 practitioners with close connections to their host countries.
More about the MADE program and its alumni.