Above left and right First prize-winner, 'Blue Sky Mine' by Erin Colgrave and Alex Phegan.
When the jury of the 6th international Graphisoft Prize announced their awards in October 1999, it was no great surprise that students of the School of Architecture at the University of Tasmania featured so prominently.

Each year since 1993, Graphisoft and Abvent SA, developers of ArchiCAD and Art*lantis software, have sponsored an international competition for the design and visualization of famous mythical or fictional spaces. An early competition winner, a design for the 'Hotel California' from the Eagles' song of the same name, came from a joint venture of students from UNSW and Sydney University. However, more recently it has been the School of Architecture at the University of Tasmania that has developed a stranglehold on these awards.

In 1997, Tasmanian students Jad Silvester and Todd Henderson won second place for their design inspired by Robert M. Pirsig's book Zen and the Art of Motorcycle Maintenanceand, in 1998, Andrew Maynard's and Stephen Mees's 'Ballroom of the Devil' won first place, Daniel Koh's 'Stairway to Heaven' won third place and Jad Silvester's 'Heartbreak Hotel' received an honorable mention. This year, Tasmanian architecture students, under the direction of senior lecturer John Hall and local practitioner Peter Greiner, again won first and third places and also received an honorable mention.

This year's winners of the student division, 3rd year students Erin Colgrave and Alex Phegan, used as inspiration for their design the Midnight Oil song 'Blue Sky Mine'. The jury chairman, Francois Soler, describes this project as marking a "turning point in the way that we perceive space." The design "merges with the machine, without losing any" of the "spirit" of the original work. Colgrave and Phegan's design combines a 'traditional' terrestrial mining environment with a vast,

anthropomorphic form. Both the third-placed team of Yuh Hun Ng and Jimmy Tan Soon Kiong and the honorably mentioned team of Jaimin Atkins and Ben Milbourne used William Gibson's now famous description of the "cheap hotel" in his cyberpunk novel Neuromanceras a starting point.

In all these cases, the computer and CAD system has allowed the students to delve into the original text, novel, or music and develop a brief for an architectural work. This is not only a sign of the times, it is also an appropriate way to develop a brief for a CAD design competition.

In recent years, top architectural students have increasingly rejected positions in architectural practices to work in the computer gaming industry. There are now a large number of universities around the world that offer degrees in digital or virtual architecture (including the University of Queensland). This development has tended to divide the profession and has even drawn criticism from certain prominent practitioners who have made their reputations with elaborate computer models. However, as computer visualization becomes increasingly accessible, there is a need to stress the importance of the process leading to the image, not just a fixation with the image itself. This is where the Graphisoft competition is to be praised. It is the analysis of the original work that is the key. The winning designs in this year's Graphisoft Prize may be flashy images but they are, more importantly, intensely poetic concepts that merge art, music, literature and architecture. For this quality, Hall and Greiner deserve as much recognition as their students.

Michael Ostwald is deputy head of school at the University of Newcastle and a noted scholar of computer design and architectural history and theory.
Left top to bottom Third prize-winner, 'Cheap Hotel' by Yuh Hun Ng and Jimmy Tan Soon Kiong.
Above Honourable mention, 'Cheap Hotel' by Jaimin Atkins and Ben Milbourne.
Source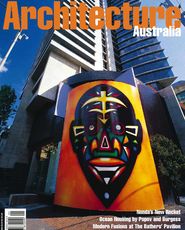 Issue
Architecture Australia, January 2000
Related topics