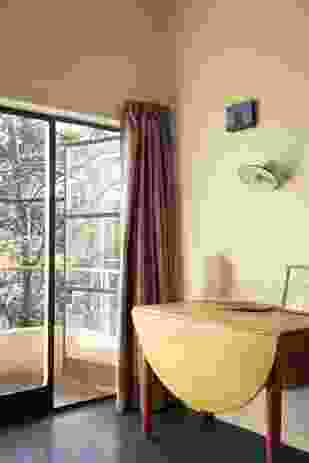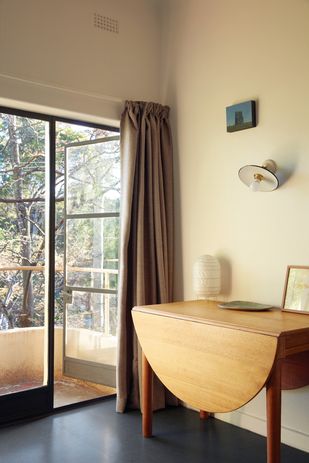 To house one's life within a twenty-three-square-metre area demands a marked amount of minimalism. In Melbourne's Cairo Flats this was originally achieved by housing a separate communal dining area and offering residents in-house meal and laundry services. Today, without those amenities and services, which have forced kitchen and laundry amenities into the private realm, renovations to these beloved 1930s flats need to be cleverly and efficiently configured. For Nicholas Agius, owner of a Cairo studio apartment and director of Agius Scorpo Architects, the alterations involved creating inventive insertions that serve multiple functions, while respecting the original intention of the modernist building.
On a leafy block overlooking Carlton Gardens in Fitzroy, the Cairo Flats are considered to be an exemplary model of early modern architecture in Melbourne. They were designed by Acheson Best Overend of the architectural practice Taylor, Soilleux and Overend, and completed in 1936. Overend had worked in England with architect Wells Coates, who is described as having embraced Le Corbusier's belief that buildings should be "machines for living." Overend adopted some key principles from Coates, bringing them back to Australia.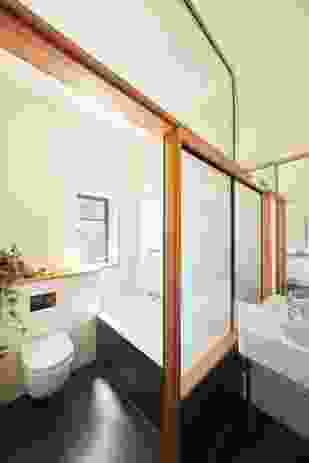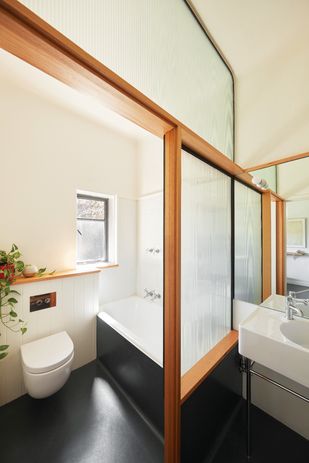 For Overend, this new way of living, which he called the "minimum flat" concept, provided "maximum amenity in minimum space for minimum rent." Household services such as in-house meals – delivered through a small door adjacent to the main door – a laundry and shoeshining were on offer. Kitchenettes were spartan, as the dinner service and communal dining hall abated the requirement for a full kitchen. However, during renovations in the 2000s and with the establishment of strata titles, the communal spaces were dissolved. Each apartment was crammed with kitchen appliances and laundry white ware.
As the owner and occupant of the studio apartment, Nicholas says that he was lucky to have had a "luxurious timeframe" to consider how the space could be best adapted to accommodate these new functions. He lived in the apartment for a good six months before beginning the renovation – in line with the advice he often gives his clients. He found that the essential qualities had been well considered, such as generous access to daylight and natural ventilation. Seeking to preserve these assets, Nicholas reconfigured the apartment carefully, fitting a dressing-room within the bathroom space and moving the bed to the former kitchenette, which freed up the main space for living, dining and cooking.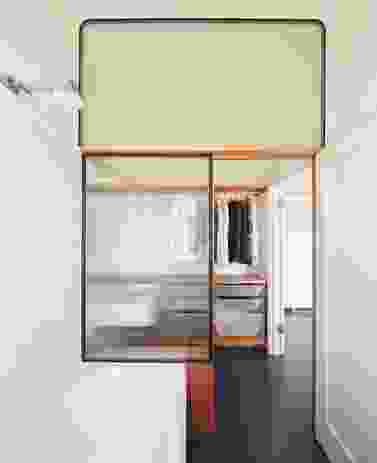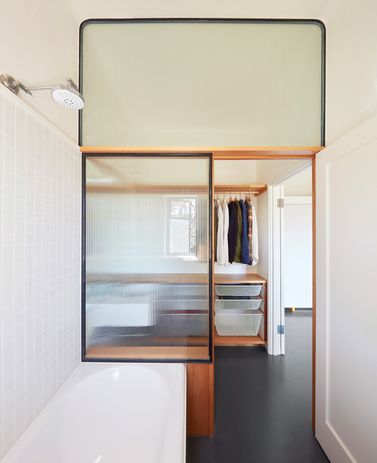 A new kitchen, composed of Tasmanian oak and a slick of punchy yellow paint, is the standout feature of the renovation. It opens up, hides away, slides along and folds out. To me, what is most appealing is its anthropometric scale. Many contemporary kitchens are steered by the scale of appliances, but this kitchen responds directly to the human scale, with many elements serving multiple functions. The wide, hinged door stores oils and sauces within easy reach of the stove, while the sliding door doubles as a room divider, allowing separation between the bedroom and the living space, while retaining airflow and permeation of daylight. I'm told that the small opening between the kitchen and the bed is perfect for passing through a cup of tea and it doesn't come as a surprise that the design was informed by caravans and boats, as a similar cosiness and sense of repose can be felt in this space.
Nicholas is extremely fond of the coved ceilings, describing the junctions between them and the walls as "fuzzy and soft." In a gesture that serves to accentuate the ceilings, he has set up a datum line across the studio. Texture, tiles, cabinetry and all visual distraction sit below this datum line and concealed lighting fixtures wash light up the walls, further articulating the coved form. Soft, rounded corners are also echoed in the new shelving, paying homage to the original joinery. Sadly, most of the original joinery was removed in prior renovations, but these additions serve to reinstate an atmosphere of quality through the use of robust and enduring materials.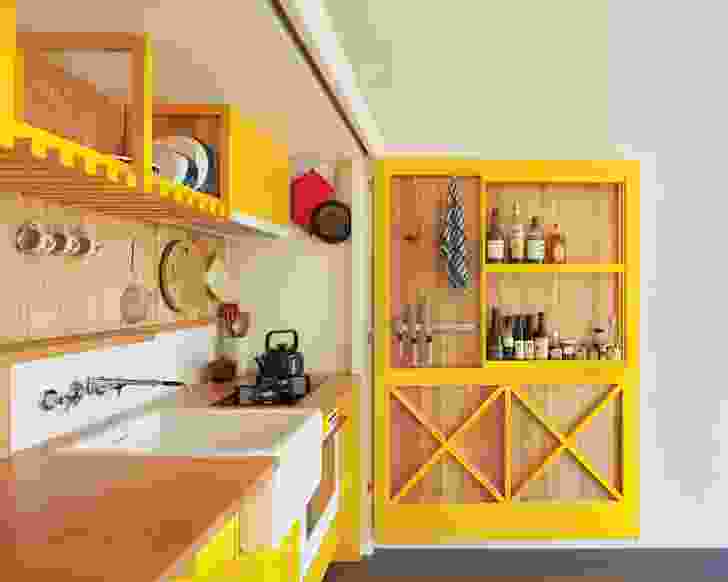 In his own nod to mid-century modernism, Nicholas was inspired by the bold use of yellow paint on the floors of Le Corbusier's famed Cabanon and has used a similar yellow for the kitchen cabinetry. He was drawn to the way that the yellow floors in the Cabanon have been worn away over time, revealing the timber underneath and reflecting patterns of use. He hopes that a similar patina will ensue, tracing the quotidian use of the kitchen.
While it does seem a shame that, with the dissolution of the communal areas, Overend's full vision for the "minimum flat" has not endured, it would be nice to see some of those facilities reinstated over time. But in many ways Agius Scorpo Architects has created its own minimum flat type. With flair and joy, he has navigated contemporary demands while preserving a modernist spirit, resulting in a space that celebrates small pleasures.
Products and materials
Internal walls

Porter's Paints Low Sheen and Eggshell acrylic paints in 'Diamond White'.
Windows and doors

Dulux Ferrodor 810 micaceous paint in 'Natural Grey'; Ikea Vidga curtain track in 'White'; original aluminium D pulls.
Flooring

Comcork Walk Easy flooring in 'Charcoal' from Entegro.
Lighting

De Lazzari wall lamp and ceramic batten fittings from Asolo, Italy.
Kitchen

Recycled Tasmanian oak boards in Treatex Whittle Wax matt oil; Viponds Feature Gloss Enamel paint in 'Middle Yellow'; Academy Tiles and Surfaces mosaic in 'White Matt'; Caroma Elegance II laundry set in chrome; Caroma Midas wall-top assembly in chrome; Fisher and Paykel electric oven, Domino gas cooktop and telescopic rangehood; Westinghouse bar fridge; Tonic tapware from Rogerseller.
Bathroom

Academy Tiles and Surfaces mosaic in 'White Matt'; Duravit Scola washbasin and console; Caroma Pin wall shower; Roca Meridian wall-hung pan; laminated fluted glass shower screen.
Credits
Architect

Agius Scorpo Architects
Melbourne, Vic, Australia
Project Team

Nicholas Agius
Consultants

Builder P. R. Jarvis

Site Details

Location Melbourne, Vic, Australia
Site type Suburban
Building area 25 m2

Project Details

Status Built
Design, documentation 6 months
Construction 4 months
Category Residential
Type Apartments

Source