Dexterity and poetry: Studio Gram
With projects including Parwana Kutchi Deli in Adelaide and Civilian Bar and Kitchen in Sydney, the work of Adelaide-based emerging design duo Studio-Gram demonstrates colour and confidence.
"Beauty" in design is often contested. For some, architecture moved beyond having to recognize beauty as an indepen-dent tool in the designer's kit long ago – such qualities should be an inherent by-product of design rather than achieved through the application of charming things. And when beauty is under debate, its poor cousin "decoration" is often the target of direct attack.
It is intriguing then to see the work of Adelaide's Studio-Gram, formed in January 2014, not just play with the decorative and the spectacular, but to also aggressively pursue them. And it does so through collaboration with others, such as art director Mash, whose graphic richness brings high ornamentation to Studio-Gram's projects. But this is not to say the studio relies only on the visually stimulating in its work. Projects such as Gallery in Adelaide's CBD and Civilian Bar and Kitchen in Sydney's Darlinghurst demonstrate the confidence of any commercially experienced archi-tecture firm. Coupled with the loose-fit of the temporary Lola's Pergola "backyard picnic" club for the 2014 Adelaide Festival, Studio-Gram's portfolio demonstrates the agility and confidence with which the studio operates.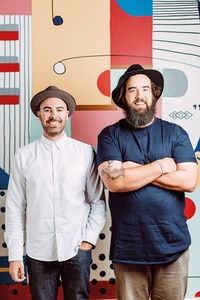 Studio-Gram is Dave Bickmore and Graham Charbonneau, who first collaborated as architecture students at the University of South Australia before working in different commercial practices after graduating. For Bickmore, from Renmark in South Australia's Riverland region, and Charbonneau, who grew up in Canada, travels to developed and developing countries have been major influences, as has their ability to collaborate from the outset of their careers. "Study was a big (influence)," says Charbonneau. "We met at university, we worked together and we drove each other to succeed. Commercial life grounded us, gave us a sense of what the industry was about, taught us a lot about being an architect and gave us the confidence to venture outwards."
For both Bickmore and Charbonneau, working with their hands has been significant for their architecture. For Bickmore, it started early. "My dad was a panel beater turned winemaker. He's good with his hands and taught me to weld at age ten. I think that's why I love making things." For Charbonneau, work in the construction industry prior to studying architecture has afforded him not just a sound understanding of the processes involved in delivering projects but also an appreciation of the craft required to bring them to life.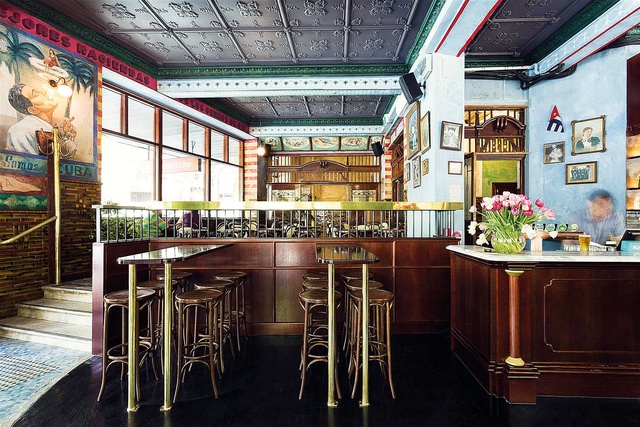 Ask the boys how important being open to a broad range of experiences is to their practice and the pair points to an eclectic mix of influences. The work of filmmaker Wes Anderson (think Moonrise Kingdom and The Grand Budapest Hotel) inspires many of their interior spaces, from furniture selections to colour palettes, but collaboration with a broad range of partners is key. This occurs with creatives such as Mash, as well as with collaborators in other industries – catering installation company The Happy Motel, through to cabinet-makers, carpenters and concreters. As Charbonneau happily concedes, "The evolution of our work is directly related to the people we surround ourselves with. We don't pretend to be experts at everything, and we aren't afraid to lean on those around us, as required."
In restaurant Africola, it comes together. The stoic bluestone-terraced facade in Adelaide's East End belies the sensorial richness of the interior, although glimpses are offered by the footpath table settings and lush planters seen on approach. The interior, however, is altogether other-worldly, with a colour and playfulness that is delightfully unexpected. Such theatricality is mirrored elsewhere in Studio-Gram's hospitality work, both locally and abroad, where further collaborations with Mash, including Motel Mexicola (Bali), Cranky Fins Holidae Inn (Palm Beach, New South Wales) and Parwana Kutchi Deli (Adelaide) present as stages on which the drama of eating and drinking with friends can be played.
Not surprisingly for a duo whose approach to architecture feeds off their combined personal experiences, ambitions for future projects remain close to home. After growing up surrounded by wineries and vineyards, Bickmore would love to work on a winery and cellar door. Charbonneau, who retains his childhood passion for ice hockey and plays in Australia's national league, would love to design an ice rink. One gets the sense that if anyone has the dexterity to simultaneously handle the poetry of the rural vineyard with the spectacle of the hockey rink, it's this pair.