My first contact with Stuart Vokes occurred a decade ago, after viewing his practice's entry for the invitational About Face 2009 competition run by Think Brick. Impressed by the scheme, I contacted his office expressing admiration for the entry's premise and quality. This communication was graciously returned, leading to a meeting months later in Perth where I was confronted by Vokes's self-assured proclamation that he was a "suburban architect." Later, we discussed Vokes's claim in our office at length, leading to a realization that there is a palpable difference between architects who choose to work in the suburbs (like us), and what it means to be suburban architects like Vokes and Peters.
In visiting the Subiaco House and listening to Vokes's extensive, layered description, my thoughts drifted back to the central proposition of the About Face entry from 2009, which appeared to be the natural research basis for this recent project. Furthermore, the new house seemed to radiate more than most from an acute and specific spatial history.1 I was left wondering how this practice, so deeply associated with "Brisbanian localism," could build in faraway Perth and maintain relevance. I wondered from what other basis this work arose, because it departed so substantially from Perth's suburban fabric built from the 1980s onwards, when houses seemed to turn away from the street and in upon themselves.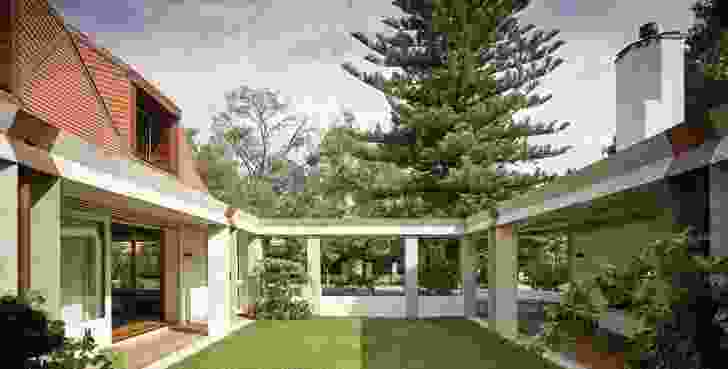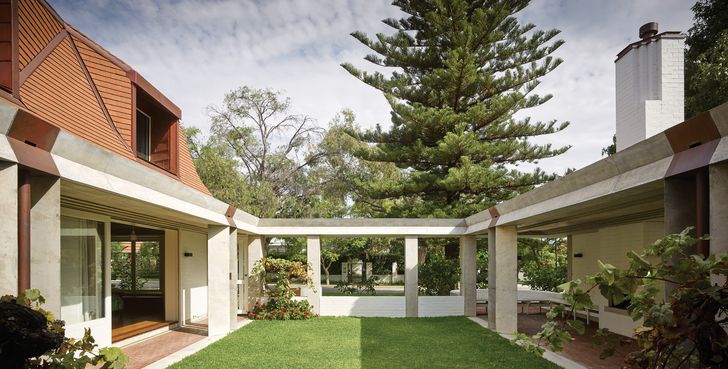 Leon van Schaik's work on the role of one's spatial history and the "designerly" acts it draws forth provides a profound basis from which to discuss Vokes and Peters's practice, their Neighbourhood Code (the basis of their About Face proposition) and the Subiaco House. In his book Spatial Intelligence, van Schaik quotes Gaston Bachelard to affirm his own research in the field: "Each one of us, then, should speak of his roads, his crossroads, his roadside benches; each one of us should make a surveyor's map of his lost fields and meadows. Thoreau said that he carried the map of his fields engraved in his soul."2
Vokes's eidetic recall of his own spatial history floods our conversation with memories of childhood in the outer suburbs of Brisbane, bathed in friendship. The neighbourhood streets belonged to the local children under a form of mutually assumed ownership. Vokes speaks of playing in nearby creek beds and among undeveloped landscapes, and of the centrality of bike riding as a way of cementing deep neighbourhood knowledge at all scales. Later, as a teenager, Vokes shared jaunts at night and on foot, searching out encounters and "shabby" foodstuffs. All of this speaks of a personal freedom, of valuing big slices of territory that opened up to possibility, and of a humane sodality. There is a romanticism in his memories of this place, one that others might have dismissed as a landscape worthy of forgetting.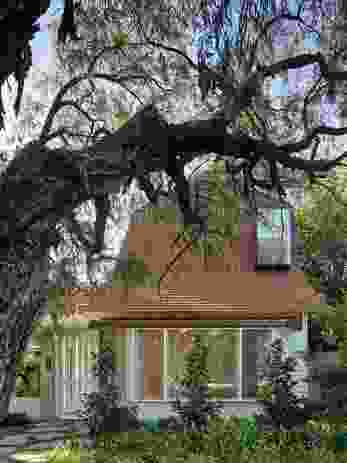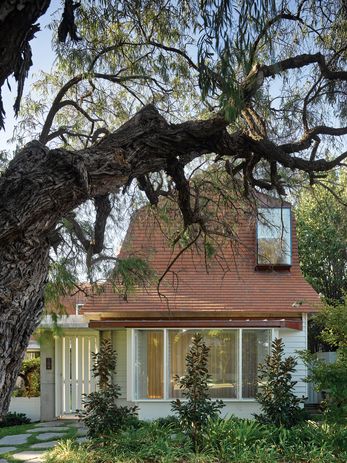 By way of background, the practice's 2009 Neighbourhood Code was a fully established research agenda for the less-dense Australian suburb, overtly critical of the crudity of "densification" as a blunt tool for assessment of value. It celebrated individual and shared amenity and collective responsibility, mandated maximum garden cover and assessed typological fit. It spoke of the value of garden rooms, the hierarchy of streets, the revaluing of garden space and the dignity of everyday domestic acts.
The foundation of these fine-grained interests, I am certain, started in the early lives of the practice directors. The fabric of space within, through and beyond their modest houses was mentally and physically scaled, categorized and staged. Their training as architects and early-practice experiments expanded their spatial language. This language binds the pair's spatial history to the Neighbourhood Code and presents the Subiaco House as a potent demonstration project.
The site for this new house had been empty for two decades, maintained as a tidy, fenced, private lawn. The memory of this emptiness has been consciously, but uncannily, preserved by the placement of a stout cloister at the street corner, making the principal domestic garden a graduated public–private event. This defined outdoor room almost holds everything else in place – the front gate, a low wall, a semicircular niche, cross-views between streets, external fire, outdoor dining table, the rooms of the house's ground floor and the heavens. If traditionally cloisters were fortified places for cyclical motion and access to light, the Subiaco House's cloister collects and stages familiar action in multiple layers between private rooms and the street verge.
At a greater distance, from across the road, the cloister anchors the house, fills the site and balances out the rolling undulations of the roof, chimneys and tall landscape while providing a datum to the neighbourhood. This spatial act is unique in Perth – I am unaware of another domestic cloister locked to a street corner. This unlikely parti feels a natural accompaniment to suburban life, fostering village-like encounters.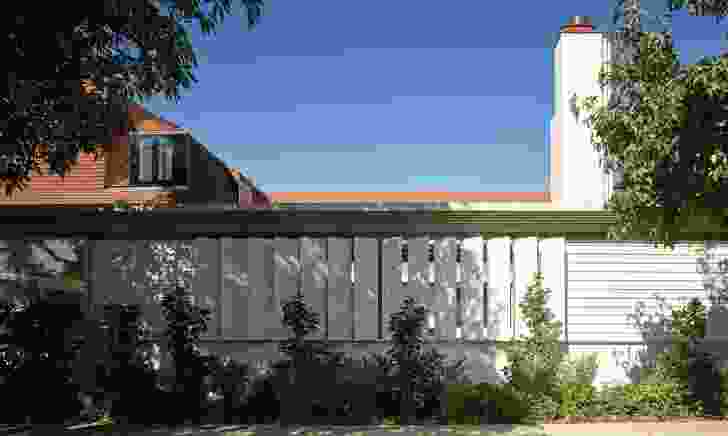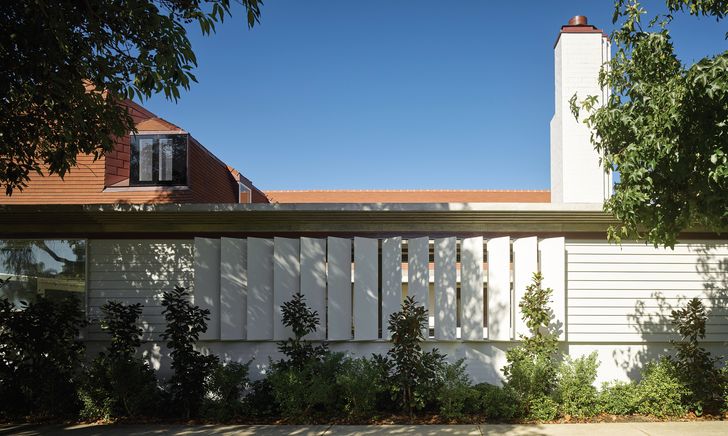 The house proper is a two-storey L-shaped wing forming one half of the cloister. Stacking the program in pursuit of added garden space required the architects to circumvent some illogical local planning codes – they accommodated a second storey within the roof space of a deformed Dutch gable. This "roofness" also justified reduced boundary setbacks, bringing two ground-floor rooms (the kitchen and main bedroom) into close contact with opposing streets. Like the cloister, this terracotta-shingled oddity has no local equivalent – it is the formal result of a nostalgic idea that led to a compact plan that preserved landscape. The roof is thick at all window reveals, allowing a retreat from the baking Perth sun. My single criticism of this project is that the quality of these first-floor interiors – predominantly bedrooms – is unfulfilled, stopping just short of attaining a dreamy, attic-like sensibility.
The ground-floor rooms are truly exquisite, intensively detailed and concentrically composed from centre to edge and then axially. This compositional approach allows the interior transitions from one room to the next to be acutely felt. Rooms and their openings are composed around little diagonal glimpses that amplify their domesticity, or formalized by long, linear sequences that carry the gaze deep into the neighbourhood. Each room's specific internal character correlates to one of five or six gardens, varied in their formality, privacy, location, exposure, position and seasonal use.
What the Subiaco House establishes is that buildings of this calibre can educate us and, in this instance, there is much we can learn on behalf of our suburbs – whether in Brisbane or Perth – by studying this kind of physical memory palace.3

1. Spatial history is an idea learnt from Leon van Schaik. It is a concept that has very much become part of my practice-based work and teaching program for more than a decade. See Leon van Schaik, Spatial Intelligence: New Futures for Architecture (Chichester: John Wiley & Sons, 2008).
2. Gaston Bachelard, The Poetics of Space (Boston: Beacon Press, 1969).
3. Frances Yates, The Art of Memory (Chicago: University of Chicago Press, 2001).
Credits
Architect
Project Team

Stuart Vokes, Aaron Peters, Emma Robinson, Kirsty Hetherington, Marty Said
Consultants

Structural and hydraulic engineer, energy assessment Structerre

Site Details

Location Subiaco, Perth, WA, Australia
Site type Suburban

Project Details

Status Built
Completion date 2018
Category Residential
Type New houses