The construction of the second instalment of the Murray Art Museum Albury's (MAMA) annual experimental architecture project, designed by Chrofi, is underway in Albury's QEII Square.
The 1,440-square-metre installation will be made from a grid of steel poles covered in netting in a seemingly "structurally implausible" arrangement.
The net is inspired by the canopies used in commercial farming to protect crops from hail, sun and pests as well as moderate temperature and reduce evaporation.
The pavilion will form a large shade structure over the square, which will shield the space from the hot summer sun.
The netting will provide transparency and allow views to the sky. Underneath the canopy, the space will be bright, white and ordered, similar to the interior of a contemporary art gallery.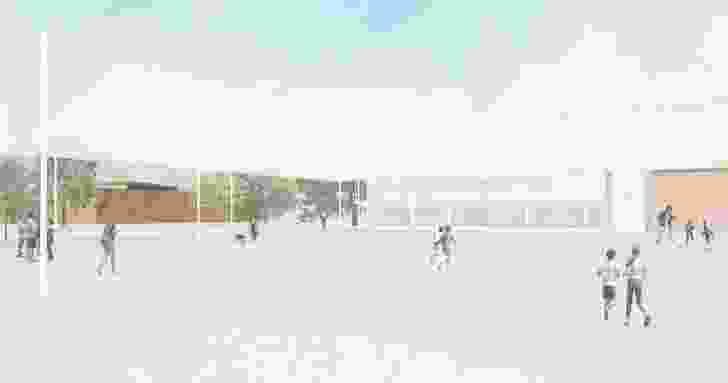 The pavilion is oriented to offer framed views to existing landmarks and unformalized routes of circulation. The grid of steel poles also form smaller spaces within the square.
Chrofi said in a statement, "the pavilion dramatically will change the nature of the square [and it] encourages visitors to consider the day-to-day use of the square and its development within the city."
In 2018, MAMA commissioned Raffaello Rosselli to design the inaugural experimental pavilion, which comprised approximately 20 tonnes of plastic that had been crusshed into brick-like bales, sleeved in a transluscent skin.
Chrofi's Summer Place Pavilion will be installed from 29 November 2019 to 29 March 2020.
Related topics