Super sustainable swimming pool boasts C2C tiled facade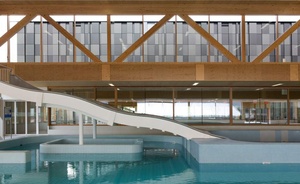 Slangen + Koenis Architecten Geusseltbad swimming pool in Maastricht is the first swimming pool complex in the Netherlands to receive BREEAM certification, one of the world's foremost environmental ratings for buildings. To achieve this rating, the architects worked together with tile manufacturer Mosa to develop a new cradle-to-cradle ceramic tile for the facade.
The Mosa factory is a stone's throw away from the pool complex and is part of Maastricht's rich ceramic tradition, having been established in the city in 1883. Unglazed fine ceramic tiles from Mosa are pure ceramic with a natural matte appearance. The colourfast, weatherproof tiles are low reflective and resistant to UV rays, shocks and graffiti.
Mosa Facades' tiles can be installed in various ways, both ventilated and non-ventilated, glued or mechanically fixed. A new decoration line also makes it possible to fire glazed tiles in various gloss levels, colours and designs in the kiln.
For more information about Mosa tiles in Australia, visit designrepublic.net.au/mosa.