Brisbane, the most suburban of Australia's major cities, has struggled to develop an inner-urban lifestyle that is true to its history and culture. Apart from isolated pockets in New Farm and West End, there has been no tradition of higher-density living, which in Sydney and Melbourne has led to the culture of small bars and cafes. Previously in Brisbane, the mass exodus to the coast on the weekends and strict liquor licensing laws had spawned the suburban swilling barns of the 1960s and 1970s, and more recently the "gastropub" phenomenon. This has meant that opportunities to reclaim the forgotten corners and leftover spaces of the city for smaller bars and cafes have only recently emerged, with changes to liquor licensing laws making it cheaper and easier to open more intimate venues.
Super Whatnot is a tiny bar, conceived by a young businessman/entrepreneur returning to Brisbane after years abroad and in Melbourne. Aware of the new licensing laws and the relaxing of Brisbane City Council's planning requirements to promote the activation of the city centre's forgotten laneways, a search for a suitable space uncovered the old loading dock and storage area of the venerable Gardams fabric store, an institution in Brisbane for dressmakers but now relocated to the suburbs. The space was more recently, and briefly, the home of a beauty school. Located in Burnett Lane at the southern part of the city centre, it is immediately to the west of the popular Queen Street Mall, the epicentre of the city's retail precinct.
The great delight about Super Whatnot is that it is a found space made hospitable. The laneway is effectively allowed to seep into the fabric of the building. This makes for a porous relationship with the city. The bar is a refuge, a hermetic retreat where the history and life of the city can be observed and experienced. This is a working laneway: pedestrians and delivery trucks share the space.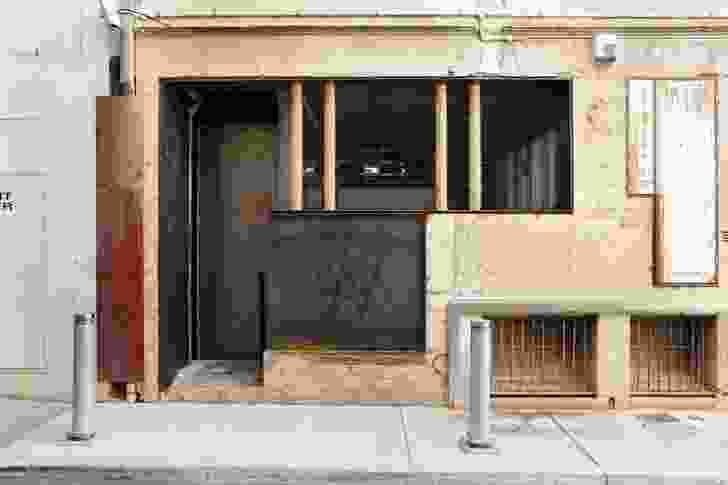 Owner Simon Martin and architect Angus Munro of Marc & Co have evolved an approach to design from a rigorous, almost archaeological process of discovery and analysis of the complex floor-level arrangement, leftover detritus of the former use and ad hoc alterations. From these findings, and working with a minimal budget and adopting the great Australian ethos of "making do," a gritty, rich and inventive space has emerged. Existing finishes are simply "made good" and retained or reused, while introduced materials are generally those that have been salvaged, and are left raw. Tectonics are elemental, direct and industrial. Munro worked with architect, artisan and fabricator Lachlan Nielsen who, working from his semi-rural workshop, Nielsen Workshop, made much of the furniture and larger "hardware." Key among these pieces is the extraordinary pivot-and-wheel front window, which was fabricated from unfinished salvaged steel angle, and which cleverly swings away to open the bar to the street, as if it is always that way. This contributes to that sense of the laneway itself having permeated the building, having excavated and colonized this place. The work emphasizes this idea further by giving the sense that it is "of" the laneway. Built-in seating with hard-wearing fabric encourages lazy lounging at the laneway threshold. The noises from the laneway and the bar mingle with the coolest of background music, making the laneway more hospitable, and the bar a part of the wider urban experience.
Those bars that Martin and Munro have experienced as precedents to Super Whatnot were distinguished by an accretion of fabric over time, rather than being of a predetermined design that was controlled and strictly monitored. They have chosen to allow Super Whatnot to evolve and change by such an organic accretion. In this instance, using leftover ledges, cleavages in the fabric and the selective placement of objects and art over time, they hope to further enrich the nuanced urban experience. Perhaps most intriguing among these gestures to date are the small terrariums – tiny gardens contained in glass containers of varying sizes and shapes that were created by Munro – which appear sporadically in the spaces.
The careful manipulation of levels, vistas, circulation, materials and lighting both enhance the sense of hermetic refuge, seemingly labyrinthine, and also allude to more than is actually there. Key among the tactics used to achieve this are a dark tinted mirror to the rear wall of the bar itself, which results in an ambiguous perception of this key space, and the narrow stair to the mezzanine, which has been deliberately enclosed in a cheap translucent polycarbonate and which is backlit. The shadows of movement up and down the stair allude to things beyond.
It is the accumulated effect of many small decisions; working with found space, salvaged and low-cost materials; inventive "making do"; and a high level of engagement with the intimate urban space of the laneway that make Super Whatnot a distinctive and highly seductive Brisbane laneway experience.
Products and materials
Walls and ceiling

Existing brickwork internal walls with render removed to reveal pitting, fibreglass, grey mirror and mixed hardwood battens. Ceilings are fire-rated plasterboard with plaster rosettes and mixed hardwood battens.
Windows

Steel window and window reveal custom made by Nielsen Workshop, with "walking" castor and spring. Steel sealed with gun oil. Structural steel posts painted with intumescent paint and wrapped in hessian rope.
Doors

Solid core external door, lined with raw plate steel, sealed with gun oil. Solid core, painted internal doors.
Flooring

Existing tongue-and-groove internal floors mixed with recycled tongue-and-groove where existing needed to be replaced.
Lighting

Lights are owner supplied, collected at various European markets and Tarlo & Graham in Melbourne.
Furniture

Hay Hee bar stool in black and Hay Hee easy chair in black and white supplied by Corporate Culture. Milk maid stools custom made by Lui's Woodworks. Banquette seating designed by architect and fabricated by Blok Furniture.
Kitchen/bar

Bar top is custom made concrete in steel formwork. Bar front tiles from Amber Tiles. Commercial stainless steel kitchen and bar designed and supplied by Lamberts. Bar and kitchen floor from Altro Safety Flooring. Custom-made steel shelves.
Bathroom

Tiles from Classic Ceramics. Caroma Cube toilet. Custom concrete basin by Nielsen Workshop. Taps are agriculture valves. Custom steel basin surround with grey mirror and conceal light and paper towel dispenser designed by Marc & Co.
Other

Custom made balustrade from reclaimed cast iron balustrade panels by Nielsen Workshop. Mexican bead-encrusted skulls supplied by owner. Concrete pots, hanging baskets and terrariums custom made by Angus Munro. The Dots coat hooks from Muuto. Custom perforated raw steel signage backlit with LED strip lights.
Credits
Design practice

Marc & Co
West End, Brisbane, Qld, Australia
Project Team

Angus Munro, Ceirwen Burton, Lachlan Nielsen, Adrian Dine, Cameron McLean, Spencer Lambert
Consultants

Builder Nielsen Workshop
Building certifier Stokes Perna
Engineer AD Structure
Kitchen and bar Lamberts

Site Details

Location 48 Burnett Lane , Brisbane, Qld, Australia
Site type Urban

Project Details

Status Built
Completion date 2011
Design, documentation 3 months
Construction 3 months
Website marcandco.com.au
Category Hospitality, Interiors
Type Restaurants

Client

Client Super Whatnot
Website superwhatnot.com

Source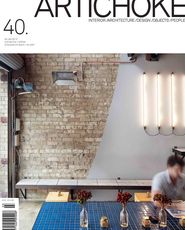 Issue
Artichoke, September 2012
Related topics