SuperStudio 2013: winners announced
University of Melbourne students win SONA's SuperStudio 2013 design competition, for their response to the brief – Refuge of Discomfort.
Results of the SuperStudio 2013 design competition for architecture students across Australia were announced on 30 August, with a team from the University of Melbourne winning first place.
SuperStudio is a twenty-four-hour design competition run by SONA, the student arm of the Australian Institute of Architects, to foster studio culture, networking and community engagement and conceptual and critical thinking about topical subjects.
The brief for this year's competition was Refuge of Discomfort. Devised by four Indigenous architects and artists, it challenged students to consider a design solution to provide comfort and refuge while acknowledging a history of tension and injustice towards Aboriginal and Torres Strait Islander peoples. Students were initially asked to select a site and then consider how to create a powerful design solution with minimal intervention: how to make the ordinary, extraordinary.
The University of Melbourne's team – Nicole Henderson, Emily Palmer and Jordan Simcock – was awarded first place for its Confronting Boundaries series of urban interventions around Melbourne. The team applied words and Aboriginal iconography to strategic buildings to draw attention to the inequality between Colonial and Indigenous Australians.
"Our aim is to instigate an open dialogue amongst all Australians, about the difficult history of colonial and Indigenous people. The interventions were to be site-specific, chosen in response to the architecture built on the land with little or no acknowledgement of Indigenous people. Like traditional Aboriginal structures, they are temporal and are able to be relocated. Because of this, they can exist in a number of possible sites.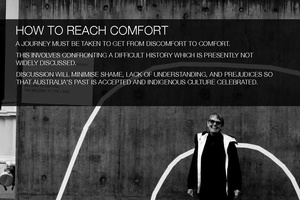 "Traditional story-telling symbols are drawn onto the building and the ground, acting as a border and implying a new three-dimensional space. The intervention is subtly confronting. The physical form is not imposing, but the issues raised by the text are. In exposing the tension between the history of the built form and ownership of the land, past inequalities are confronted while opportunities are created to learn about aboriginal culture. Our space represents a more equal future." See more on the Confronting Boundaries blog.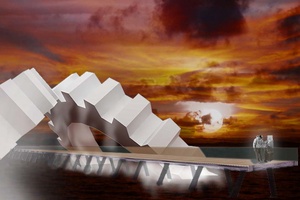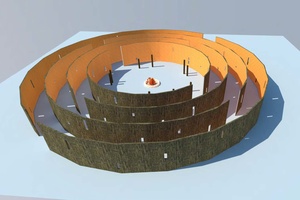 Two other SuperStudio teams were highly commended: the University of South Australia's team of Brett Abroe, Dinko Arar and Luka Basic, and Queensland's Griffith University team of Cody Mason, Rachel Don and Peter Solberg.
Honourable mentions went to an ACT event by University of Sydney team Julian Pereira, Graham Sutch and David Da Costa Enes, and University of Adelaide's Andrew Chaplin, Sean Coughlin and Treshan Angelo De Silva for their South Australian.
Creative directors
Aroha Groves – Weilwan/Gomeroi, NSW – digital artist and Aboriginal Arts Development Officer, Regional Arts NSW
Rueben Berg – Gunditjmara, Victoria – director, Indigenous Architecture Victoria [IAV]; Adjunct Lecturer in Architecture, Monash University
Jefa Greenaway – Weilwan/Gomeroi, NSW – director, Greenaway Architects; IAV Lecturer/Studio Leader, University of Melbourne
Dillon Kombumerri – Yugembir, Queensland – expertise leader, Architectural Services – NSW Government Architects Office.
SONA is the Student Organised Network for Architecture.