This building is an exemplary, enduring piece of public architecture that makes a poised contribution to the city of Hobart. The plaza between the two court buildings opens up a diagonal landscape link between St Davids Park above, the adjacent Parliament Square and the Sullivans Cove waterfront.
From Salamanca Place a slate base folds up like a piece of carved landscape and supports two sandstone-clad pavilions. This is a building that is indebted to classicism but carries the burden of a period of architecture much maligned for its material brutality. The use of materials here is super direct and the detailing studious. Inside, the complex is judicially innovative through the planning of four courts in the round. The interior carries the gravity of the building's function but is human in its detail and scale.
The complex is in remarkably original order because of the skill with which it was designed. Here is a reminder that investment in public architecture has a lasting effect on the city.
– Jury citation
Source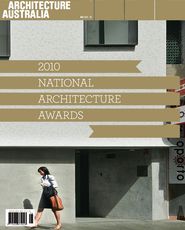 Issue
Architecture Australia, November 2010
Related topics