The City of Sydney's recent public works program has delivered a memorable series of new urban places. Overwhelmingly, they have comprised landscaped spaces for recreational and sporting programs – new waterfront parklands, community sporting facilities and urban commons for the city's burgeoning population. The City and its residents are enthusiastic about the meaning of these places in the social life of the city, but their reaction to public architecture appears more equivocal. The architectural components of the City's recent works share a characteristic deference – comprising small ancillary structures, remnant archaeological elements or architectural components submerged beneath the landscape itself. This urban discretion is increasingly common in contemporary public buildings in Sydney, its lineage stemming from projects such as the Conservatorium of Music addition of 2001, or the Cook and Phillip Park pool of 1999, where the public expression of civic function was suppressed in order to amplify an adjacent landscape condition.
Despite its small size, the Surry Hills Library and Community Centre by Francis-Jones Morehen Thorp (FJMT) is atypical in this recent body of work in that it reasserts Sydney's parallel tradition of more candidly expressive public architecture. Replacing a modest community building dating from the 1950s, the new centre fills its compact 593-square-metre site and exploits every possible architectural sleight-of-hand to inflate its scale, forming an unapologetic urban icon. Located on Crown Street opposite Shannon Reserve (home to the weekly markets), andw diagonally opposite the Clock Hotel, the new community centre terminates an established street-wall condition. Its entry is made as a continuation of the row and formed from polished black concrete that makes it recede into shadow, allowing the primary formal element of the building, a refined timber box, to hover tantalizingly at the corner.
In the so-called "global" city of Sydney, the fear of urban architecture is pervasive. The City council senses this acutely, disingenuously referring to its dense inner-city areas as "urban villages" in an attempt to mollify a vocal constituency that considers anything greater than two storeys "high-density". The new community centre has attracted criticism from some who question the appropriateness of its scale in the local context and suggest that the City has permitted itself a development largesse that it would not have given a private developer on the same site. Yet Crown Street is one of Sydney's key urban streets. Its scale and structure can effortlessly accommodate a building of this type; in fact the definition of Shannon Reserve has been vastly improved by it. If we are afraid of confident urban architecture here, where have we left to go? Don't we want to allow our best public architecture to be exceptional in
all senses of the word?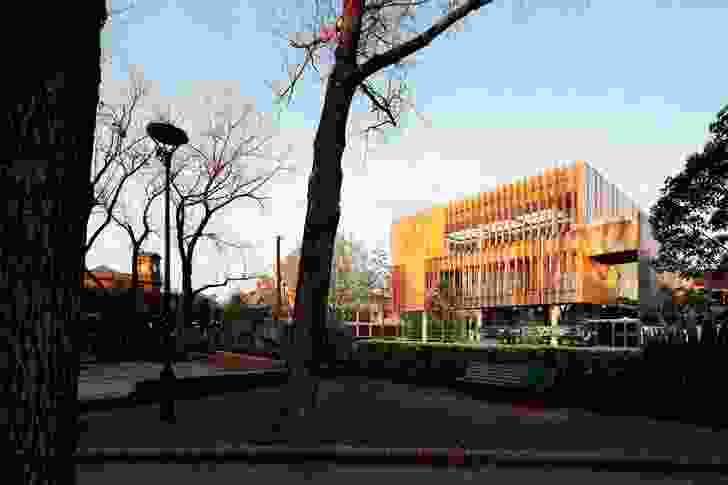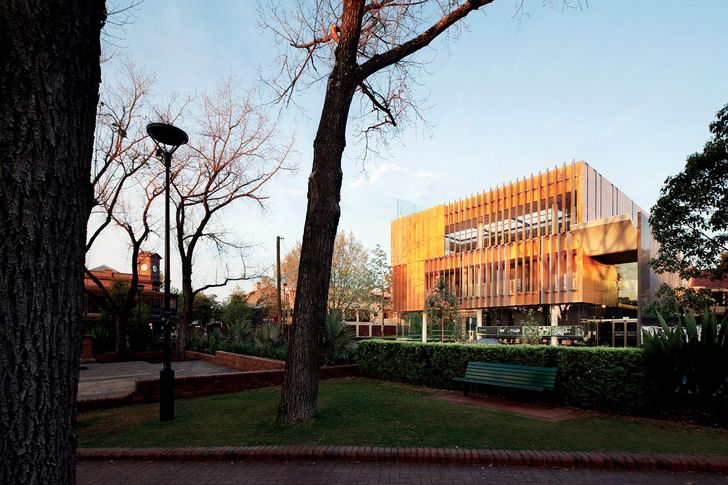 The Surry Hills library is a finely considered building. Its eastern elevation coyly offers glimpses of occupation via a series of operable timber-faced panels that shift throughout the day, subtly animating the streetscape. Its western facade is more enclosed and sits reservedly in the diminutive scale of Norton Street. To the south, facing a road closure that operates as a small pocket park, the centre's diverse program is dramatically revealed. Its sleek glass skin is supported by a pyramidal glass structure that forms a delicate, transparent stopper. Its triangulated chimneys draw air through various biofiltering and passive conditioning mechanisms but also reveal the building's stratified section. Library patrons can be seen occupying the ground floor and basement levels and enterprising youngsters are known to squeeze into the re-entrant inset that articulates the corner to enjoy the free wireless coverage that falls just beyond the glass line.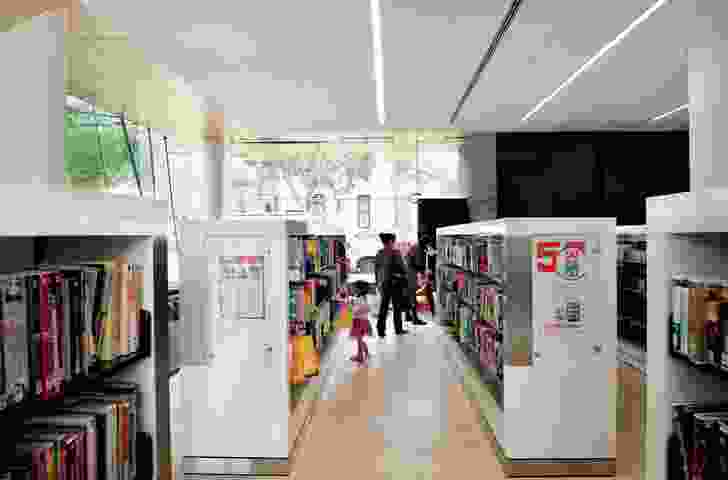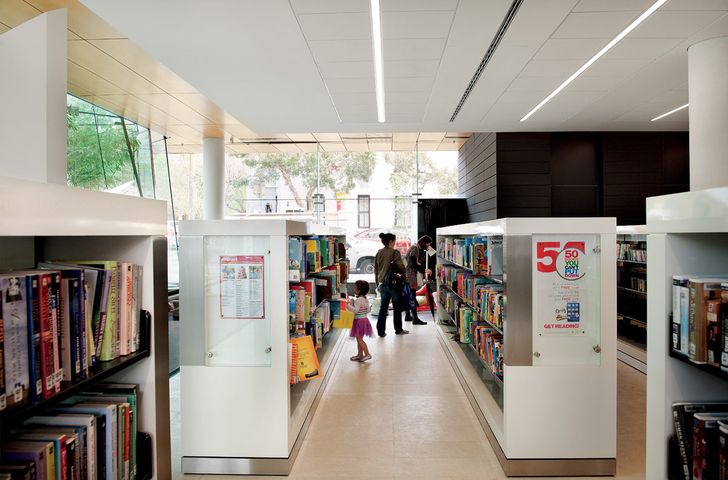 On the middle floor, a series of community rooms and kitchens alternately engage and retreat. Local businesses rent the rooms for meetings, and language and computer classes are held. The kitchens are used for cooking classes that are streamed to other centres via video link, and also service the function room that occupies the pre-eminent Crown Street corner. On the upper floor, a series of tiny handprints and nose impressions, and a scattering of miniature furniture, signify the childcare centre. This occupies half of the floor, with the remaining half an open-air play space, replete with sandpit and a patterned soft-fall play area that has been as fastidiously detailed as the sleekly sophisticated components of the building's facades.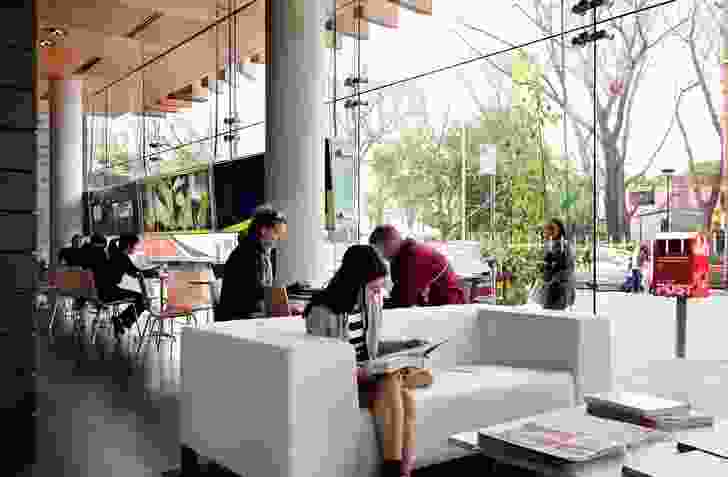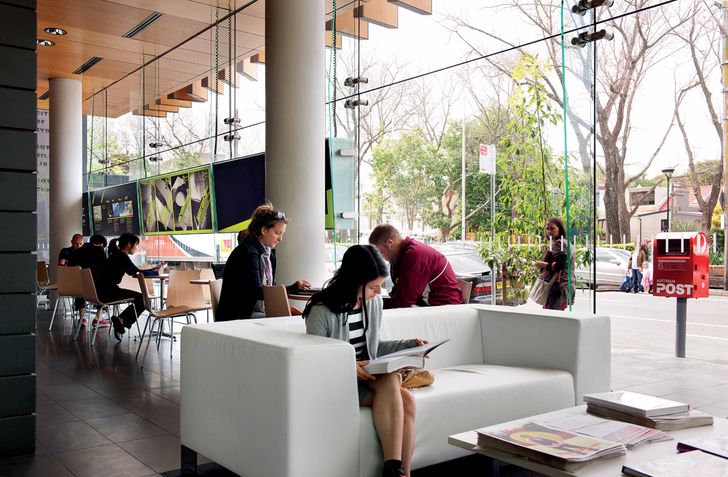 Rumours abound about this building and have led to murmurings of unwarranted extravagance. You will hear that the building contains the most expensive curtain wall in Australia, and that its construction budget tipped $20 million. To set the record straight, the construction cost of the building was in the order of $M13.8 or approximately $6,400 per square metre.1 The level of finish internally is not lavish; it includes well-executed concrete finishes, finely detailed white polyurethane joinery, stone tiles and good quality carpet. The architects report that the level of "finish" of the building was discussed during the early consultation sessions.
The Surry Hills community is ethnically and socially diverse. Many of the locals who would be considered to have recently "gentrified" the area were cautious about the inclusion of high-quality finishes, fearing that they would be damaged, while those from the Oasis Youth Support Network up the road urged the architects to finish the building in a manner befitting its public importance. The architects note that the open-bird's-mouth detailing on the joinery units is still in pristine condition six months after opening, the users of the centre responding to the environment with a reciprocal level of care and consideration to that embedded in its making. Which raises the question – why is the unrestrained luxuriance of private housing defended with unrepentant zeal, yet an amply funded public building condemned as social irresponsibility?
A significant component of the budget has been invested in sustainability initiatives, which are more fully described in a companion piece in this issue of Architecture Australia. This is where questions regarding affordability do find some traction. Is all of this effort really required to provide a stable and clean-air environment on a four-storey building in Crown Street? Here the City itself comes into play. One sometimes suspects that the City is afflicted by a strange verbal tic that involuntarily attaches the word "sustainable" to every civic undertaking, but their desire to steer this project as a visible symbol of their sustainable "brand" was particularly strong.
In his recent Wilkinson lecture, Richard Francis-Jones spoke about the distinction between branding and identity in architecture, seeing branding as a simplistic characteristic very much concerned with architecture's relationship to commerce and marketing, and a building's identity being the result of a more laboured effort to engage with the particularities of place and program. Rather than wilful symbolism, FJMT's intention has been to invest the building's bespoke components with architectural qualities that transcend their environmental function – that contribute more holistically and specifically to its urban character. Given the client's preoccupations, this sensibility has liberated the building from what could have been a fairly superficial overlay. In performance terms, systems monitoring has shown that oxygen concentrations in the building are five percent greater than average – by all accounts a fairly remarkable result. Time will reveal the full worth of these results, but civic architecture seems an entirely appropriate place for experimentation of this kind.
The subjugation of the public presence of architecture can sometimes be an astute architectural response, but we must take care that it is not enforced as a default position for reasons of expediency and fear of community reaction. Public urban architecture should be unapologetic and celebratory. The fact that the Surry Hills Library and Community Centre has drawn criticism for its attempts to do so is disappointing, but makes it critically important. Public architecture should be the subject of debate – but it should never have to apologize for being well funded, forthright and ambitious.
Credits
Architect

fjmt
Australia
Project Team

Richard Francis-Jones, Simon Barr, Lance White, Alison Jones, Mark Brandon, Misha De Moyer, James Perry, Josephine Turner, Matthew Todd, Peter Wise
Consultants

AV production Noisebox Entertainment Systems
Access consultant Accessibility Solutions
Acoustic consultant Acoustic Studio
BCA consultant Davis Langdon
Builder ProBuild
Developer City Projects
ESD and mechanical engineer Steensen Varming
Facade engineering Taylor Thomson Whitting
Fire engineering Arup Sydney
Hydraulic consultant Warren Smith & Partners
Lifts and security consultant Steensen Varming
Lighting and electrical engineers Steensen Varming
PCA Davis Langdon
Project manager Altus Page Kirkland
Structural engineer Taylor Thomson Whitting

Site Details

Location 405 Crown Street , Surry Hills, Sydney, NSW, Australia

Project Details

Status Built
Category Education, Public / commercial
Type Culture / arts

Client

Client City of Sydney
Website cityofsydney.nsw.gov.au

Source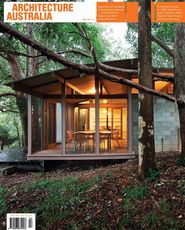 Issue
Architecture Australia, March 2010
Related topics