A tired shopping centre around the heritage-listed former Bank of NSW building in Surry Hills is set for a major overhaul, following the City of Sydney's approval of plans to redevelop the centre.
Designed by SJB Architects and Studio Prineas, the approved scheme includes an upgraded shopping centre, the adaptive reuse of the heritage building and the construction of six apartment buildings that will house 154 apartments.
A new laneway extension to the south of the site will connect Cooper Street and Baptist Street, and a new public park will be introduced further south of the new laneway.
SJB and Studio Prineas, together with BKH Interiors and landscape architect practice Aspect Studios, won a design competition for the project in 2018.
SJB director Adam Haddow explained at the time how the design would complement the Federation-style brickwork of the Bank of New South Wales building, built in 1867.
"On the external of the building we wanted to maintain the beautiful history of the building and bring it to life through rounded brickwork, terracotta blades and an abundance of plant life," he said.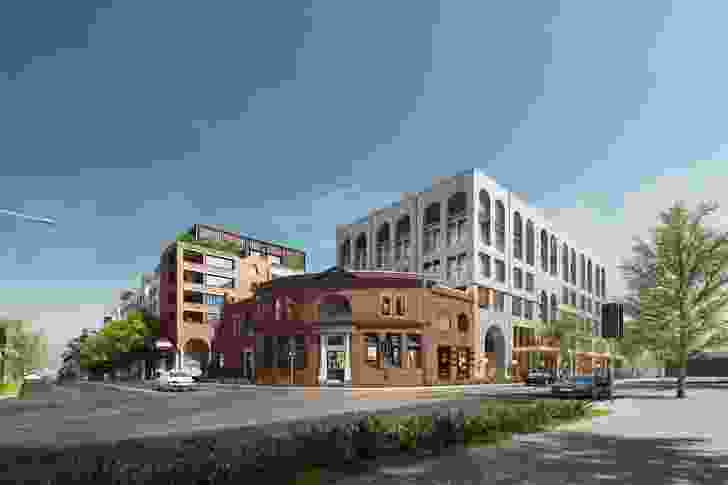 A number of changes have been made to the competition winning design, including the removal of the cantilevered section above the heritage building and some modifications to architectural elements of the facade.
The residential buildings will feature a combination of bagged and painted brick podium facades with metal cladding at upper levels in "rich, earthy tones" to complement the surrounding heritage conservation area.
The main commercial building on Cleveland Street will be constructed in cross laminated timber and clad in grey textured brick.
Council planners said the material choices and overall design "will positively contribute to the aesthetic qualities of the streetscape.
"The development achieves a high standard of architectural design, materials and detailing, with the provision of landscaping and green roofs throughout the site that will contribute positively to the public domain," said the report to councillors.
At competition stage, the proposal beat out three other design teams, one comprising Bates Smart, Chenchow Little and Luchetti Krelle, another comprising DKO Architecture, Archer Office, Hames Sharley, Tribe and Aspect Studios, and the third comprising Woods Bagot, Alexander and Co and Christopher Owen Landscape Design.
The project is being developed by Toga, at an estimated cost of $148 million. The developer has indicated construction would begin in the second half of 2020 and completion is expected in 2022.
Related topics