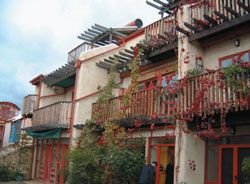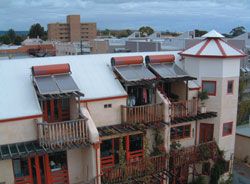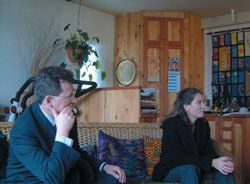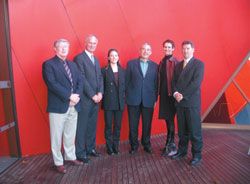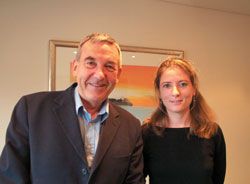 SHIFTS IN CULTURE are evident in shifts in slogan and icon. Theodore Levitt's vision of unified global culture as a "single converging commonality" is manifest in the recent signing of the Australia United States Free Trade Agreement. This pact further ensures that the "global village" becomes a planet-wide telecommunication bubble and that a new generation of Australians knows more about Beckham than Bradman.
The semi-pro-environmental mantra "Think Global Act Local" has shifted sideways to further suit economics in the new manifesto "Think Globally Act Consistently". And, although Tony Fry argues for the adoption of the term "sustainment" over "sustainability" (or even sustain-ability), the term only predominates in the lexicon of military and nuclear weapons programmes. For Fry, the essence of sustainment varies from that of sustainability in its positioning against the limited and functionalist concept of the latter.
"Green building" and "sustainable design" – phrases that once described a series of environmentally responsible strategies – have now been expanded, rhetorically, to include intentions as well as actions. The advantage in competitive markets of "green labelling" serves only, in many cases, to sustain the unsustainable: to validate the utopian or socially controlled projects that speak more about vision than action. Green labelling and "greenwash" condone a discussion about the greenness of parts rather than that of a whole.
Accordingly, news of the recent RAIA speaking tour by UK architect and engineer John Doggart and Australian sustainability specialist Danielle McCartney was met locally with interest and perhaps a small degree of scepticism. The press release for this event promised a debunking of myths and mistruths about "going green". Doggart (a leading figure in the field of responsible design and sustainability of the built environment in Europe and a director of FaberMaunsell) and McCartney (consultant to FaberMaunsell and sustainable design manager with Noosphere Ideas) share a common educational background, both having studied at Cambridge. Their collective environmental consultation experience in a range of projects worldwide makes them good exponents of green myth debunking.
Although divided on some aspects of their subject, Doggart and McCartney were in agreement on one: sustainability. Both define it as not being solely about energy efficiency, but about the whole package: a range of issues, including water and materials, rather than as it is traditionally investigated in architectural terms (that is, about airconditioning and natural ventilation). Further, that energy is not just about heating – it also includes lights, appliances, travel and food, and that it is important to show the relative efficiency of those factors.
McCartney notes the resistance many architects have to the difficulties inherent in environmental design. Both see climate responsive design being perceived as ugly as a key constraint, or more appropriately, a key challenge to its acceptance. This perception, notwithstanding the many excellent European and Australian examples of functioning, financially effective and healthy buildings, persists even though many environmental design strategies are now mainstream responses. Every decision in terms of ESD, notes McCartney, is a dilemma which can be followed to its anticipated conclusion, or which can force the solution in an opposite direction. One such dilemma in Europe is the trend-forced demand for expanses of glass in contemporary inner-city buildings. Buildings, says Doggart, that are all glass are going to have an awfully hard time being environmental. Both found it amazing that Australia has glass buildings without shading, while in Europe and especially London their equivalents have unnecessary shading. Consequently, either airconditioning or heating is required – costly implementations that could have been avoided if the concern for aesthetics was subjugated.
So whose responsibility is it to change perceptions, address myths, and provide positive exemplars – the "champion architects", as Doggart describes them, or the consumer?
McCartney believes it is everybody's responsibility, but concedes this is no good answer.
Doggart was more specific in identifying the stakeholders who represent the common good: town planners and local authorities. Once policy is established which includes or invokes building regulations and sustainability standards, then it is the role of progressive architects who say "look, it can be like this"; that is, architects who don't publish, who are not in the popular press and who "do it" off their own back.
One example cited by McCartney is Christie Walk, a mixed-density community housing project in Adelaide that demonstrates that sustainable living can be achieved in the inner city.
She notes this pilot project reintroduces the idea of "community" to the city. Car dependency is reduced and community facilities that have been the vital core of Northern European co-housing developments for decades create a "calm oasis" in the middle of Adelaide. This design project should be praised, says McCartney, for what it gives back to the community.
"Architecture has always been the juggling of putting the values of the various components of their project together in a way to maximize the benefits of design", notes Doggart. "It's not just a visual game; it is not about spatial shaping; it goes back to society and the role architects have to play in it".
Both Doggart and McCartney are critical of high-tech design strategies, instead recommending everything that is low-tech and that "doesn't fall over". "We are so far removed from the basic craft of building where you have to understand how to make things manually." High-tech buildings, in their experience, tend to be high-energy buildings – no-one advises tenants on how to inhabit their buildings; generations of users have no knowledge of a building's operations or controls.
One myth Doggart and McCartney were keen to address on tour was the relative value of ratings systems. "In Australia there are all these energy rating tools, one for every state, and now we are getting 'sustainability tools', but no national accreditation system." McCartney believes a national body, such as the Green Building Council, should oversee this aspect, "as all the states are competing against each other and they are very protective of their own work.
There should be some federal leadership and research authority that says there is one tool".
Both concede, however, that notwithstanding greenwash and misleading labelling, no clear guide in terms of ratings systems, and little activity at a civic level, sustainability is becoming a more common term in conversation. Most clients, at a range of scales, confess some desire to engage with the process of environmentally responsible design. Perhaps one positive outcome of a shrinking world is the prospect of rapid dissemination of architectural solutions that work at a low-tech level and that reinvest communities with opportunities for sustainment.
DR CATRIONA MCLEOD IS A LECTURER IN ARCHITECTURE AT THE UNIVERSITY OF TASMANIA.