Final designs for the $21.8 million refurbishment of the 40-year old Sutherland Entertainment Centre building in southern Sydney have been placed on public exhibition.
The venue, originally known as the Sutherland Civic Centre, "holds an important place in the collective memory of the Sutherland community" according to the architects, Chrofi and NBRS Architecture.
Their scheme for the redevelopment aims to interpret and complement the existing aggregated brick forms of the theatre while materially linking the building with the adjoining heritage listed church and presenting an appropriate scale to the adjacent Peace Park.
This speaks to an overall goal of re-affirming Peace Park as the "civic heart of Sutherland," and making the Entertainment Centre feel as if it is a part of the park.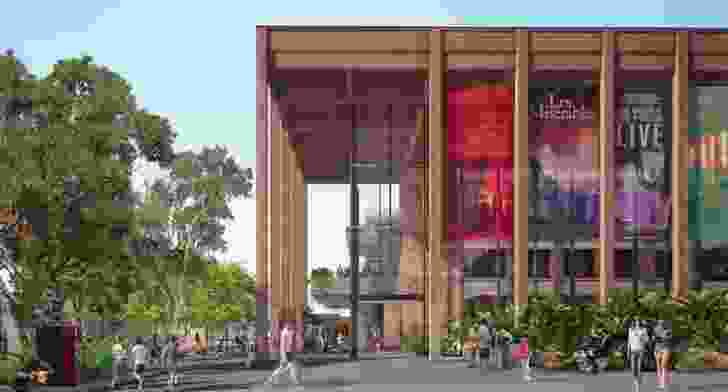 "A key aspect of our proposal was to improve the interconnectedness between the Entertainment Centre and Peace Park, by including a north facing veranda and versatile foyer space, that will evoke a relationship where the building and park will begin to feel very much a part of each other, and become a catalyst for community activation and cultural engagement," said Steven Fighera, Director of Chrofi, when his practice's scheme won a design competition for the project in early 2019.
Chrofi and NBRS Architecture beat out two other schemes in the competition, by Cox Architecture and FJMT.
The refurbishment will provide for greater accessibility and allow for a wider variety of shows. The project includes a 700-person tiered seating section, a new flexible teaching and rehearsal space, a refreshed entry forecourt incorporating a flexible outdoor event space.
The existing black box space and administration building will be repurposed to create a foyer on the ground floor which could be used for informal shows, large banquets, exhibitions and speaker tours, as well as serving as a space for gathering before and after performances.
GANSW has said in a submission that it supports the proposal but noted that there should be a Design Excellence Strategy for the project.
The planning documents are on public exhibition until 8 July.
Related topics