Known for the almost overnight changes to its industrial and development landscapes, China offers a challenge to architects to design buildings and places that will have enduring meaning, even if later surrounded by towers of indifferent disposition.
The Logistics Centre addresses an uncertain urban future by being two things at once. It is a tower proportioned as a series of sixteen "boxes," purposefully scaled to relate to the (currently) low-height buildings and shipping containers. There is even one red tower "container" loosely stacked to acknowledge its ground-hugging cousins. At the same time it is a tower of elegant composition, projecting confidently a refined architecture that will ensure longevity of its landmark status at the entrance to the Suzhou Industrial Park.
Attention to passive environmental initiatives throughout the podium and tower has delivered the highest possible sustainability rating in China (equivalent to Australia's six stars), an achievement that is all the more impressive given the industrial setting.
The project demonstrates a meticulous resolution of form, structure and detailing, which collectively enhance the amenity and experience for all building users.
– Jury citation
"SIP Logistics Centre provides more than 55,000 m2 of space for customs, quarantine and banking with a daily turnover of goods in excess of $US200 million. The tower form, articulated as four sets of stacked boxes, clearly identifies the logistics zone and these functions. A naturally ventilated podium incorporates outdoor terraces and wintergardens with a curved glass roof linking the podium and tower."
– Johnson Pilton Walker
For a full list of awarded projects see 2011 National Architecture Awards – the winners and for more awards discussion see Rachel Hurst and Rory Hyde's responses to the awards and the jury overview by Karl Fender.
Credits
Project team

Feng Zheng , Johnson Pilton Walker
Architect

Johnson Pilton Walker
Sydney, NSW, Australia
Project Team

Jeff Walker, Carol Zhang, Christopher Lee, Zhou Fan, Viola Li, Supinder Matharu, Richard Rowell, Adam Rusan, Sylvain Ventre, Yuwan Zhang,
Consultants

Civil and structural consultant CCDI China Construction Design International
Electrical and communications consultant CCDI China Construction Design International
Environmental consultant EMSI
Facade consultant Meinhardt Facade Technology
Hydraulic consultant CCDI China Construction Design International
Interior designer Hezhan Design & Construction Company
Landscape consultant Hezhan Design & Construction Company
Lighting consultant Sunmt Lighting Design Company
Mechanical consultant CCDI China Construction Design International

Site details

Location Suzhou, China
Category Public / commercial
Type Commercial

Project Details

Status Built

Source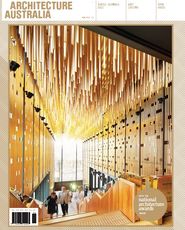 Issue
Architecture Australia, November 2011
Related topics