I discovered SW1 completely by chance in my first hour in Brisbane. Determined to stay awake after the long haul flight from London, I set off for a walk. I had stumbled only two or three blocks along Melbourne Street when lush palms and ferns beckoned me down a walkway, leading to Kauri pines, flame trees and bamboo. Once past the gloomy, shady cafes where customers huddled beneath outdoor heaters (despite it being twenty-four degrees – I, the Pom, was dressed in sandals and a T-shirt), I emerged at a place quite unlike anywhere else in Brisbane. This is the joy and the major disappointment of SW1.
SW1 is one city block of truly urban living that features the qualities of convenience (shops, offices, houses and apartments) within walking distance from the city centre – an urban block where the car is secondary to the pedestrian. It is a legible, liveable and environmentally friendly island. The landscape design is of high quality and the scale of the planting, combined with the emphasis on quality public places and walkways, would make any British landscape designer turn green and wilt with envy. It is just such a crying shame that there isn't more of it.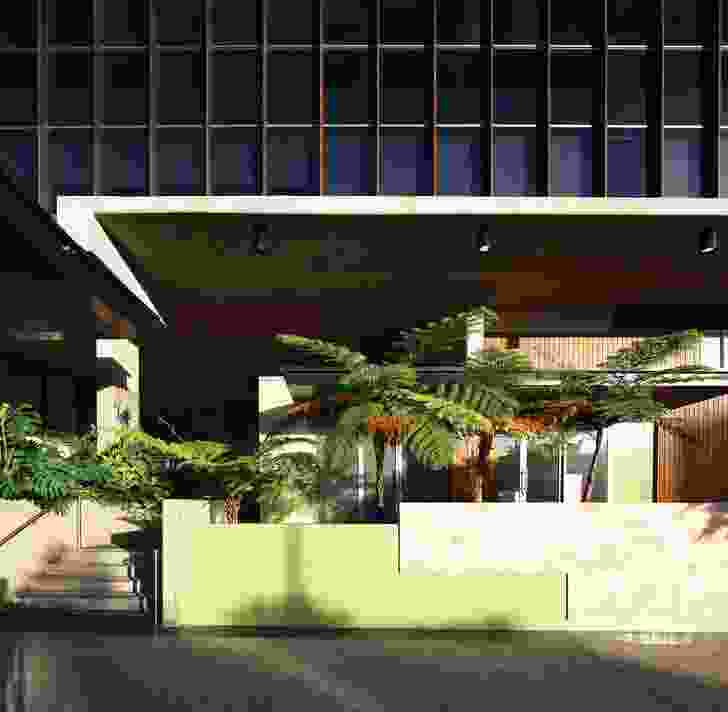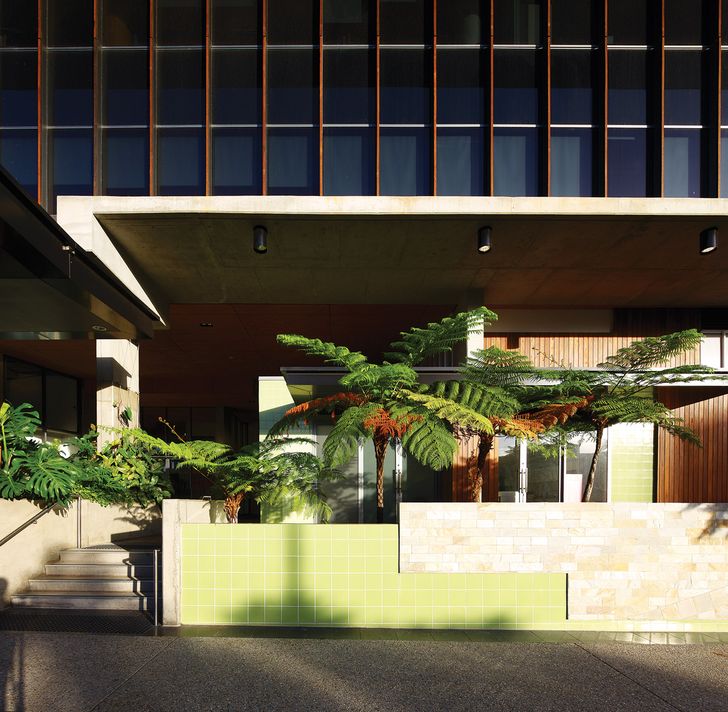 The block sits between Melbourne and Russell streets to the west and east, Merivale Street to the north and Cordelia Street to the south. The area from the west to the east is divided by a meandering pedestrian spine, crossed by three laneways, one of which is for pedestrian use only, while the other two are narrow and uninviting to cars. Here, cars drive slowly, if they bother to enter at all. Credit has to be given to the developer and the South Bank Corporation, who envisioned a sustainable, high-quality pedestrian mixed-use urban village. This has been partly achieved by placing the whole project on a podium so that the majority of car parking is on two levels underground. The project also prides itself on its sustainability, with a 700,000-litre tank for storage of rainwater run-off.
The unifying factor of the project, and what has led to its success, is that Gamble McKinnon Green was employed for the duration of the project across all four stages (the only consultant to remain throughout the project). The result is a scheme that is seamless in quality and design and has successfully adapted itself to the architectural vision of six different architects.
The landscape budget was healthy, with heinous "value engineering" only slightly affecting it, rather than sucking the aspiration out of the project. This must partly be due to the tenacity and hard work of Gamble McKinnon Green and its unusually prominent role as the lead consultant.
You can tell a place is successful if complete strangers come up to you to tell you how fabulous it is to live/work/eat/sit/snog/drink there. At one point I wondered if this was a set-up by Gamble McKinnon Green, but partner Andrew Green is far too modest and self-effacing.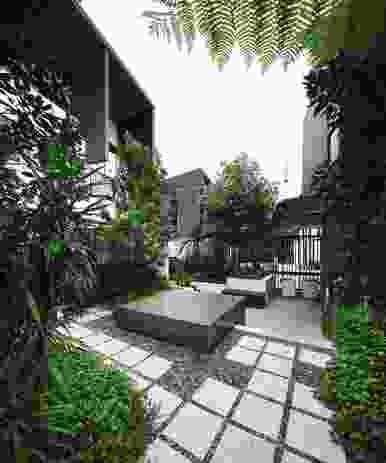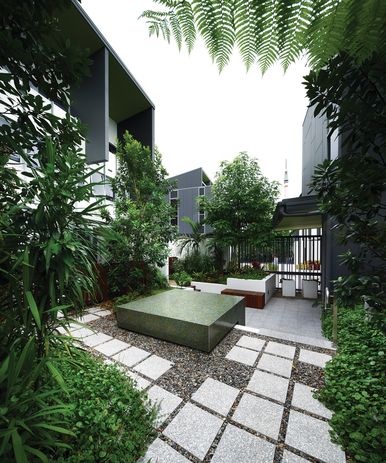 The first person I met worked nearby. "You can walk through there, you know," she said as she watched me standing on the edge of the site. "I discovered this area by chance. I work across the road but come here to buy a coffee and sit in the peace and quiet away from the traffic. It's bliss." The dogleg entrances to laneways and semi-obscured routes (thanks to dense planting) create semi-private spaces, which only the nosy or jet-lagged might find. This blurred boundary between public and private space seems a deliberate aim of the design, allowing extra privacy for residents without restricting public use. It is also under-explored due to the fact that the ground-floor commercial spaces on the Russell Street end are devoid of restaurants and shops, but this will change in the future. Seeing Andrew and myself lurking in undergrowth outside their property, the inhabitants of 14 W Terrace opened the gate to their front yard and suggested that we could see into their house far better if we came inside. This wasn't sarcasm, this was a real invitation. Their three-storey, terraced, glass-fronted and backed house is part of the most successful area of the scheme, in terms of both architecture and landscape design. Each house has a small front and back deck, with a gate leading from the back deck onto a communal garden only accessible to residents. The owners had set up a gardening club and actively manage and maintain their garden and host regular gatherings. This is probably the best sign that a scheme works – when a new community has been created by a space that enables them to commune. The residents know how lucky they are to live somewhere so special and the landscape design is seen as one of the development's major selling points. It is good to see that developers recognize this too, and Gamble McKinnon Green has since gained new commissions to create similar schemes elsewhere.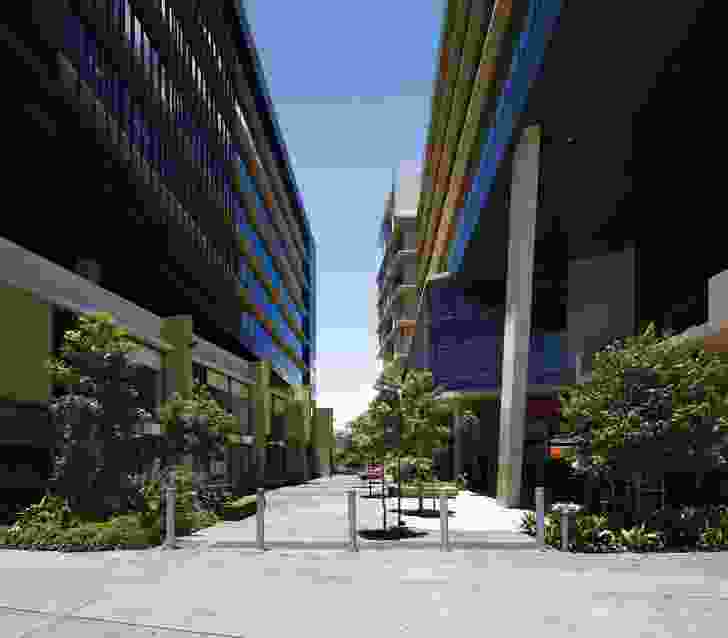 The design and detailing of the landscape draws upon the vision employed by Brisbane City Council for a subtropical aesthetic of native endemic plants and the Queenslander vernacular of screens and decks. Its location close to South Bank allows visual references to its busy port and river activities with the reuse of wharves' timber as bench seating, low walls of raised grass areas and shaded seating. It is refreshing to see generous seating that actually allows you to lie on it, as opposed to those designed primarily for cleaning convenience. Generous is a good word to describe the design ethos of the project – generously sized public spaces, generous depths of borders and quality of planting, and generous amounts of well-designed lighting and bike racks. But there are also over-generous amounts of bollards and anti-skateboarding strips plastering every low element, which spoiled it for me. If you have to add anti-skateboarding strips to your design then you haven't created a good design solution. It is better to design elements that are unattractive to skateboarders in the first place. It is a minor gripe because not only does SW1 look good, it sounds great too. The wind rustling through the bamboo helps to obscure the sound of the encircling traffic. In summer it probably smells good as well, when residents barbecue and scented planting is in flower.
The scheme has a few weaknesses, including a tapering off in quality at the site's edges; a parking space directly in front of the accessible ladies' toilet, making it only accessible by pole vault when occupied; car-scale lampposts, which should be pedestrian-scaled; an abundance of shade at Melbourne Street, which make the entrance very dark and cold; an excess of bollards, which break up the permeability of the laneways; and a lack of communal gardens for the Eden apartment block, which has a rather dark, narrow and intimidating central atrium. The pedestrian walkway is far more successful than the two that allow cars, making me wish they had been bold enough to pedestrianize all three. But there are more positives than negatives – a clever deep border running along the Dos building acts as a green screen for the houses on the entire street, allowing people to sit out on their front decks unobserved by passers-by, and well-designed areas of trellising (in front of the houses at the exposed ends of blocks) act as screening and shading.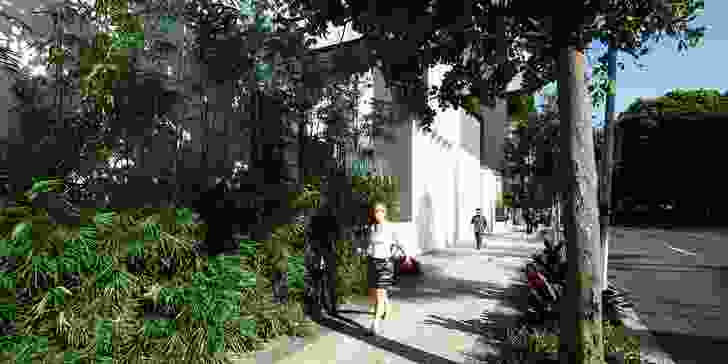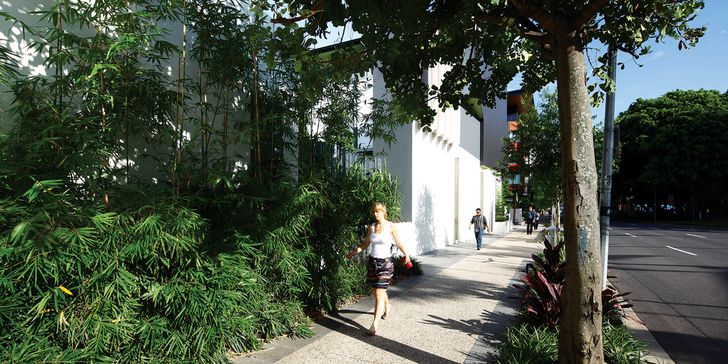 Andrew Green said that he nearly fell off his chair when SW1 won the 2011 AILA Queensland Medal for urban design. He shouldn't have. If I lived in Brisbane, SW1 is the place I would want to live. Let's hope that more people feel the same and the qualities of the scheme become the norm rather than a delightful exception.
Michael Rayner – principal of Cox Rayner Architects
"Cox Rayner Architects' involvement in the SW1 project began with a winning design scheme submitted to South Bank Corporation in 2005. This scheme responded to a masterplan that had been prepared by Denton Corker Marshall for South Bank Corporation, which proposed a series of parallel laneways to provide permeability across the precinct.
"Our scheme added a longitudinal pedestrian spine through the site, effectively forming ten building sites. Of our own volition, we proposed that there would be five architects involved in the project, each with two sites, as a means of creating diversity of form and space. Gamble McKinnon Green's landscape was seen as the 'thread' which would unify these diverse characters.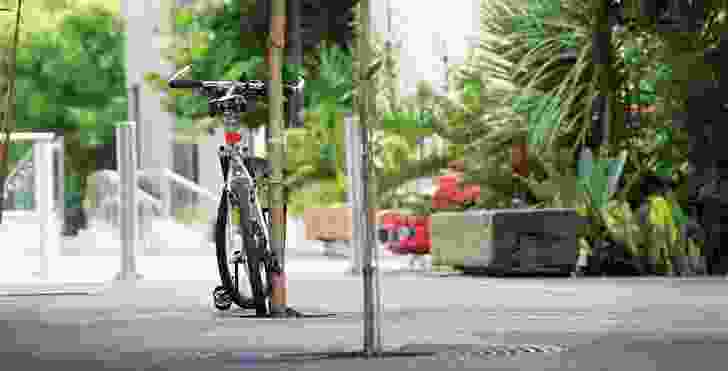 "As it turned out, some of the sites changed in usage as the development progressed, in response to the challenging economic climate. These changes resulted in different architects being appointed for the sites.
"The underpinning principle of our concept was not the laneways but the spine linking public squares, activated by retail outlets at each end. At the northern end, the square is a fully covered space occupied by a cafe pavilion and addressed by fresh food markets, a wine emporium and a restaurant. At the southern end, the square is a lush garden with surrounding vines reaching up the office building. It is designed as a retreat from a relatively hostile vehicular environment. It is really the only urban space in Brisbane that I believe genuinely embodies the city's subtropics.
"We regard our office building as particularly successful in its activation and climate response, especially given that the buildings were all speculatively developed. Mostly of precast concrete and tile, they demonstrate through deep reveals and accentuated roofscapes how subtropical identity can be imparted to office typologies.
"Gamble McKinnon Green has, as hoped, designed landscape settings which give collective identity to the various architectures, generating sight lines across the precinct, creating pause points for gathering or casual encounters, and reflecting the site's technical role as a floodway through species selection.
"SW1 is very evidently a site- and context-specific precinct but also a model for mixed-use urban precincts elsewhere. It is courageous enough to engage multiple architects, and is a testament to the project managerial skills of Brisbane's South Bank Corporation."

SW1 was the winner of the 2011 Australia Award for Urban Design.

Credits
Landscape architect

Gamble McKinnon Green Brisbane
West End, Brisbane, Qld, Australia
Project Team

Andrew Green, Andrew Galt, Beau Hilliar, Wendy Badger, Kate Barltrop, Matthew Moore
Consultants

Architect Cox Rayner Architects, John Mainwaring Architects, Haysom Architects, Allen Jack + Cottier Architects, Fairweather Proberts Architects (now bureau^proberts), Think Tank Architects
Builder Hutchinson Builders Brisbane
Certifier Certis Group
Cost consultant Mitchell Brandtman
Hydraulic engineer Steve Paul and Partners Brisbane
Mechanical engineer WSP Lincolne Scott
Project management Project Strategies
Structural engineer Robert Bird & Partners
Traffic engineers Holland Traffic Consulting

Site Details

Location South Bank, Brisbane, Qld, Australia
Site type Urban

Project Details

Status Built
Design, documentation 25 months
Construction 46 months
Website http://www.austcorp.com.au/property/commercial-property/queensland/sw1
Category Landscape / urban, Residential
Type Multi-residential

Source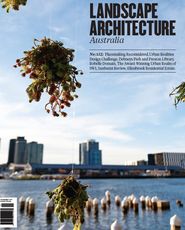 Issue
Landscape Architecture Australia, November 2011
Related topics