Sydney Airport Corporation has announced that it has turned down the opportunity to develop and run a new airport in Sydney's west, days before a deadline. Prime minister Malcolm Turnbull said the federal government will build Western Sydney Airport (WSA) itself. The Sydney Airport Corporation, which operates Kingsford Smith Airport, was offered first right of refusal under a contract with the government which meant that it had to be offered the chance to develop and operate a second major airport within 100 kilometres of the Sydney CBD.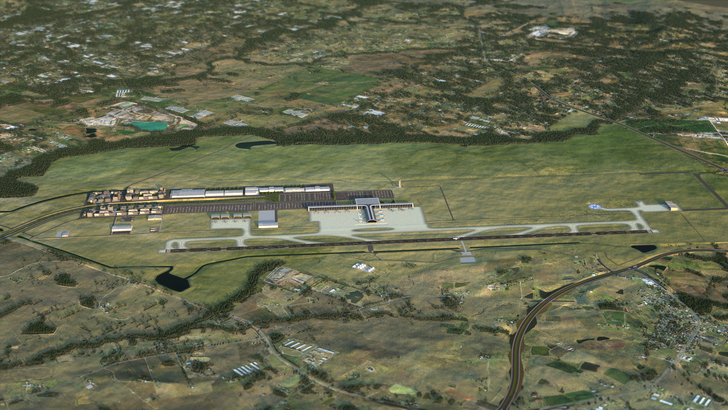 The airport, planned for a site in the Badgerys Creek neighbourhood approximately 51 kilometres west of the Sydney CBD, is planned to be operational by 2026, with construction work commencing at the end of 2018. Kingsford Smith Airport is eight kilometres south of the CBD. The total cost of building the airport will be included in the federal budget on 9 May, with estimates putting the cost between $5 billion and $6 billion.
Sydney Airport managing director and CEO Kerrie Mather said, "Despite the opportunities that WSA will present, the risks associated with the development and operation of WSA are considerable and [will] endure for many decades without commensurate returns for our investors."
Speaking to ABC Radio Sydney, federal urban infrastructure minister Paul Fletcher said the corporation and the government had different priorities when it came to making long-term infrastructure investments. "If you have a look at what Sydney Airport had to say, they said that the terms of the Western Sydney Airport Notice of Intentionion […] do not meet its investment criteria. Now, of course government can take a longer timeframe and perspective than a privately owned business can, so that's a decision Sydney Airport Corporation has made. We respect that decision."
Deputy Prime Minister Barnaby Joyce, who told the ABC, "I always thought they'd play us along as long as possible and then say no." Sydney Airport had up to three months to respond after recieving the government's Notice of Intention, which was issued in December 2016.
"So long as the fees are accessible and so long as the airport is built as quickly as possible, I think the community wants to see the project come to life as opposed to worrying about who builds and operates it."
Fletcher also acknowledged that the federal government has been planning for the possibility that the corporation would reject the plan "for many months."
No transport links have been planned or announced to connect the proposed airport with Sydney's transit system. A rail scoping study is being cooperatively planned by the NSW and federal governments to identify routes for a possible rail connection. Federal opposition leader Bill Shorten announced a commitment last week to building a $400 million rail link connecting the proposed airport to a new orbital rail line in Sydney's west.
The WSA is part of the federal government's City Deal program, which are intended to be local government-led projects funded by state and federal governments and private partners. Other city deals are planned for Launceston, where the University of Tasmania campus will be relocated and redeveloped, and Townsville.
Related topics