"Make lace not war" was the catchcry of Love Lace, the centrepiece exhibition of Sydney Design 2011, curated by Lindie Ward with exhibition design by Durbach Block Jaggers and graphics by Toko. Most people think of lace as the dated, decorative preserve of the elite – few people think of lace as politically charged. But as the blisteringly keen volunteers in the study room will tell you, the blood-soaked history of this craft is steeped in high drama. One of the form's great aficionados, the too-proud profligate Marie Antoinette, was despised by her people for flaunting her extravagance in the face of desperation – her head would topple in the French Revolution.
The advent of manufacturing processes that perform repetitive and time-consuming tasks with greater accuracy and efficiency than conventionally hand-crafted techniques, has dashed the romance of laboured lace-making and decimated the craft's value as a commodity fetish. But the form has taken on new life in the realm of art. On display were works using materials from plastic to human hair, and from echidna spines to guitar strings.
Anne Mondro won the third Powerhouse Museum International Lace Award with Detroit's Shadow, a life-sized crocheted reproduction of a 1916 Model N Ford engine in steel and copper wire. Taking what was once a symbol of American ingenuity and masculine virility, Detroit's Shadow is a work of feminine re-imagining that embodies the spirit of a town that fell from prosperity with the demise of the industrial era but is now being revitalized by a booming artistic community.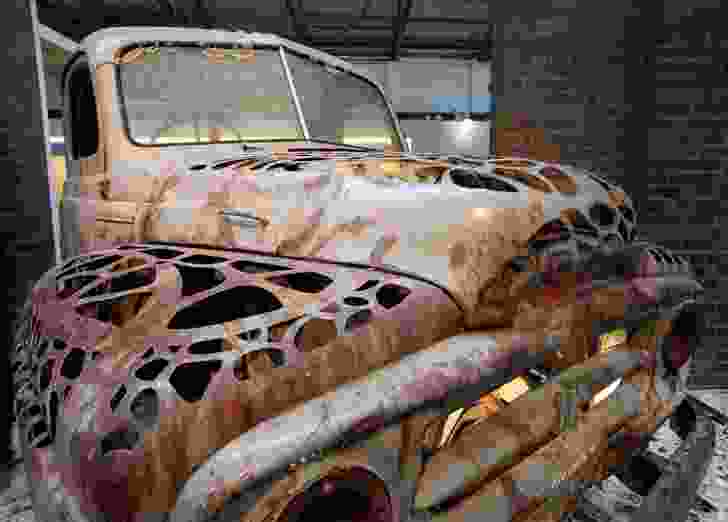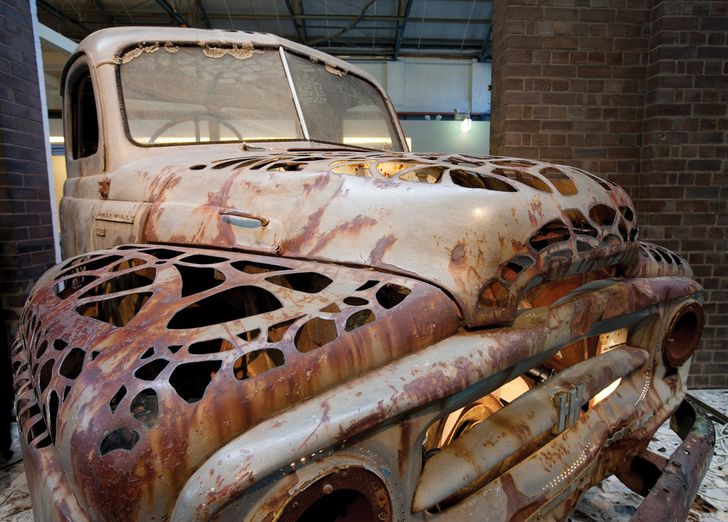 Lacie Lorrie by Ingrid Morley is a rusted carcass of a timber hauling truck where a plasma cutter has been used to fashion a honeycomb-like patchwork patina. Timber harvesting is tough, leaving its mark on the people and the land, an ambiguous relationship seeming to ask, "How and what do we destroy, in order to produce?"
Connectivity
The Love Lace exhibition was one of the stop-offs on my CultureCycle bike tour. CultureCycle runs various tours and this one included a crochet workshop. Cycling's relationship to crochet is not immediately apparent, perhaps only that these were both everyday activities a couple of generations ago. Of course, the very name CultureCycle suggests how cultural forms come and go in cycles.
The giddy rush of coasting along Sydney's new cycleways under the winter sun gave me cause to reflect on the ironic sense of disconnection brought on by the extending networks of technology to keep us connected. In an age where jet-setting for work is not uncommon, people are seeking out the simple pleasures of walking or cycling to work as a means of reconnecting with their local environment. By the same token, the revival of slow-burn domestic activities like craftwork, gardening and home cooking are back in vogue.
Designing Cities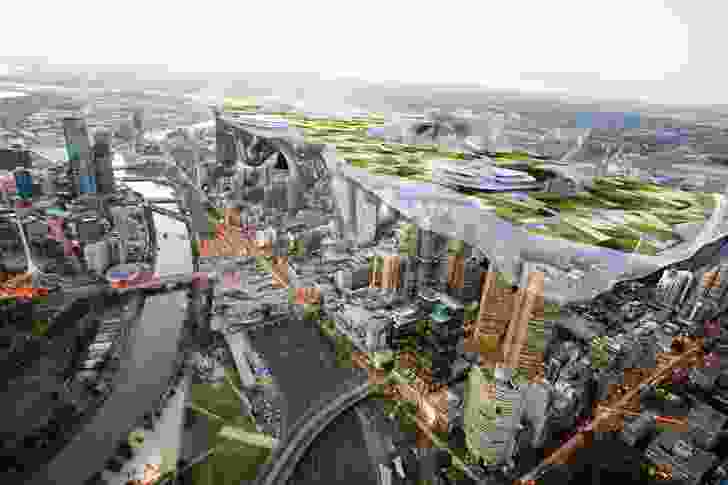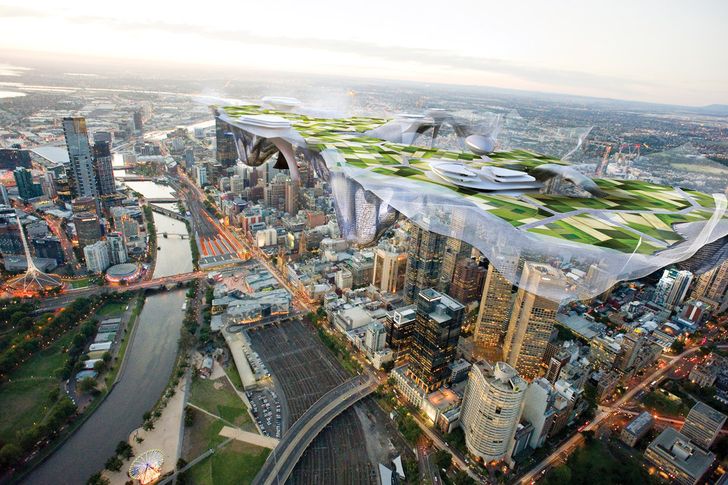 Tim Jarvis, a well-known polar explorer, environmentalist and member of the sustainability team at global design firm Arup, spoke at Object Gallery before a screening of Now and When, Australia's entry in the 2010 Venice Architecture Biennale. Jarvis spoke passionately and convincingly about the need to mainstream environmentally-sustainable practices, like cultivating rooftop gardens to reign in our food miles. He cited cities like Singapore and Shanghai as exemplars of centralized agribusiness, in contrast with local absurdities like growing rice in semi-arid New South Wales for export to Asia. In a sense, he was championing a model of an ancient city, one that prides itself on self-sufficiency and community.
Extreme Density Paris was an exhibition of prospective architecture, by a team of architecture masters students from the University of Technology, Sydney (UTS); one of ten international teams working on Nicolas Sarkozy's 2008 radical urban planning consultation. Teams were asked to envision the evolution of the French capital as a "post-Kyoto" metropolis, which allows for population growth beyond the current two million Parisians without increasing urban sprawl. The core of the UTS scheme is a series of seventeen large-scale interventions that impose a new residential stratum above and below the existing urban fabric.
Clothing/Furniture
Making art from the remains was a leitmotif of Sydney Design with sustainability at the fore of everyone's design ethic. Exhibitions by The Fortynine, a collective of young designers who refashion retro furniture, and ALAS Design Company, who upcycle vintage clothing, had well-intentioned ideas with some quirky pieces. Alas, neither venture offers a solution to the issue of providing material goods on a large scale in a sustainable way. To be blunt, retro chic is a bit of a bourgeois conceit. Wearing vintage clothing is all the rage in hipster crowds and is an environmentally responsible consumer choice. Inevitably, however, vintage is developed into a commercially viable, mass-produced product category with pre-ripped jeans, pre-scuffed shoes and pre-faded shirts – and the environmentally responsible dimension is lost.
The work being done by the Society of Responsible Design (SRD) was encouraging to see and this is where the focus of new design should be. The SRD challenges its design collective to produce products that rigorously interrogate the materials used: are they recycled, can they be recycled, will they decompose and are they toxic in manufacture, use or afterlife?
Sydney Design
30 July – 14 August 2011
sydneydesign.com.au
Source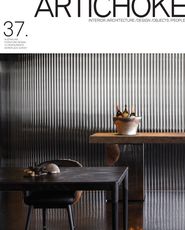 Discussion
Published online: 1 Dec 2011
Words: Marcus Costello
Images: FloodSlicer, Jamie Williams, Powerhouse Museum
Issue
Artichoke, December 2011
Related topics