As part of the City of Sydney's Laneway Revitalisation Strategy – Sydney Lord Mayor Clover Moore's scheme to reactivate a number of Sydney's historically significant laneways – two such laneway precincts have recently been completed under the direction of landscape architects Aspect Studios.
Chinatown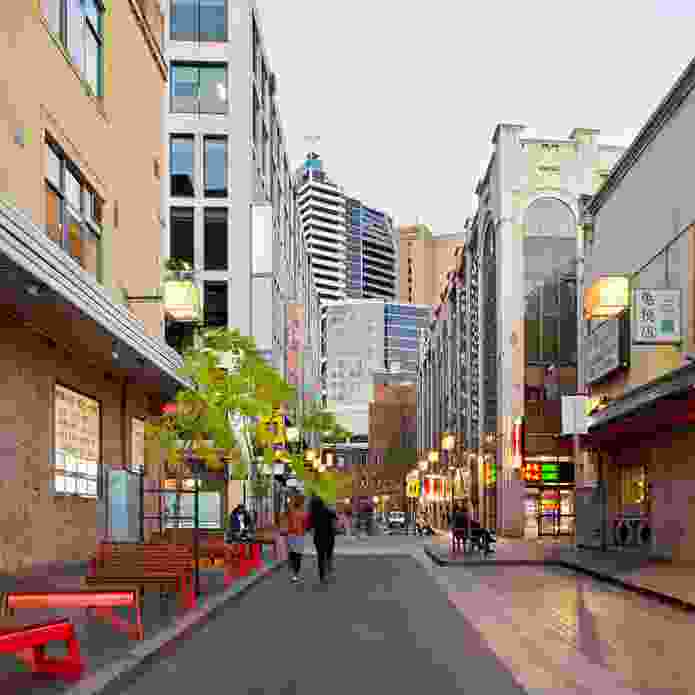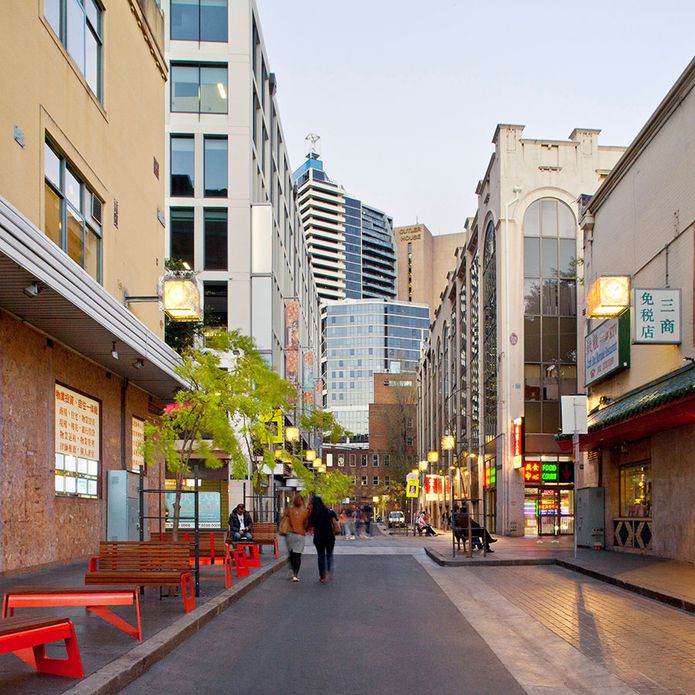 Stage one of the upgrade of Chinatown's Public Domain included recently completed works to Little Hay Street, Factory Street and Kimber Lane. Factory Street has been converted into a share-way, with extended pavements of granite with cobblestones. Mature trees have been planted in Factory and Little Hay streets, with an overlay of lantern-style lightboxes and a ribbon of site-specific furniture (of Emperor red podwerocated steel and hardwood) threading the streets together.
Improvements to the intersection of Little Hay and Dixon Streets include upgrades to the Heaven and Earth art installation (by Peter McGregor, Deuce Design and Aspect Studios) with a new ground-plane element incorporating granite etching, custom cast iron and LED lighting.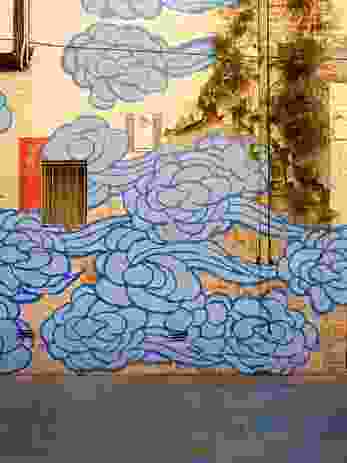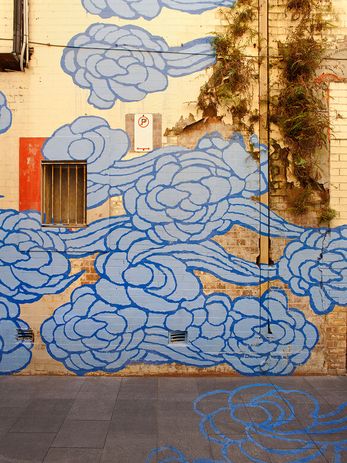 Little Hay and Dixon streets are linked through Kimber Lane, a previously underutilized thoroughfare. Artist Jason Wing's mural, Between Two Worlds, helps unify the two painted elements, with granite etching and lighting referencing both the site's history and current community.
Angel Place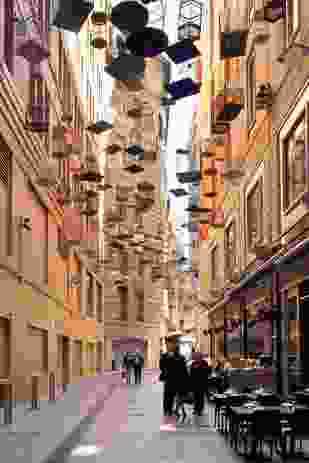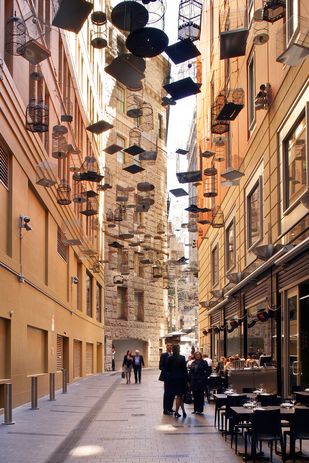 Surrounding the City Recital Hall (home to the Brandenberg Orchestra), Angel Place and Ash Street are priority projects under the Sydney Laneways scheme. The key transformation here has been the creation of a shared traffic environment that facilitates walking and cycling and creates opportunities for day-to-day street life.
The upgrade includes revitalized streetscapes, lighting, traffic-calming kerb extensions, a new stormwater system and the integration of site-specific art. It also provides the backdrop for theatrical events and a safer pedestrian link to the City Recital Hall, George Street, Martin Place and the active retail laneway life on Ash Street. A focus of the upgrade is the beautiful public art installation Forgotten Songs by Michael Thomas Hill, created for the Laneways by George exhibition in 2010, and now a permanent fixture in Angel Place.
Forgotten Songs commemorates the sounds of fifty native birds no longer heard in central Sydney. Their recorded calls filter down from the canopy of birdcages suspended above the Angel Place walkway in a changing soundscape where the daytime birdsong gives way at dusk to the calls of nocturnal birds that once inhabited the Tank Stream area.
Beneath Forgotten Songs, a refined material palette was used to rejuvenate the laneway's hard landscape. Smaller pavers and inground interpretation units make pedestrians a priority, and a thread of lighting elements express the labyrinthine quality of this laneway and provide visual cues to the wider connections that exist.
Led by Aspect Studios, the design teams included (for Chinatown) Deuce Design, Jason Wing, Peter McGregor and CAB Consulting, and (for Angel Place) McGregor Westlake Architecture; Olsson Associates Architects; Michael Hill; and FRD. Specialty consultants on the projects included: Arup; GML; GTA Consulting; Lighting, Art + Science; Morris Goding Accessibility Consulting; Northrop; and Wilde and Woollard.
Related topics