The Sydney Olympic Park Masterplan 2030, released in 2010, suggests that by 2030 the urban precinct will "fulfil its destiny to become one of the world's great contemporary civic spaces." This will be thirty years after the city hosted the Olympic Games: Sydney really did miss the starter gun when it came to using the event as a catalyst for urban development. The greatest challenge in achieving a world-class civic space at this site is that Sydney Olympic Park was simply not designed as anything more than a cluster of venues. It broke with tradition in this regard. Following the disastrous financial failure of the Montreal Olympic Games (1976), subsequent hosts Los Angeles (1984), Barcelona (1992) and Atlanta (1996) largely used existing venues scattered throughout their respective cities. Lacking sufficient venues, Sydney did not have this option. Its cluster of new venues was among the largest in Olympic history. However, for the energy that was invested in this single site, there was a surprising indifference to making it into something that would be a durable urban precinct beyond the Olympic Games.
The Sydney Olympic Park Authority (SOPA), the development authority for the site, is now playing catch-up. The 2030 plan is designed to accelerate growth, with 1.4 million square metres of new construction planned and a daily population of over 50,000 people, in addition to visitors and event patrons, projected. Around 31,500 jobs, 6,000 new dwellings to house approximately 14,000 residents, 5,000 students and major event capacity for up to 250,000 people are the proposed figures. These demographic metrics suggest that Sydney Olympic Park will be commercially comparable to Parramatta CBD as it is today.
The long-term financial viability of the site's venues has been hampered by the mono-functional program of the site and by the simple fact that many of the venues are too big and isolated. Event organizers prefer to select more intimate venues and patrons prefer to go to venues where they have the option of partying on afterwards. Large venues and precincts really need to work as mixed-use hybrids.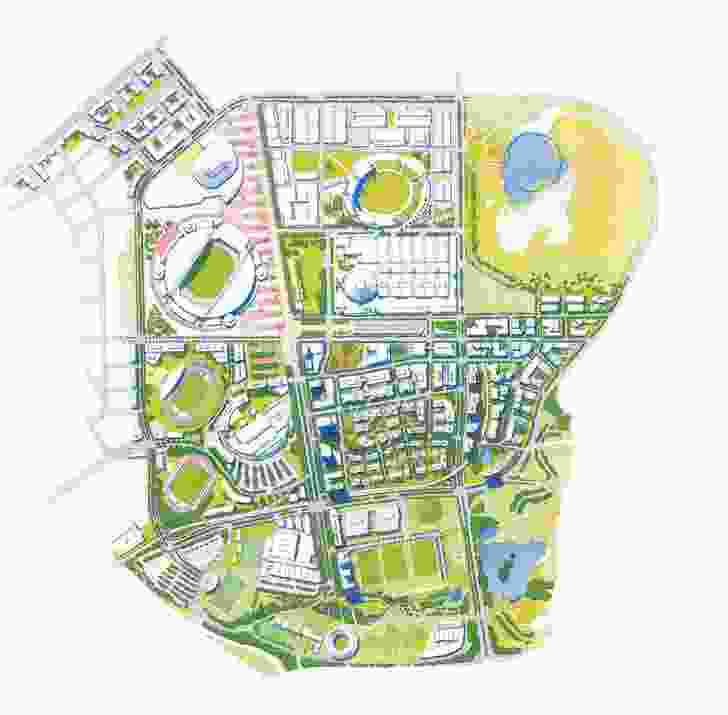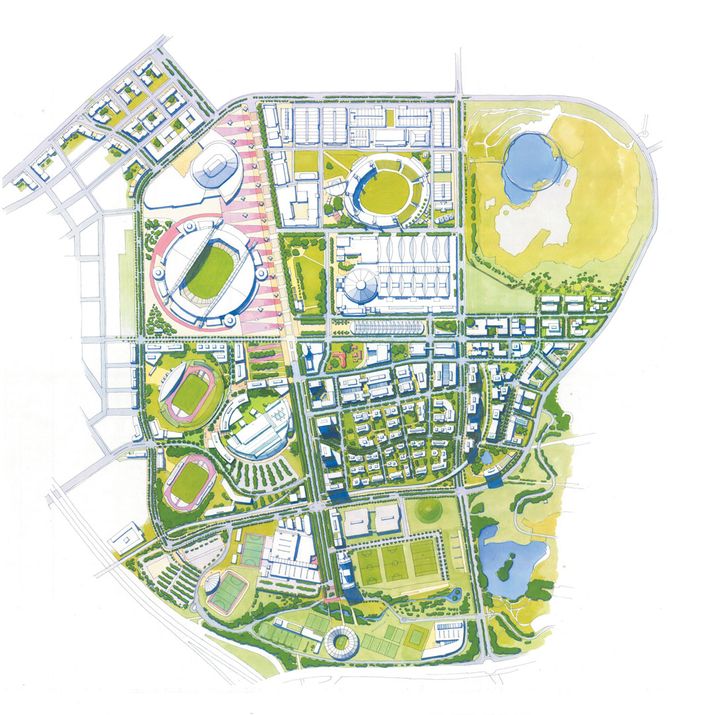 The Sydney Olympic Park site is only now attracting sufficient programs to the area, with sporting codes establishing their headquarters there and a school in negotiations to establish a campus. The first residential tower has only recently been built, and numerous mid-rise office buildings are filling out the area around Hassell's elegant railway station, which is unfortunately connected to the metropolitan railway via a feeble appendix-like loop. In contrast to the slow start to development at Olympic Park, nearby waterfront brownfield sites such as Wentworth Point and the Rhodes peninsula have already been built out. As always in Sydney, the real city and development opportunities are down by the water.
The possibilities of urban programs have been alternately hindered and helped by the various urban models proposed for Olympic Park, each gaining favour at a different time during the development of the site. The first option considered could be described as the "sports park model," in which venues are arranged in a parkland landscape. This model is best exemplified by Munich's Olympic site (1972), with its whimsical high-tech architecture in a parkland setting constructed on the bombed landscapes left over from WWII. The second model, which was adopted for the Olympic Games in 2000, was the "urban plaza model." In this model a loose grid of large-scale boulevards and avenues was established, forming a cluster where there had previously been an open scatter of venues. Originally urban programs had been proposed but they were deleted as the plan progressed. This model really needed the magnetism of the harbour to offset the bland paved spaces. This was possible until publicly owned Wentworth Point was sold and Sydney Olympic Park was denied the waterfront. The vast bare spaces surrounding the venues of Olympic Park succeed as event spaces but fail as lived, everyday, urban spaces. The final model proposed is the "city block model." This model is pragmatic, civilized and aimed at both generating revenue from developable land and creating life within the traditional realm of the street.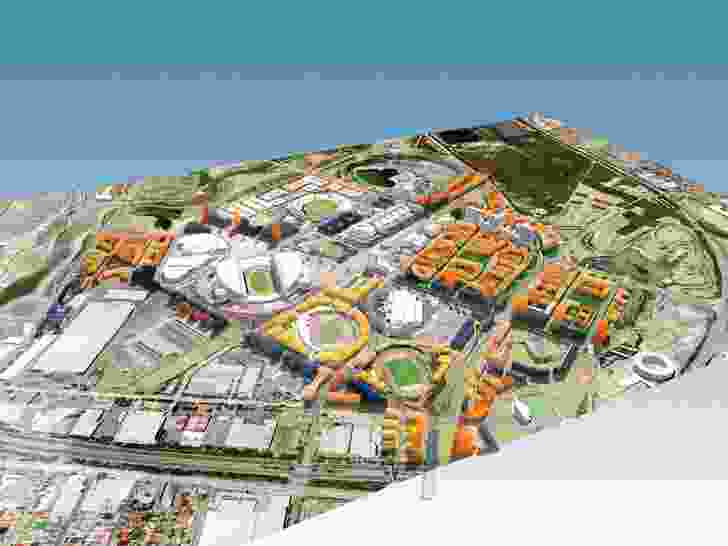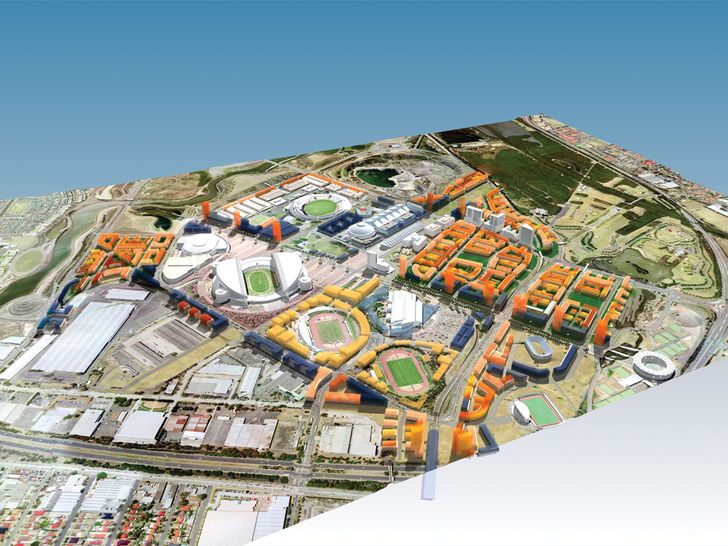 The city block model is the one embraced by SOPA's 2030 vision. The plan negotiates existing long-term leases by increasing floor-space ratios to encourage redevelopment by existing long-term tenants. This redevelopment must take place within the strict physical codes set by the 2030 masterplan. It is a well-crafted vision but one that does not adequately address the greatest triumph of the Sydney Olympics: the creation of the Sydney Olympic Park parklands (originally known as Millennium Parklands). For the city block model to work, the development authority must provide more than the overlay of pocket parks, perimeter blocks, carefully placed towers and urbane streets that are the hallmarks of urban design consultants Hill Thalis Architecture + Urban Projects, Jane Irwin Landscape Architecture and Tony Caro Architecture, who contributed so much to the SOPA 2030 vision.
The parklands – 430 hectares made up of a number of different parks and places – are successful and have large visitation numbers, but they operate largely independently from the urban core. Historical circumstance, misguided land deals and topography have all contributed to this lack of integration. It is further hindered by the fact that the design of each has been detailed in separate masterplan documents. A series of dramatic and poetic landscape interventions is needed to link the urban core to the parklands. Currently Sydney Olympic Park has a few successful gestures that direct revellers and workers to these parklands: the wetlands by Hargreaves Associates, which terminate Olympic Boulevard, being one. Additional landscape gestures do not need the bombastic virtuosity of Hargreaves Associates' wetlands, pyramid hill, and fountains. There is a rich palette of landscape boulevards around the world that link great metropolitan parks to great urban precincts. Think Brooklyn's Prospect Park and the Eastern Parkway, Paris's Jardin des Tuileries and the Champs-Élysées, and Berlin's Tiergarten and Straße des 17 Juni. Of course, Sydney Olympic Park would be an inversion of these examples, being a city in a park as opposed to a park in a city. Hostile streets at Olympic Park that desperately need this boulevard treatment include Australia Avenue, Holker Street, the northern end of Olympic Boulevard and Hill Road. As many of the streets leave the urban core, they become either crassly utilitarian or insular and monotonous green tunnels, instead of becoming spaces calibrated for cyclists, for picnicking families and for boulevardiers walking from the urban core to breathe in the parkland surrounds.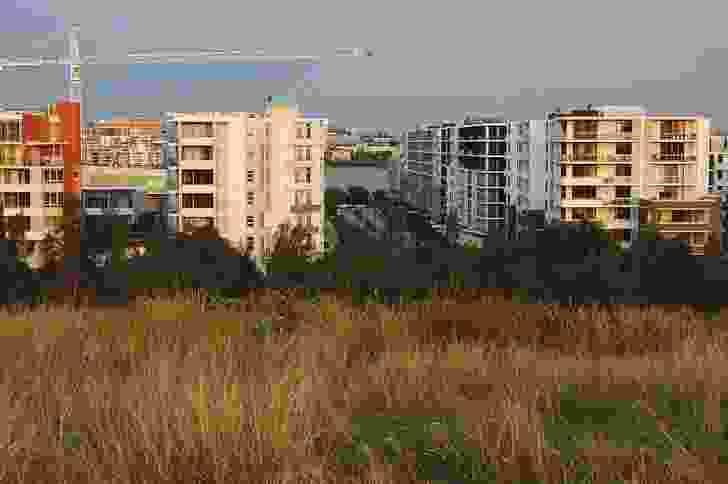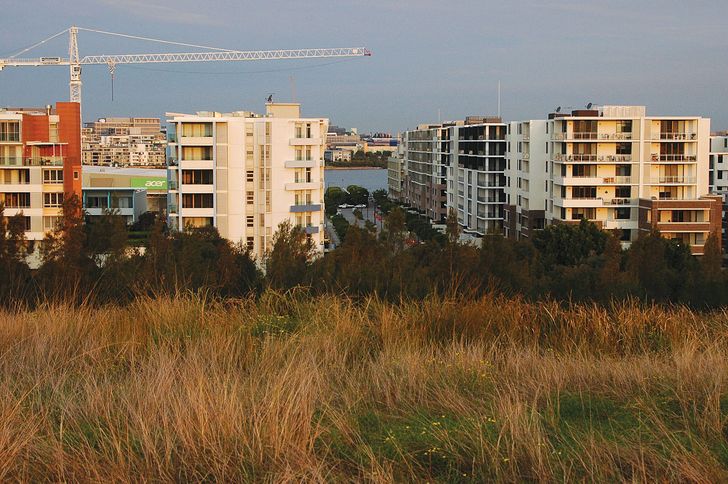 The parklands have been conjured from the most toxic and degraded of wastelands through a combination of technology, bold engineering and landscape architecture by Peter Walker and Partners, Hassell, Bruce Mackenzie Design and many others. The delivery of these parklands alone made the Sydney Olympics worth it. Standing on top of an artificial hill, looking across the grasses, river landscapes and wetlands to the new harbour developments beyond, is exhilarating and shows what Sydney can be as a city: a dramatic fusion of urban lifestyles, exciting topographies and hybrid ecologies. This feeling is also evident at the Brickpit Ring, with its startling ring-shaped walk, by Durbach Block Architects and Sue Barnsley Design. But perhaps the most successful fusion of landscape and architecture is at Newington Village, where Bruce Eeles's fresh, modernist vision nestles at the edge of Haslams Creek wetlands.
Sydney's "city in a park" is a unique and valuable legacy that needs to be more vigorously integrated as a reminder of changing values towards natural ecologies.
Source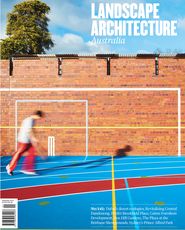 Discussion
Published online: 3 Mar 2014
Words: Scott Hawken
Images: Courtesy of Jane Irwin Landscape Architecture, Hill Thalis architecture + Urban Projects, and Tony Caro Architecture., Courtesy of Tim Throsby + Associates., Scott Hawken, Sourced via Wikipedia Commons.
Issue
Landscape Architecture Australia, February 2014
Related topics