Every year, on the first weekend in November, Sydney Living Museums and its army of volunteers invite the public to explore the city's new buildings, heritage classics and hidden gems. With Sydney in the grip of its biggest ever expansion and renewal program, preparing for a predicted population rise of 1.6 million people over the next two decades, my 2016 Sydney Open experience focused on some new additions to the skyline.
I started with a hard-hat tour of 333 George Street, an 18-storey commercial address designed by Grimshaw Architects and Crone. This small-footprint, speculative build by Charter Hall is due for completion in December 2016 and may surprise many for its civic generosity. A contoured glass facade reflects the surrounding sandstone landmarks, while opening its interiors up to become part of urban life. To avoid overshadowing, its top five floors are stepped back, affording premium tenants an outdoor terrace – a rare find in Sydney. In anticipation of the new light rail and a pedestrian plaza on George Street, the building's first three floors will be retail.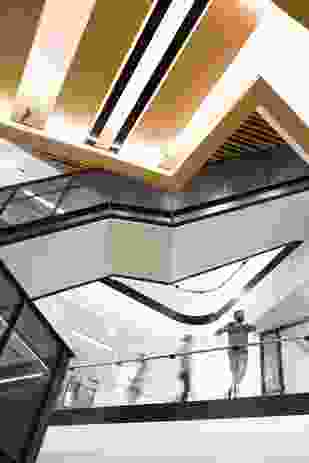 Towards Circular Quay, at 200 George Street, the 37-storey EY Centre by FJMT draws on the studio's award-wining repertoire: the faceted timber soffit of the Auckland Art Gallery and the high-performance glass and timber louvres of Surry Hills Library and Community Centre. Combined, they lend surprising warmth to a building of this height. At ground level, it connects George and Underwood streets with a lofty retail arcade in which artefacts from the site are displayed. FJMT director Richard Francis-Jones notes the design team worked hard to avoid the typically inscrutable skyscraper, which reminds him of "security guards in sunglasses: we know what they're doing, but have no idea what they're thinking."
Around the corner on Bridge Street, the Lands Department Building (1876–88) saw long queues as crowds lined up for a last look inside James Barnet's lavish Renaissance-style public service block. Together with the neighbouring Department of Education block, it begins conversion in 2017 – not to the highrise school advocated by prominent local architects, but to a five-star hotel. Hopefully, the soul and heritage fabric of the grand staircase, sandstone statuary, copper domes and clock tower will remain.
In The Rocks I rediscovered the Sydney Harbour YHA by Tzannes Associates —a building the city can take pride in as both a cultural and sustainability exemplar. In 1994, when the asphalt carpark was removed from this site, foundations from 46 early colonial buildings and over a million artefacts were revealed. Tzannes elevated its 2008 hostel building on a steel platform, leaving the archaeological dig accessible below. The Big Dig education centre is visited by thousands of school children annually.
The hostel's affordable accommodation comes with million-dollar harbour views, but also with natural lighting and ventilation to keep its operational footprint as lean as its site impact. Like the endangered Sirius social housing building just a few hundred metres away, YHA embodies principles of community and the sharing of wealth that used to be considered Australian. Today, the erosion of these values in Sydney is palpable. Around Millers Point and Dawes Point, placards protest the state government's dollar-driven public housing sell-off, which will replace these diverse, tight-knit communities with elite enclaves and monocultures. It's as if councillor Bill Heslop's mantra in Muriel's Wedding – "You can't stop Progress" – had never pricked our conscience.
It's a short walk from this historic district to Barangaroo on the city's western foreshore, where nothing prepares you for the scale of the International Towers by Rogers Stirk Harbour and Partners. Yet once you're within their network of shaded, windy streets, the towers barely register and your focus shifts to the fine grain of a manicured corporate playground.
From Level 41 of Tower Two, the views are breathtaking in every direction. It's easy to be cynical about the dominance of these towers on the landscape, but they have positives too. The three towers have the largest private solar panel installation in Australia and are engineered to become water positive and hold a zero landfill status by 2020. Time will tell whether the newly completed Wynyard Walk and the yet-to-commence Central Barangaroo development and its metro station will meaningfully connect this new precinct to the city, or the fragile communities on its doorstep.
This year's program helped the NSW Government Architect's Office (GAO) celebrate its bicentenary. Sixteen of the 70 Sydney Open sites were delivered by the GAO, including two by the state's first government architect, Francis Greenway. It's ironic, given the GAO was this year decommissioned as a working architectural office and will be reduced to a strategic advisory role. While the GAO has always morphed with the politics of the day, one wonders how the future legacy of this office will be recorded, if not in bricks and mortar.
The GAO's 200-year history was captured earlier this year in an exhibition curated by historian Charles Pickett. Imagine a City documented Sydney's founding institutions — schools, churches, hospitals, justice buildings, lighthouses and civic landmarks. Many are perennial favourites at Sydney Open, the beauty of which lies in its invitation not just to imagine the city but to experience it physically too — past, present and future. As the Greater Sydney Commission begins its public conversation about the blueprint for that future, let's hope that divergent voices and agendas find their way into built outcomes to keep Sydney's fabric vital and diverse.
Related topics