This former rubbish tip is finally maturing. Though winds still sweep across the rolling parkland, the form of the exaggerated hills is softening with the growth of dense planting. Close to the former brickworks on the Princes Highway, James Mather Delaney Design (JMD Design) and playground consultant Ric McConaghy have designed a comfortably chaotic regional playground. JMD Design produced the detail design and documentation for the playground as part of the Sydney Park North West Sector Masterplan for Sydney City Council, prepared by Aspect Studios.
People can have strong responses to playgrounds. Anton James of JMD Design views the typical council playgrounds with high railing fences as "pens for kids." He described the area allotted for this one in the 44-hectare park as "forlorn and melancholy, [it] slid out to the south and had the wrong aspect and slope." McConaghy has similarly strong views about children and play. His role in the playground design was to provide the brief for the organization of play and its risk benefit management, which is a key aspect of its design. McConaghy also developed several concepts for Sydney City Council and undertook an exhaustive community consultation process in the local area. He was especially concerned with meeting the needs of all users of all abilities and even took a busload of children to experience the site prior to construction in order to gain feedback.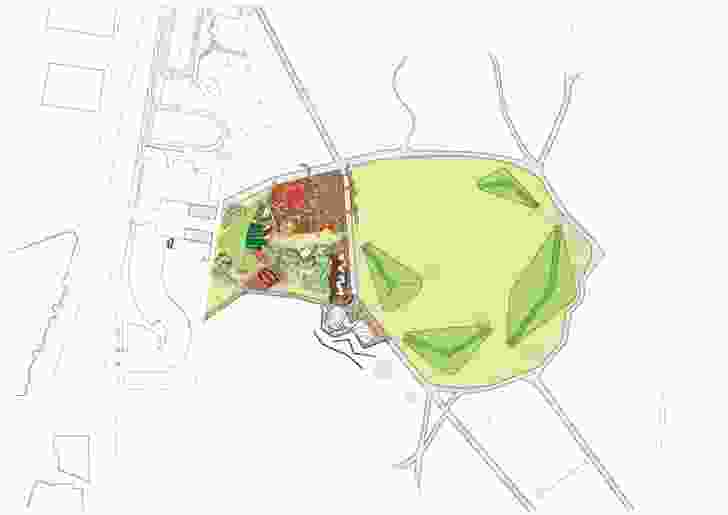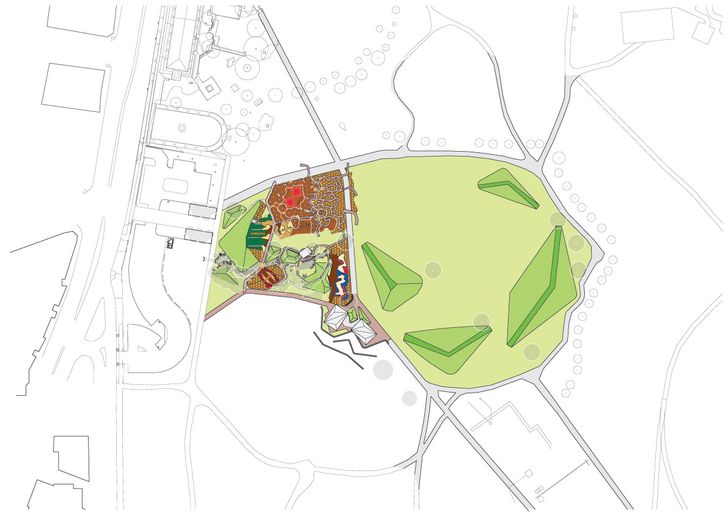 "Play is not about age, it is about ability," McConaghy explained. "There needs to be graded equipment and spaces to provide different challenges that engage the kids. There is also a tendency for carers and parents to 'switch off' – but kids' favourite toys are their parents, so it's about engaging and managing this relationship as well." In regards to risk benefit management McConaghy commented, "People use standards as glass ceilings rather than as a backdrop for risk and decision-making opportunities."
Working with McConaghy's brief, James added his own layers and structure to the design, paring back aspects of it that were inconsistent with his restrained approach. His main design response to the site was to protect it from the westerly winds by inserting four mounds onto the flat ground plane. Playing multiple roles, these mounds separate the playground from the western edge and the car park, protect it from the wind, form an edge for parents to lean against, incorporate slides and other climbing elements, and form an amphitheatre for performances and the projection of movies. Of a scale that children relate to, the mounds downsize the enormity of the overall park and provide the children with a secure physical structure. The mounds edge a lawn area that is the central organizing space of the playground, from which the other play spaces feed off. By addressing the different play areas, the mound structure forms a transition into the broader park and is an ideal place for parents and carers to socialize and supervise their children.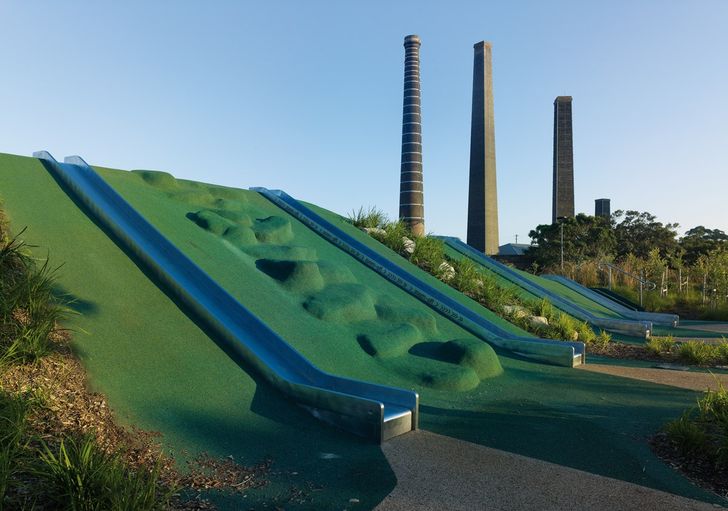 Another key design decision was for the playground to have a porous edge without the obvious playground fencing, signs or gates except around a sand-table area. Designed to allow people in wheelchairs to access sandpits, the sand-table area is surrounded by a fence that looks as though it has been put together from driftwood caught up in wire mesh. The boundary for the rest of the playground has been constructed with materials consistent with the specific areas they edge. For example, the planting areas have hooped steel garden edging and concrete sitting walls that have a tactile inlay of ice-cream artworks. JMD Design also used vegetation to create a barrier for dogs and hopes that with education and management this will be a success. Council signs have been reconsidered and placed high on posts on the perimeter of the area, though this may lead to some confusion for rangers doing their jobs.
What James and McConaghy have achieved is a landscape that works with or without standard equipment, overcoming the "kids in a pen" approach to playground design. There is a clear layering of design elements, a wonderful, eclectic mix of materials, off-the-shelf and custom-made equipment, and an overlay of bold graphic paving patterns. These colourful shapes visually simplify and unify the ground plane, giving it an overall spatial clarity. If one was to remove the equipment, what remains is a fully realized and developed physical setting with a distinct character that works within the overall context of the park. There is a lawn area, the mounds, a small creek and bridge, a planted maze (which doubles as a sensory and educational area), seats under shade trees, artworks, toilets and a cafe. It is a place where people of all ages and abilities can be a part of the park.
Credits
Landscape architect

JMD Design
Sydney, NSW, Australia
Project Team

Anton James, Ingrid Mather, Carlie Desmarchelier, Graham Prentice, Kathryn Stewart
Consultants

Access consultant Access Associates
Arborist Earthscape Horticultural Services
Architect Stanic Harding Architecture + Interiors
Engineer Woolacotts Consulting Engineers
Environmental consultant Consulting Earth Sciences
Lighting Shelmerdines Consulting Engineers
Playground consultant Ric Mcconaghy Pty Ltd
Signage consultant Frost Design

Site Details

Location Sydney Park Road, St Peters, Sydney, NSW, Australia

Project Details

Status Built
Design, documentation 12 months
Construction 6 months
Category Landscape / urban
Type Public / civic

Client

Client name City of Sydney
Website cityofsydney.nsw.gov.au

Source
Issue
Landscape Architecture Australia, February 2010
Related topics