Sydney towers make shortlist of the world's best tall buildings
Three Australian projects, all located in central Sydney, are in the running for the Council on Tall Buildings and Urban Heritage's Best Tall Building awards, which reward excellence in the design, planning and construction of tall buildings worldwide.
International Towers in Sydney's redeveloped Barangaroo by Rogers Stirk Harbour and Partners is in the running for the Best Tall Building: Asia and Australasia award.
Reviewing the project for Architecture Australia in November 2017, Philip Vivian found the three towers to be a "successful new extension to the city."
"The form of the towers cleverly shares views and reduces the apparent density of these large floor plates, while creating a bold new skyline that reasserts Sydney's global city status," he wrote.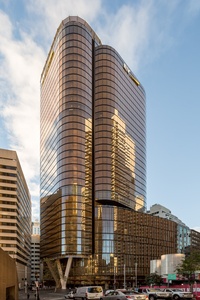 The EY Centre by FJMT, which won the Harry Seidler Award for Commercial Architecture at the 2017 National Architecture Awards, is nominated for the Construction Award.
The tower's distinctive glass and timber facade is Australia's first pressurized closed-cavity double-skin system. In a traditional double-skin facade, the cavity is naturally ventilated by external air, while the EY Centre's facade is sealed and pressurized mechanically to limit dust ingress.  
The Lumiere residential tower, by Foster and Partners and Peddle Thorp and Walker, has been shortlisted for the 10 Year Award, which recognizes buildings that have "proven to be valuable to their cities and communities" over some time.
Karl Fender, director at Fender Katsalidis, said, "Being recognized by the world's premier authority on tall buildings is a great honor, and the opportunity to showcase these quality projects to a global audience helps drive innovation across all disciplines in our industry."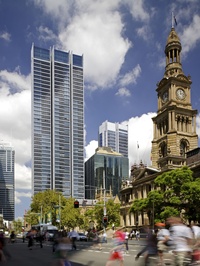 Fender will chair the awards jury, which includes H.E. Mohamed Ali Allabar, (chairman, Emaar Properties); Kamil Merican (chief executive officer, GDP Architects); Steve Watts (CTBUH chairman and partner, Alinea Consulting); and Antony Wood (executive director, CTBUH).
Wood said, "Part of our mission at CTBUH is to investigate and highlight the cutting-edge in sustainable urbanism in order to promote a better urban future, and this year's finalists exemplify the world's foremost examples in this regard." 
The awards will be presented at the Tall and Urban Innovation Conference, which will take place at the Studio Gang-designed Aqua Tower in Chicago on 30–31 May.
The winners of the regional categories will be judged for the title of "2018 Best Tall Building Worldwide."