In May 2014, the City of Sydney (COS) Council launched its draft cultural policy via a series of talks held at the Sydney Theatre Company's home in Walsh Bay. As part of the "City Conversations" series, the night brought together Lord Mayor Clover Moore, journalist Annabel Crabb, actor/producer Claudia Karvan, along with COS executive manager for culture, Rachael Healy, academic/cultural commentator, Ben Eltham, Hetti Perkins of Corroboree Sydney and Idea Bombing Sydney's John O'Callaghan. For those invested in the incremental change occurring in Sydney's contemporary culture, the evening marked a pivotal point for the city.
The 120-page draft document has all the familiar optimism of printed council material, underlined by a community consultation emphasis in the form of "you want, we will". But the live forum communicated a different mood, with a stronger focus on present issues, particularly the financial hardship incurred by artists living in one of the world's most expensive cities.
The evening hailed the significance of the micro experience, the fine-grain seed developments that catalyse culture more broadly. This was balanced by the acknowledgement that regularly those who empower such micro-scale experiences often have micro bank accounts to match. Given the timing of this talk – only a week after the release of the Federal Government's first budget – financial issues took an increasingly political edge. The melting pot of witticism from Annabel Crabb and poetry from Omar Musa resulted in both excitement and concern. To no surprise, speeches on the night did not miss the opportunity to quote Jane Jacobs, mention the great Barrangaroo debate and refer to Melbourne's small-scale cultural superiority.
Within the topic of affordability, creative space and housing dominated, alongside a lack of facility access and the need for a better use for the whopping 1.6 million square metres of empty space within the city.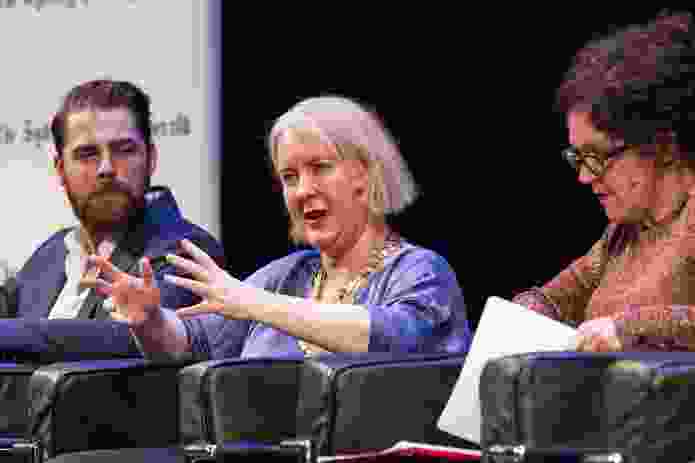 The longest and (but somehow fastest) talk of the night came from Rachael Healy, the City of Sydney's executive manager of culture. Healy underlined the key moves and motivations behind council policy: ultimately described as harnessing the "Potential to be future optimised." The aim is a overhaul of cultural policy to encourage (rather than deter) would-be activators.
"… Our priorities had grown organically, the cost of our programs and services was rolled over from one year to the next. Rarely do government agencies stop and check wether those decisions that were first made in 1998 or 1996 are still as relevant, still as much of a priority for the community or for cities, artists and creative workers as they once were."
Observations reflected on the knowledge of many grass roots cultural movements that have started outside legal frameworks in terms of licensing and building use. the food community "Full Circle" being a case in point. Healy discussed the legislation limitations and compliance issues, noting that: "In many cases the choices are limited to pretending it isn't happening or trying to shut such initiatives down … but if we accept creative initiatives as something we value … it means we have to find a way."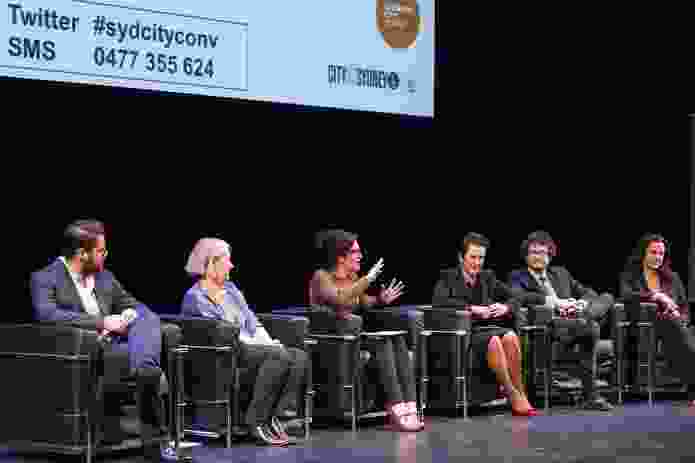 Annabel Crabb seized on this during the discussion panel, questioning circumstances of "turning a blind eye." Clover Moore responded honestly, saying: "We often say 'don't tell us', we don't want to know. But I think what we are trying to do here is really unlock that, and there are things we can unlock."
John O'Callaghan on the other hand referred to this grey area as sanctioned or unsanctioned activities, technical illegalities which offer obvious positive community outcomes. Crabb summed it up best as "A confronting thing for a government authority to realise the best they can do is actually to withdraw from it."
Much of the policy repeats what many who delve into the city's culture are already familiar with, the need for an easier framework to develop cultural activities, access supporting facilities and affordable creative space and the ability to progress without the deterrent of the mountain of fines one may face. However amongst new incentives to help amend the above grievances are some more surprising practical responses. Through the act of advocating, piloting and exploring possibilities here are a handful of the draft policy's ideas:
Revising the City's Street Art and Aerosol Art Guideline
Expanding Art and About as a year round program
Activating public space information guidelines
Utilizing Hoardings and Scaffolding as creative canvasses
Support the Art in Transit policy and program (with Transport for NSW)
Encourage exchange of appropriate hardware for creative activity (via existing collaborative consumption platforms)
Sound proofed practice rooms within community centres and new developments
Large-scale workshop space to foster active community participation in major cultural events
Educational institution partnerships to allow creative workers after-hours access to equipment/facilities.
Funding for live venue acoustic audits
Matching seed funding (up to $2,000) for small-scale creative initiatives
Simplify the process for securing temporary liquor licensing for cultural organizations
Interest-free loans for art purchases from galleries and studios based in the city of Sydney
Making affordable tickets from unsold tickets in CoS venues available for high school students.
Improved models to support young people and seniors access night-time cultural events
Children's activity program (5-12 year olds) in partnership with key cultural organizations synchronized with performance times at local cultural venues
Increased night ride bus services
late-night bicycle parking points and stations with bicycle hire
24-hour libraries
New major event supporting of Aboriginal and Torres Strait Islander culture.
The Draft Cultural Policy and Action plan, is available online for review and comment until 10 June 2014. City Conversations 2014: Shaping a creative city – A Plan for Sydney's Cultural Future was held on Monday 19 May 2014 at the Sydney Theatre, Walsh Bay.