Sydney's The Goods Line designed by Aspect Studios and CHROFI opened to the public on Sunday 30 August 2015.
The historic former railway once transported commercial goods (including wheat, wool and meat) between central Sydney and Darling Harbour. It had been disused and closed to the public for decades, but in a new lease on life, the railway has been transformed into an urban corridor and open space.
"Our vision was to create a series of recreational, entertainment and study spaces where people can have fun and relax, whether that be playing table tennis, exercising, lying down on the grass and reading a book or socialising at the 20-seat communal table," said Catherine Gallagher, CEO of the Sydney Harbour Foreshore Authority, which is responsible for the railway's redevelopment.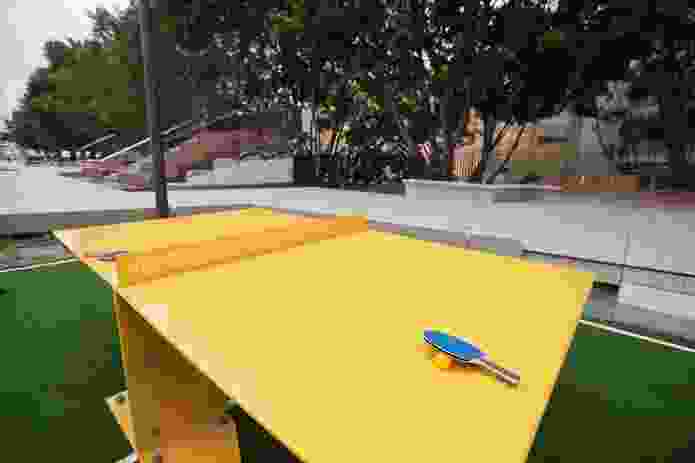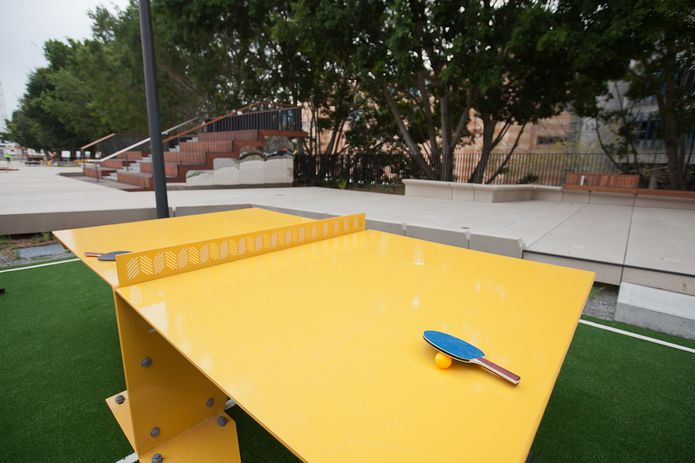 The design of the space references the heritage of the railway with built elements made from materials including concrete and timber. An original stone culvert has also been reused in the design.
A 250 metre-stretch of the railway embankment that was built in 1855 is now an elevated pedestrian walkway and cycle path, complete with entertainment spaces, grassed areas, children's water playground as well as spaces for table tennis tournaments.
"It is fantastic to see what was frankly a drab, dead urban space transformed into an outdoor hub that locals and visitors will really enjoy," said Dominic Perrottet, NSW minister for finance, services and property.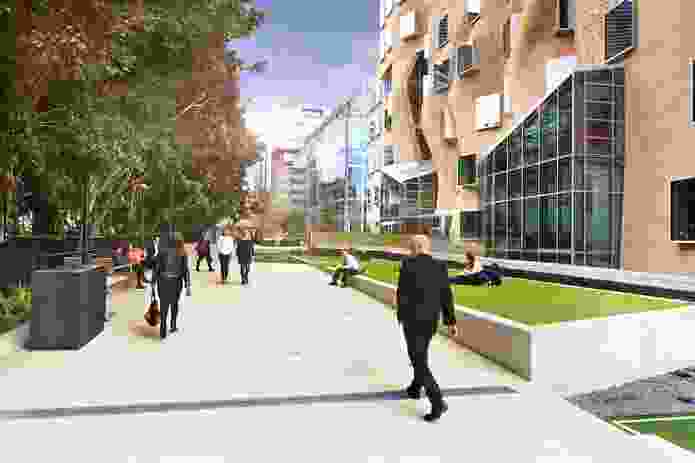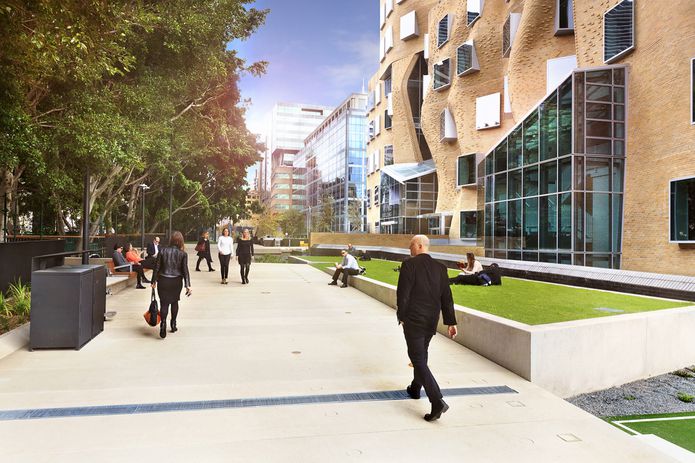 Running alongside the new Dr Chau Chak Wing building for UTS designed by Frank Gehry, The Goods Line also has a number of study pods for tertiary students. The path joins up with the existing Ultimo Pedestrian Network (the southern section of The Goods Line) connecting directly to Central Station via the Devonshire Street tunnel.
In May 2014, a spokesperson for NSW's previous planning minister Brad Hazzard told the Sydney Morning Herald, the redevelopment of the southern section would go to tender in late-2014. However, a spokesperson the Department of Department of Finance, Services and Innovation revealed to ArchitectureAU, "there are no immediate plans for its redevelopment."
The Goods Line has been widely described as Sydney's High Line, in reference to the world-famous New York project that converted a disused railway into an elevated linear park. While High Line-inspired projects have been proposed all over the world from Mexico City to Singapore, The Goods Line is one of the first to be completed. Chicago's 606, another High Line-inspired project, opened in June 2015.
Related topics