Plans for a $139 million redevelopment of Walsh Bay Arts Precinct in Central Sydney have been approved by the NSW Government.
The concept plan, prepared by NSW Government Architect Peter Poulet for Arts NSW, will see Dawes Point Park at the foot of the Sydney Harbour Bridge and the new Barangaroo Point Park connected via a reinvigorated waterfront. The redevelopment will create hub for home-grown performing and creative arts.
"The precinct is part of the NSW Government's vision to activate and open up the Sydney Harbour foreshore, alongside the Barangaroo redevelopment and Bays Precinct," said Rob Stokes, NSW planning minister.
The masterplan draws inspiration from local and international precedents where former industrial areas are given new life as cultural hubs. Examples include: Tate Modern (London), Carlsberg Brewery (Copenhagen) as well as Carriageworks and Cockatoo Island (both Sydney).
The redevelopment centres around two piers in Walsh Bay. Wharf 4/5 will be redeveloped with upgraded spaces for the Sydney Theatre Company, Australian Theatre for Young People and Bangarra Dance Company. Pier 2/3, the last undeveloped pier in Walsh Bay, will be transformed into a new 450-seat auditorium for the Australian Chamber Orchestra.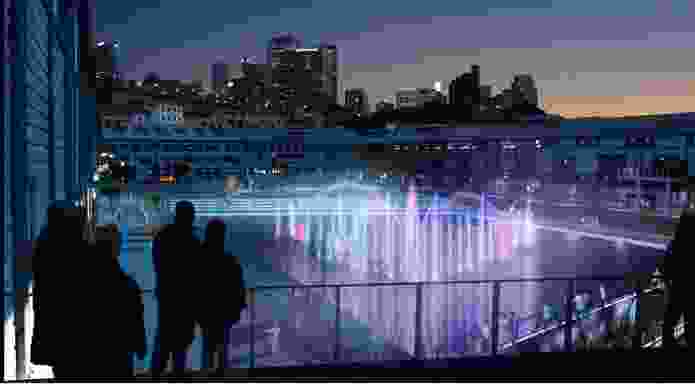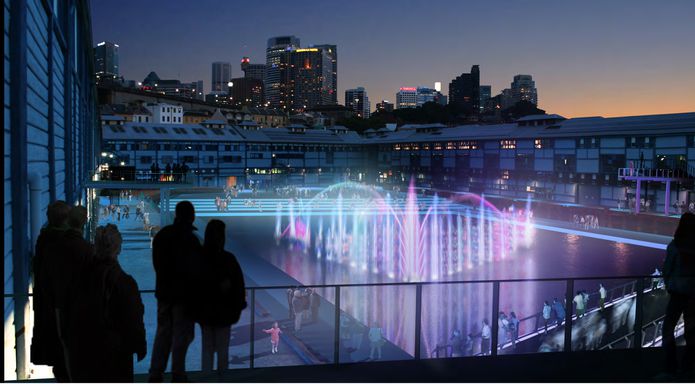 A new waterfront square will be created between Wharf 4/5 and Pier 2/3 with steps leading down to the water. The square will work in tandem with a floating stage supported by sliding bridges, which will turn the waterfront into a performance space, The bridges will connect between the two piers and during performances and special events the bridges and stage can be moved to suit a range of performance needs. The square will be surrounded by new restaurants and bars. The industrial heritage spaces in the precinct will also house creative events and festivals, including the Biennale of Sydney.
"Walsh Bay is a key part of the development of a Sydney CBD arts precinct," Stokes said. "This investment will make Walsh Bay a renowned cultural precinct in the Asia Pacific, giving the NSW public better access to exceptional artists and performances."
The redevelopment will be funded through the NSW Government's $600 million Arts and Cultural Infrastructure Fund. The fund has also allocated $202 million for a substantial upgrade to the Sydney Opera House's concert Hall.
Watch the flyrough of the proposed Walsh Bay Arts Precinct below.