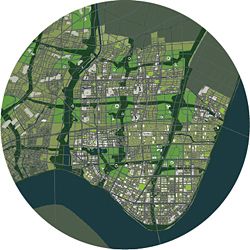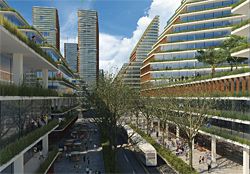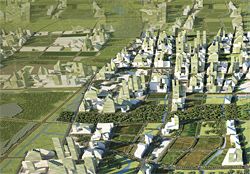 1 Commissioning, procurement and delivery.
Our office is now based in Shanghai, two hours from Xiasha. We had won an invited competition to design Xiasha's seven-square-kilometre Technopole, a central activities district, four years earlier. This new competition was the greater city surrounding that site, 178 square kilometres. We began the project by bringing Steve Whitford up here from Melbourne to work with our urban design team.
Steve has worked intermittently with BAU over the past decade to develop an approach to urban planning, Networks Cities – an urbanism that organizes land uses into networks of continuity, adjacency and superposition. We also invited Arup to provide engineering support for our sustainable infrastructure initiatives on Symbiotic City.

2 The brief and the response.
Hangzhou is likely to become one of China's mega-cities, with a population greater than ten million. The brief called for an urban planning vision for this new sub-centre of Hangzhou.
We took this opportunity to develop a new sustainable model for the mega-city – Symbiotic City. The city is formed by two overlapping 1.7-kilometre-wide networks: the first an urban network, the second a rural network. The resultant pattern of pure urban cells, pure rural cells and hybrid urban–rural cells creates a variety of qualities within reach of all citizens in all parts of the city.
Each cluster, or module, of four cells contains a pure rural cell, or eco cell, in which the water, waste and energy of the module is treated or generated. The eco infrastructure is highly visible to bring awareness of sustainability issues and positively influence behaviour.
The rural network is aligned with the dominant summer and winter winds to reduce the city's heat island effect and to create wind corridors for harnessing energy and replenishing the city air.
Urban farming occurs in the hybrid cells and an ecological network corridor runs throughout the rural network.

3 Working across cultures.
Our core team consisted of three Western urban designers and three Chinese planners. These cultures are distinct, to say the least – the Chinese are practical to the point where they almost cannot stand the idealism of Westerners.
We knew from the outset that the scheme was too radical to find support from the typically conservative planning jurors. Our only hope was that an enlightened politician might pick up the scheme.

4 What did you take away from the project?
Nothing yet; the remuneration is nine months late!
The meta-networks strategy could be seen as a city planning typology. Our office will continue to develop and test it, particularly regarding zerowater, zero-waste and zero-energy objectives. We have since applied the principles to a proposal exhibited at this year's Venice Biennale and in another design in the Dutch Pavilion at the Shanghai Expo for Caofeidian Genetic City.
More of the Symbiotic City project can be found in BAU's Networks Cities – China, published by China Architecture and Building Press later this year.
Architect BAU Brearley Architects + Urbanists— James Brearley (adjunct professor RMIT), Jack Barlow, Xu Sheng Xia, Wang Ting Juan, Han Xiao Xi, Ben Howard, Xiao Wen, Fang Qun.
Consultants Arup Shanghai; Steve Whitford, University of Melbourne, Faculty of Architecture, Building and Planning.