The world of retail is evolving and reaching new heights. As our desire to be fulfilled as consumers grows alongside our increasing demand for purchaser satisfaction, retailers are exploring new ways of enticing clientele. Understanding customer psychology is one element to maintaining success in a competitive market, and retailers are increasingly looking to architects and retail and brand designers to design engaging spaces that cater to a specific target market.
The twentieth edition of Artichoke Night School, titled "Talking Shop: Retail design that works," was held in February at Space Furniture's Melbourne showroom, where three guest speakers discussed their experience working within retail design. Travis Walton of Travis Walton Architecture, Mark Landini of Landini Associates and Annie Abbott of shoe brand Habbot each discussed retail design in the context of their own work, and shared their views on what makes great retail spaces.
Based in Melbourne, Travis Walton runs a successful architecture studio specializing in the design of spaces for both well-known and newly established retail and hospitality clients. In two examples of recent retail projects (Green Street Juice Co. and Laneway Greens), Walton identified the importance of understanding the types of client that a brand wants to attract, to enable purpose in the design. As is also the case in his work for fashion brands Gorman and Alannah Hill, Walton highlighted the importance of the returning customer and how retail space theatrics can help to cement this.
After completing a diploma in interior design Annie Abbott travelled to London where she worked for online luxury fashion store Net-a-Porter, helping to build its online presence. It was this experience that no doubt assisted in the successful creation of her shoe label Habbot. Abbott commissioned Mim Design and Fiona Lynch to design her two permanent Melbourne stores after a series of pop-up shops dotted around the city proved successful. Commissioned several years apart, Abbott had a strong vision for each store and how she wanted her product to be displayed; it was vital that her store was engaging and left a lasting impression on her clients. Given her past, Abbott doesn't ignore the value of an online store, but rather sees the significant opportunities for a good website to stand alongside a well-designed store.
Mark Landini, creative director of Landini Associates, wasn't afraid to admit that retail design is about making people money. He has designed spaces for high-profile clients such as T2, McDonalds, Jurlique, Aldi and Glassons. Landini Associates' philosophy is to take a holistic approach to retail design that includes brand development, graphic and uniform design. And although its approach to successful retail spaces is all encom-passing, Landini highlighted that retail design should preserve a certain degree of neutrality that allows the product to be recognized and upheld, all the while maintaining personality and character in its own right. Landini doesn't necessarily buy into "fashionable" design, believing that shopping spaces should be clean, simple and classic.
Design for retail is about tapping into the human experience at a large scale for a market that is varied and often changing. Its focus is to tell the story of a product through every aspect available, presenting a product in a way that ensures a continued positive consumer experience. As Walton discussed, some brands are beginning to develop their businesses with sophisticated digital strategies that enhance the customer experience.
The Artichoke Night School series is presented by Artichoke magazine in partnership with Space Furniture. Night School session 20 was held at Space's Melbourne showroom.
Source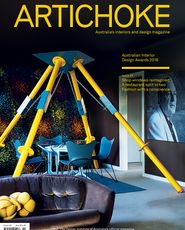 Review
Published online: 18 Apr 2016
Words: Sarah Hurst
Images: Phoebe Dunn
Issue
Artichoke, June 2016
Related topics