David Langston-Jones' latest project is a subversive rethink of a 1920s semi-detached Arts and Crafts terrace in the well-heeled Sydney beach suburb of Tamarama. As I arrive, I'm told to "head round the back." The first clue that something's up is underfoot: the crunch of gravel is followed by a few more material clues as the courtyard – a small space composed of horizontal galvanized steel cladding, concrete block wall, hardwood and native grasses – comes into view. The detailing is elemental and to the point. More Zen garden than traditional Aussie backyard, there is an economy and discipline that set the tone for what is to come.
From the rear courtyard, one enters directly into the living room and is presented with a modestly scaled open-planned room. A hoop pine-clad kitchen defines one edge of the living space, backing onto an intense zone that squeezes two bathrooms, a corridor and a mezzanine studio/storage/bedroom into an area that is barely ten square metres. These spaces have the quality of a caravan or small boat; every nook and cranny is used to maximize functionality.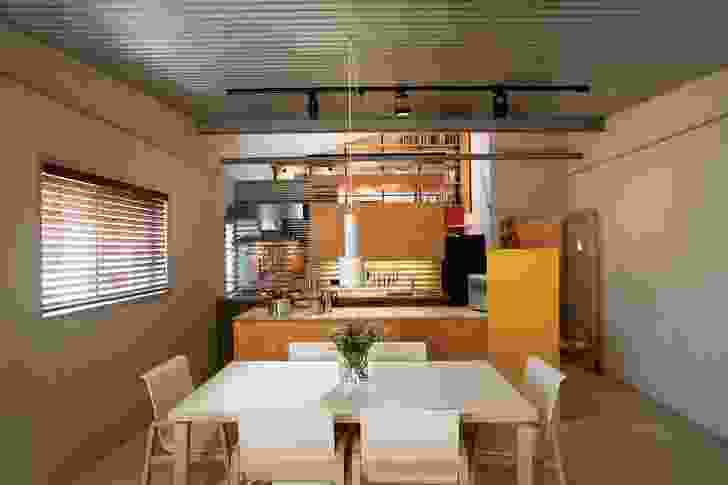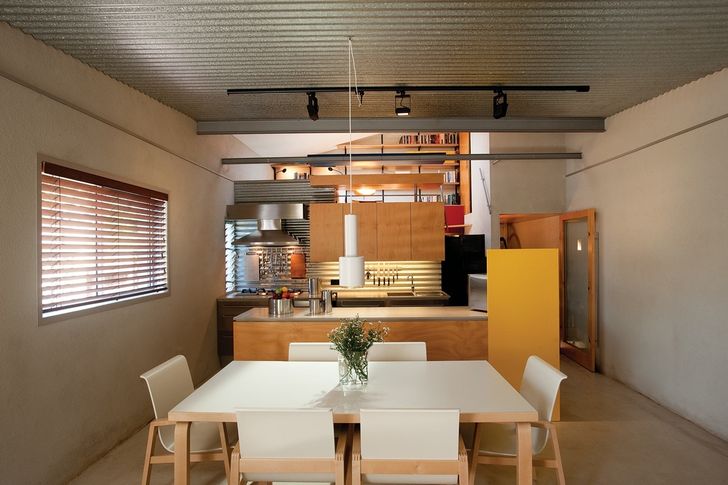 There is no fat in this project; the architecture is very much a consequence of its parameters. The material palette is a response to strict budgetary restraints. A robust palette of mostly external materials – including fibre cement sheet, trowelled concrete slab, hoop pine ply, corrugated steel sheeting, concrete blockwork, sand render and various practical store-bought furniture systems – contributes to the impression that the architect has embraced a philosophy of making do, where pedigree is found in the un-pedigreed. New works occupy the existing envelope, and only the facade to the rear (east) has been renegotiated.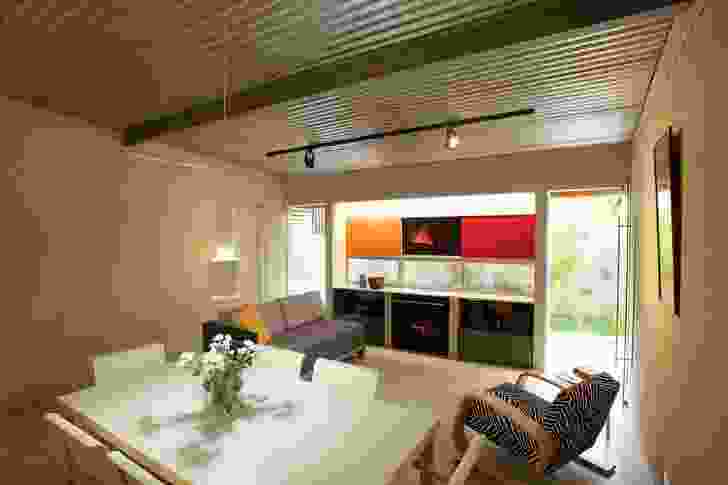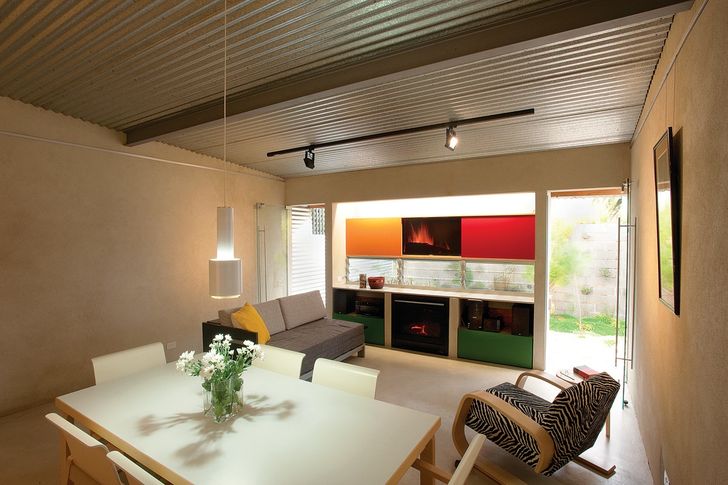 The lounge room looks inwards due to the presence of a monstrous 1950s housing scheme looming large behind the back fence. As a consequence, wall-to-wall glass was dismissed early on, leading to an altogether more interesting and obtuse set of inside/outside relationships. The corners to the courtyard are glazed with frameless glass, bookending a narrow horizontal strip of glass louvres that block out views of the apartment building from inside while preventing sight lines from the apartment building into the living area. It has also allowed David to thicken up the rear wall, creating much-needed storage space for books, a stereo and a television. The relationship to the courtyard is one of glimpses and framed views, and the effect of the low window is to direct your gaze downwards to the loose arrangement of native grasses and stepping stones that float casually in a field of gravel. You step down into the courtyard, reinforcing the sense that it is a place to look at and contemplate rather than be in.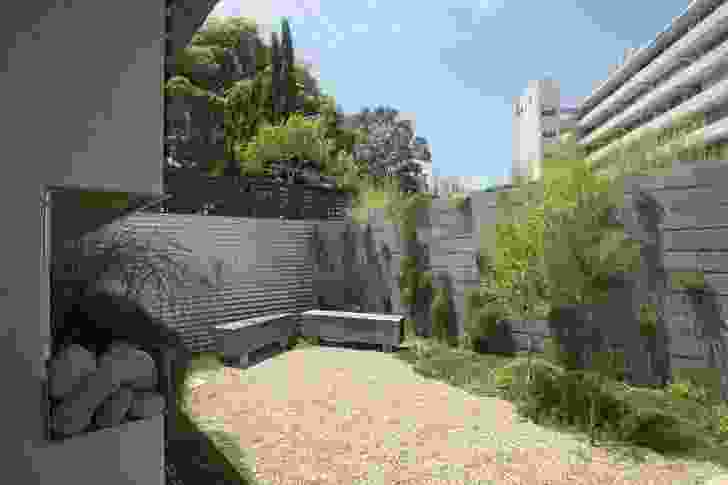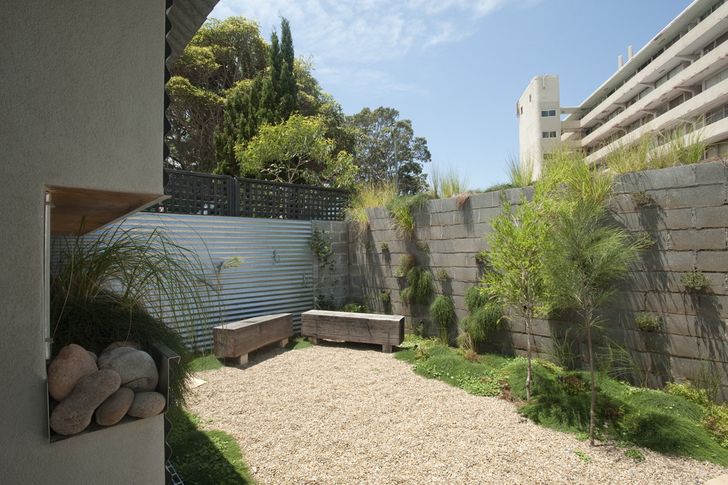 It is difficult work in the sense that the composition is awkward and challenging. At times, it's firmly in the school of "no unnecessary moves," while at other times it's playful, like the earth-filled concrete block wall randomly pockmarked with plants. I quizzed David about the splashes of colour and he replied, "Le Corbusier! I had a couple of tins of paint left over." The intention, he explains, is to "camouflage the architecture." The colours on the rear wall allude to sky and earth, a kind of compensation for what lies beyond, while the colours on the stair and kitchen distinguish particular elements architecturally. This tension between the highly refined and the "she'll be right" carries through to the choice of fittings. Concealed downlights illuminate the practical kitchen and trowelled concrete slab floor, while elegant taps cut through the fibre cement benchtops.
David knows a thing or two about putting a building together. His formative career was at the office of Norman Foster, where he was project architect on Foster's own home in London, a penthouse on top of the office in Battersea. David's early Australian projects, a series of beach houses in Cairns completed in the 1990s, announced his interest in responding to the Australian climate directly and intelligently, in subverting the local vernacular as well as conducting an ongoing love affair with that most Australian of materials, corrugated iron. The studio's portfolio of small, carefully considered and finely detailed houses is consistent with his modernist pedigree, yet also very much David's own. The budgets have been tight so unnecessary moves have been minimized, and the architect's pencil has, by necessity, been sharp.
The constraints of budget and size are evident in David's semi-detached terrace, but the architecture works hard to make something out of not much, and to give spatial and material quality where none should reasonably be expected. David's willingness to not just work within tight constraints but to embrace them creatively has resulted in an architecture of modest invention without a hint of apology for what it's not. It is work that sits comfortably and playfully within its skin.
Products and materials
Roofing

Lysaght Custom-Orb sheeting.
External and internal walls

Unpainted sand and cement rough render; Lysaght Custom-Orb sheeting; concrete (external).
Windows

Altair Breezway louvres; Dorma frameless glass.
Doors

Dorma hoop pine solid-core pivot doors; Sapphire Aluminium door frames.
Flooring

Trowelled concrete.
Lighting

Erco lighting track and LED fittings.
Kitchen

Highlander stove; Abbey sink; Liebherr fridge and freezer; IKEA joinery; Hardie's fibre-cement bench
Bathroom

Vola tapware; Duravit Norman Foster sanitaryware; Lysaght Custom-Orb sheeting.
Heating and cooling

Heat and Glo gas fireplace.
External elements

Boral retaining blocks.
Other

Aero sofa bed; Artek armchair and dining set.
Credits
Architect

David Langston-Jones
Alexandria, Sydney, NSW, Australia
Consultants

Builder Brett Wiley
Engineer Andrew Simpson
Landscaping Graeme Greenhalgh (Tropic of Sydney)

Site Details

Location Tamarama, Sydney, NSW, Australia
Site area 190 m2
Building area 110 m2

Project Details

Status Built
Design, documentation 4 months
Construction 9 months
Category Residential
Type Alts and adds, New houses

Source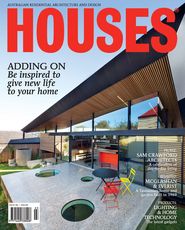 Related topics