Review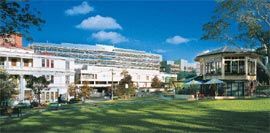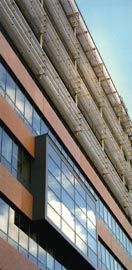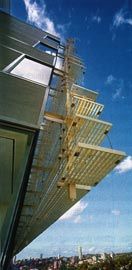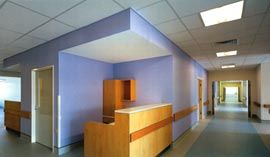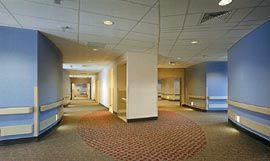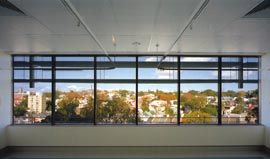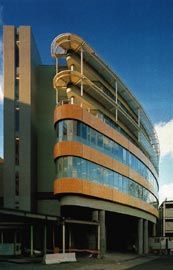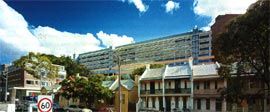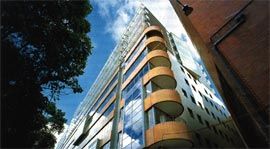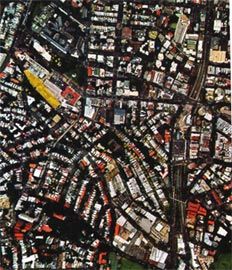 Most of us will never design a hospital. Almost certainly, this is something for which to be profoundly grateful. Minutely techno-bound, the hospital's vast corpus must nevertheless cater to humans at their most vulnerably unshelled. Despite squeezing architecture's play-space to near-zero, that is, the hospital needs its healing ministrations more than ever.
Lawrence Nield, having designed (in whole or part) some 40-odd hospitals over almost as many years, is as unfazed by the paradox as he is unintimidated by the imbroglio of fact, theory, pseudofact and politico-feudalism-masquerading-as-theabove that constitutes the brief for such a building. Many architects, faced with such horrors, meekly accept their relegation as packaging consultants. For Nield, however, the best and most innovative hospitals are those – like Richard Llewelyn-Davies 1961 Northwick Park Hospital, near London, or Eberhard Ziedler's hospital in Hamilton, Ontario – whose architects, declining the decorator's role, come resolutely to grips with the workings of the organism; forming to function, but building indeterminacy in. Nield's latest, the deceptively massive Xavier Building at St Vincent's, Darlinghurst, is a case in point.
Sleek but approachable, typecast without cliché, the building is the combined result of Nield's long experience (and some of his favourite architectural motifs) and project principal Sarita Chand's intricate grasp of the programs and processes involved. Nield cut his teeth on hospital design with Yorke Rosenberg & Mardall (YRM) in late-60s London, where his jobs included St Thomas', London, and the Radcliffe Infirmary at Oxford. Nield's belief in indeterminacy dates from this time, and from a seminal document produced by Llewelyn-Davies and Weeks for the Nuffield Foundation and since accorded classic status. Remarking the increasing rate of techno-obsolescence in hospitals, the report gave rise to the "growth-and-change" catch-cry; embodying principles which, Nield believes, are valid to this day.
At first glance, though, Nield makes an unlikely candidate for the Stephenson & Turner niche in Australia's arch-ecology. Stephenson & Turner's bleakly literal approach to sterility seems an unlikely precursor to Nield's continuing struggle towards an architecture that is humanistic, ideas-driven and environmentally responsive.
What ideas, though, can plausibly drive hospital design? What kind of idea could even get a look-in, in so highly programmed a building type? What, for that matter, might architecture's main idea-material – space, light, beauty, even – really contribute to the sick or dying?
Traditionally, hospitals have reflected dominant disease-types, medical paradigms and service technologies as much as design fashion. Before germ theory, hygiene was a strictly empirical business; hospitals were as likely to damage health as enhance it. Filarete's 1456 Ospedale Maggiore in Milan was the first to incorporate serious underfloor plumbing. Subsequent hospitals, like St Thomas's, were often built over rivers or canals as reticulated disposal systems for human waste. Never mind the water quality.
It wasn't until the nineteenth century that Florence Nightingale, accused of wanting hospitals "built out of air", began to insist on the importance of daylight and ventilation in the healing process. As tuberculosis became disease-of-the-moment, her chill and spartan wards found their apotheosis in the sanatorium, with its characteristic alconystreamlining – Aalto's 1929-33 Paimio Sanitorium becoming the permanent archetype.
But International Modernism, ably assisted by Taylorism, air-con and the fluoro tube, quickly dispensed with all that windows and courtyards nonsense; not only were fresh air and daylight replicable, they were – like mothers milk – better synthesised.
This unquestioned belief in innovation, combined with economy-of-scale precepts, ballooned hospitals into today's gargantua. Even here, though, Llewelyn-Davies and Weeks's contribution was crucial. However gargantuan, the hospitals that heeded their growth-and-change warnings are alive today (Sydney's Westmead, originally designed by Llewelyn-Davies and Weeks, is one such). Others, like London's Charing Cross Hospital, are as dodos: governments having found it cheaper to walk away from even so vast an investment and start over, than to refit the existing.
St Vincent's too has been under pressure to move out, although for different reasons. An ageing motley of buildings crammed onto three hyper-valuable hectares of central Darlinghurst makes for nightmarish construction logistics and a reasonable temptation to flog it and go. But the Sisters of Charity have occupied this site since 1870 and now, when half the other hospitals around – Paddo, St Margarets, Camperdown – have disappeared under the relentless roll-out of residential latte-land, St Vincent's is defiantly consolidating at the pink and pulsing heart of the continent's densest quarter.
By the late 1990s there were nine major buildings on the site (including three since demolished to make way for the Xavier). Together these constituted the St Vincent's Healthcare Campus, including a smallish private hospital to the south, and a large and very serious public hospital to the north. The public institution, one of Sydney's "big seven" teaching hospitals, offered all major specialisms except obstetrics, with particular emphasis (it is, after all, home to the Victor Chang Cardiac Research Unit) on cardiology. But change was once again in the air.
Greater emphasis on preventative and "ambulatory" care, for example, means that patients who would once have needed hospitalisation are now, through keyhole surgery and other miracles, treated as outpatients. Almost thirty percent of all operations are now undertaken as day-surgery, average patient-stay has halved, and preventative care means that heart disease lands less often on the operating table. Such changes shift the spatial balance between a hospital's three main parts – wards ("inpatient units" or IPUs), treatment and diagnostic, and the "hotel" (kitchen/laundry) component.
Whereas the traditional hospital was mostly ward (so that institution size could usefully be measured in bed numbers), treatment-and-diagnostic is now by far the most space-hungry function. "Procedure rooms" have proliferated, along with their ancillary waiting and servicing spaces, while operating theatres have doubled in size in a few years (36 square metres to 80 square metres) due to their huge technological requirements.Wards, meanwhile, have reduced in both number and occupation-levels (although, as hospitalisation now implies more serious illness, this shrinkage is somewhat offset by the concomitant increase in volume of bedside equipment).
So technical a building type inevitably turns design into something of a power struggle, but Bligh Voller Nield were committed to a more hands-on understanding of hospital praxis than the usual public-service expectation of fitting the architecture to given health planning diagrams. Bringing Llewelyn-Davies' growth-and-change analysis to this new, ambulatory health care model in a tight inner-urban area was a challenge indeed, requiring ingenuity, diplomacy and near-impeccable contextual manners.
For at eleven storeys and 44,000 square metres the Xavier is no miniature. And, unsurprisingly, it generated its share of controversy amongst the Paddington streetsoviets, who wanted a hospital but didn't want to see it. In fact, they've just about got their way, so neatly does the Xavier embed itself between existing trees and buildings. Even the 275-place car-park nestles sweetly beneath existing gardens at the hospital's font door, all but undetectable.
Inside, growth-and-change principles surface in a number of ways: the openended corridors, allowing extension but also inviting light and street-views; the thirtypercent over-sized ducts and risers; the fully-accessible interstitial floors, where possible, to provide universal wall-less cabling and servicing; the non-specific room types. Most of this lies at the non-visible end of the architectural spectrum, but BVN's determined exertion of humanism over habit and reason over expedience has empowered such principles significantly to tame the blind tangle of formalin-andgravy-flavoured corridors typically meant by the word "hospital".
The analysis story begins way back, with Nield's study of in-hospital travel patterns and his realisation that excessive in-hospital pedestrian movement was not only wasting vast amounts of time and money but, worse, endangering patients. At St Vincent's, therefore, BVN have rationalised the model, collecting day-procedure facilities – normally scattered with their respective departments – onto the Xavier's lower, street-side levels. Operating theatres are similarly concentrated, with wards occupying levels six and seven.
This rationalisation strategy has the side-benefit of allowing quasi-public areas such as reception and waiting to be more generous, often with floor-to-ceiling glazing and reassuring street-views over higgledy-Darlo housetops. To maximise normality without losing the comfort of efficient organisational presence, the entrance lobby is garnished with espresso bars, ATMs, flower stalls and escalators. Views, crossings and width-changes punctuate the building's principal internal "street" – some 140 metres long – at every opportunity. Rationalisation also means that the elevations can be organised to reflect with some humanising clarity the functions within; horizontal sunshading signifies wards, solid precast spandrels present treatment and diagnostic areas, and Nield's signature, glazed orioles break the grid to offer limited two-way transparency at each major common space.
Such rethinking is already widely applied in office design; healthcare, for Nield, has a deal of catching up to do. Vast floorplates are probably inevitable, given the insuperable inefficiency of vertical transportation in a healthcare context, but for the hospital of the future Nield anticipates a fully-computerised system to monitor patient progress through the various departments, all-but-eliminating wait times. Such an institution might boast not only the healthcare equivalent of hot-desking (which, to some extent, already happens) but also, for instance, operating theatres without walls.
Scoff you may, but in a sterile world, the wall is just one more thing to scrub down. With demountable screens and laminar-air germ-brooms, maybe it's possible; just need to relieve the medics of their territorial affliction, and Flo Nightingale may have her hospitals "built of air", after all.
Elizabeth Farrelly is a Sydney-based architectural critic and urban consultant
Project Credits
Architect Bligh Voller Nield—principals Lawrence Nield, Sarita Chand; project director Tim Brook; project architect Jim Russell (major works), Ian Goodbury (early works); project team Craig Burns, Victor Burysek, Lara Calder, Nicholas Christo, John Dermatis, Ton Jaucian, David Kidston, Leny Lembo, Catherine Linton, Tracy Lord, Christine McLean, Darren Paul, David Pond, Danny Villaneuva, Julie Wong. Interior Design Bligh Voller Nield—Andrea Nield (Public Hospital), Rosemary Lucas (Private Hospital). Arts co-ordinator (Public Hospital) Andrea Nield. Structural/Civil Engineer Taylor Thomson Whitting. Mechanical/Electrical/Medical Gases/ Communications/Lifts Engineer Steensen Varming Australia. Hydraulic Engineer Ledingham Hensby Oxley & Partners. Cost Planner Rider Hunt.
Programmer Tracy Brunstrom Hammond. Acoustics Peter R. Knowland. Laboratory Consultant Brian C.
Griffin. Landscape Architect Oculus Landscaping.
Project Management The Capworks Group. Builder Leighton Contractors. Client St Vincent's Hospital Sydney, South Eastern Sydney Area Health Service.