Consisting of a large hall, a music room and covered connecting spaces, this complex represents a future physical link, of appropriate status and scale, between the junior and middle schools and the proposed adjacent high school. It will then also fulfil a social role. Meanwhile, such a role is being forged with the broader community as it becomes a place of public interaction for fairs, performances, festivals and gatherings.
In addition to addressing social sustainability, Tarremah Hall demonstrates a skilful integration of quantitatively based energy decisions with the choice of structural systems, materials selection, services and heating, cooling and acoustic detailing. The result is a complex of great economy and minimal ongoing expenses.
The attention to detail within a limited palette of materials has achieved a subtle richness which elevates the end result to a building that is neither overwrought with earnest signals of sustainability nor lacking the vitality of a considered piece of architecture.
– Jury citation
The challenge was to provide an environmentally sustainable, multifunctional hall within tight budgetary constraints with an atmosphere that defied the average "soulless" school sports hall. Innovative thinking resulted in a cost-effective structure that is a carbon sink constructed almost exclusively from plantation grown timbers, with ladder frames encased in plywood spanning 16.5 metres in cross section at a 6.7-metre height. An innovative, energy-efficient solar wall provides solar-heated fresh air without compromising the thermal envelope.
– Morrison & Breytenbach Architects
For a full list of awarded projects see 2011 National Architecture Awards – the winners and for more awards discussion see Rachel Hurst and Rory Hyde's responses to the awards and the jury overview by Karl Fender.
Credits
Architect

Morrison & Breytenbach Architects
Hobart, Tas, Australia
Project Team

James Morrison, James Morrison, Yvette Breytenbach, Patryk Jez, Hugh Maguire , Alex Nielsen
Consultants

Acoustic consultant Vipac
Builder Merlin Constructions
Building surveyor Peter Angus
Electrical and mechanical consultant Engineering Solutions Tasmania
Energy modelling Engineering Solutions Tasmania
Hydraulic consultant Gandy and Roberts Consulting Engineers
Quantity surveyor WT Partnership
Structural and civil consultant Gandy and Roberts Consulting Engineers

Site Details

Location Huntingfield, Tas, Australia
Site type Suburban
Category Education, Public / commercial

Project Details

Status Built

Source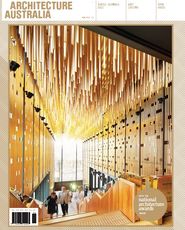 Issue
Architecture Australia, November 2011
Related topics