A common interest in horseracing – more particularly, wagering on horse races – brought the members of Tattersall's Club together in 1883, when "a group of gentlemen prominent in both business and the thoroughbred horseracing industry" conceived of a club "for those who wish to deal with sporting matters in a fair and honourable manner."1 But legislative changes in the 1930s banning off-course wagering forced Tattersall's Club to reinvent itself, and saw it transform from a high-class betting shop with a bar offering light refreshments into a social meeting place for those with little interest in gambling.
Situated at the heart of Brisbane's retail and commercial centre, it was well positioned for the purpose of social interaction. The club hall in Edward Street lay opposite the new AMP Chambers (1934), a ten-storey building in commercial palazzo style. Completed in 1926, the existing club hall structure was designed after London's original Tattersall's horse auction rooms, founded in 1776. The hall's vast scale was achieved by strategically creating a twelve-metre, double-height vaulted space spanning the entire depth of the footprint from Edward Street. All that Tattersall's lacked was commensurable dining facilities.
An adjoining site fronting Queen Street was acquired in 1935. The resulting L shape, though clumsy, had some advantages. A ground-floor shopping arcade, connecting Queen and Edward Streets, eventually provided a rental income, allowing the membership fees of Tattersall's to remain well below those of comparable clubs. And the Queen Street address gave Tattersall's a firm foothold in the city's principal thoroughfare.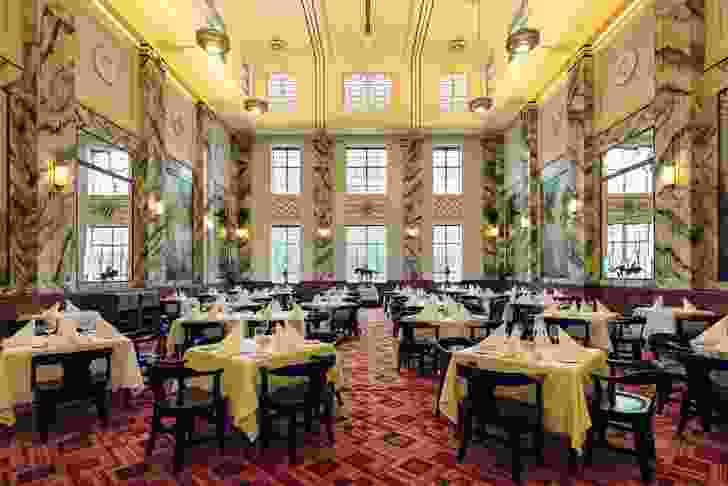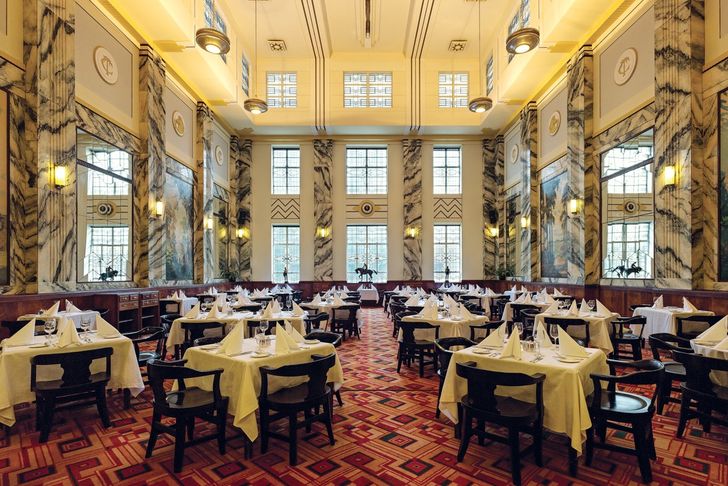 Thomas Ramsay Hall (1879–1950), a former club president, was the club's unofficial architect. His then firm, Hall & Prentice, had been responsible for the 1926 building. Son of Brisbane architect John Hall, Thomas Ramsay Hall undertook a cadetship with the Queensland Works Department, concurrently studying at the Brisbane Central Technical College. He joined his half-brother, Francis Richard Hall, at Hall & Dods, until leaving in 1907 to found his own practice. In 1919 he joined with George Gray Prentice (1891–1944) to form Hall & Prentice. He is best remembered for Sandgate Town Hall (1911–12) and, more emphatically, Brisbane City Hall (1925–1930).2
A recognized master of Brisbane's climatic conditions, Hall's repertoire of stone and marble neoclassical architecture afforded cool and spacious interiors in an era before airconditioning. Visiting the United States in 1922, he was impressed with the club buildings of William Adams Delano (1874–1960) and Chester Holmes Aldrich (1871–1940), including New York's Knickerbocker, Colony and Union clubs. In contrast with the faux domesticity of London's clubland, America's leading clubs of the Roaring Twenties were unashamedly dedicated to members' commercial and sporting interests. Neo-Georgian and neo-Federal buildings, often clad in brick with limestone and marble trim, became their trademark.3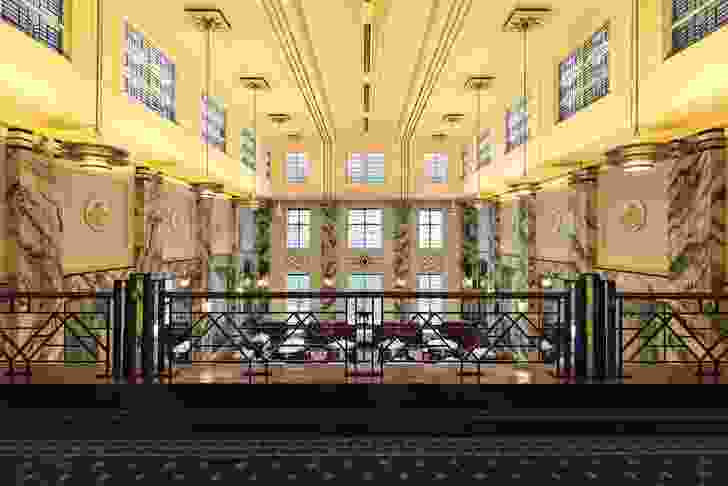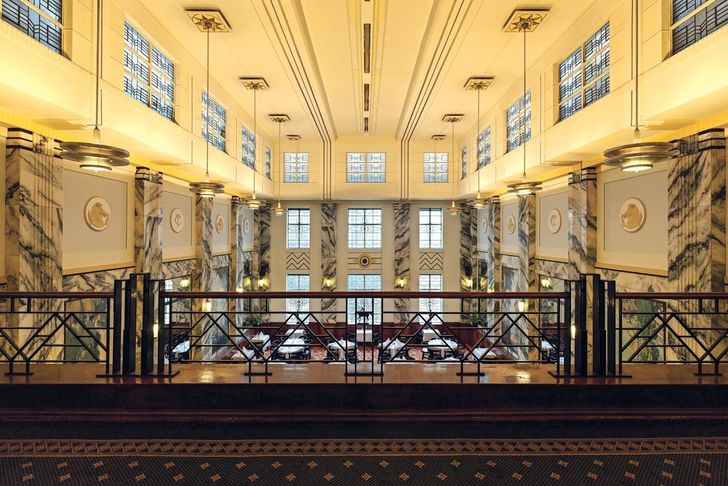 Hall and his new partner, L. B. Phillips (1896–1965), remained committed to utilizing Queensland materials, artists and craftsmen.4 They conceived a monumental art deco structure faced with local Benedict stone, principally consisting of a spectacular double-height room. The strategy so successfully implemented for the club hall – that is, using the entire land footprint to create the largest possible room volume – was employed again here. Approximately forty feet high, forty feet wide and sixty-five feet long, the dining hall, completed in 1939, is as close to a perfect double cube as the available space permitted.
The interior exhibits deft craftsmanship in terms of form, scale and light, subtly demarking the club hall's dominant horizontal axis and the dining hall's vertical dominance. The anteroom is a small vestibule, sheathed in wainscoting of maple and silky oak from Queensland forests, centred on the dining hall, beneath a mezzanine balcony.
From this dark anteroom the dining hall rises sheer in a burst of space and natural light, enhancing a vertical dimension just one metre lower than the club hall's. The ambient daylight first appears to cascade from tall copper-light casement windows to Queen Street. Once in the room, however, cleverly placed rooftop clerestory windows that emphasize the generous height and volume create a lantern-like space bathed in daylight. The vestibule's rich timbers continue in a silky oak dado to windowsill height; the walls above are clad in heavily figured black-and-white marble from Ulam near Gladstone – an early instance of Queensland marble being exploited decoratively – with marble pilasters reaching the clerestory.
Hall proposed commissioning mural paintings, with local artists and subjects chosen by the committee. These works, commissioned from Queensland artists William Bustard, Charles H. Lancaster, Mel Haysom and P. Stanhope Hobday, measured 10.5 feet high by six feet wide. Set within the marble and between wall mirrors, each depicts Queensland industry, respectively honouring miners, timber-getters, agriculturalists and pastoralists.5
Between the marble pilasters, above the mirrors and paintings, plaques created by master plasterers W. White & Son bear the club's monogram, which alternate with equine heads after Fortunino Matania. The repetitive symmetry of form and decoration, including pendant saucer-shaped lights suspended on long rods, chevron motifs reflecting the figuring of the marble facings and grooved plaster-work in the ceiling, again emphasize the room's geometrical delineation, and corroborate T. J. Hall's reputation for a having a "clever mathematical brain."6
Hall had previously commissioned acclaimed Queensland sculptor Daphne Mayo, notably for the Brisbane City Hall tympanum. She devised another celebrated work, a decorative plaster frieze entitled The Horse in Sport that depicted racing horses through the ages, for a passageway connecting the 1926 structure to Queen Street. The frieze was later relocated and duplicated for the new wing's ground-floor arcade.
The dining hall offered seating for 150. It presaged a novel decision by Tattersall's, namely to allow patrons of the female sex, so provision was made for a ladies' reception room, cosmetic rooms and cloakrooms, although "members and their lady guests" were confined to the mezzanine balcony with seating for forty, open on Friday evenings.7
Proudly reported at the time of opening were other innovations: gas ranges, grillers, and steamers; three large refrigerators; a mechanical ventilator system "which removes all odours"; grey floor tiles laid in concrete embedding sheet copper, making the kitchen floor "impervious to water"; and stainless steel wall tiles "which may be kept perennially clean by the application of a damp cloth."8 Even Brisbane's afternoon newspaper, The Telegraph, was driven to unaccustomed flights of poetical description, acclaiming "an expression of singular dignity and luxury in the loftiness of … walls and ceilings which consummate a modern vertical motif."9
Interwar Brisbane was a melting pot of period styles, and it was a time when architects operated under few stylistic constraints. Contemporary domestic construction evoked styles from mock Tudor to Italianate, from Bauhaus Modern to English. However, most clubhouses had been built in the Victorian period. They were often outstanding examples of the style of that era, but none rivalled Tattersall's Club dining hall.
By now, it may be globally unique. Few club buildings of that period were conceived on such a grand scale; fewer still have survived. Tattersall's Club dining hall remains testament to a time when decoration was afforded deep thought and was executed as a significant component in architectural design.
1. Adrian McGregor, "Tattersall's Club – Simply Splendid Still at a Hundred, " The Courier-Mail, 1983.
2. Donald Watson and Judith McKay, Queensland Architects of the 19th Century – A Biographical Dictionary (Brisbane: Queensland Museum, 1994), 92.
3. Robert Longhurst, Friendship is Life – A History of Tattersall's Club, Brisbane (Brisbane: Tattersall's Club, 1993), 128.
4. Architectural and Building Journal of Queensland, July 1939, 14.
5. Architectural and Building Journal of Queensland, December 1939, 21.
6. Watson and McKay, op. cit., 92.
7. Architectural and Building Journal of Queensland, July 1939, 14.
8. ibid.
9. The Brisbane Telegraph, 26 June 1939, cited in Longhurst, op.cit., 162.
Source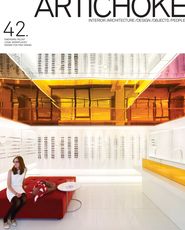 Issue
Artichoke, March 2013
Related topics