A "city shaping" tech hub, a cricket centre, and a billion-dollar renewal of a city centre are among the projects to be fast-tracked in the latest tranche of the NSW government's Planning System Acceleration Program.
One fast-tracked project, the first stage of Sydney's Tech Precinct at Central Station, worth $659 million, involves two adjacent "blocks."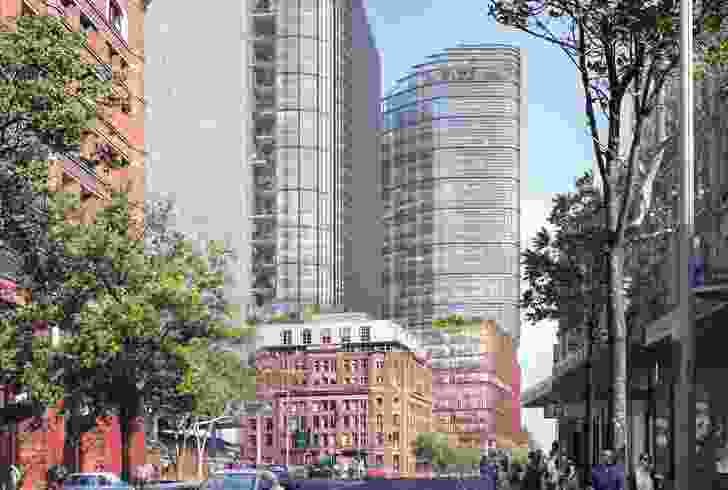 At 14 to 30 Lee Street there will be a precinct designed by SOM, Hassell and Woods Bagot for Transport for New South Wales. It will provide above and below ground integration with the new Sydney Metro station and house office and retail space targeted towards technology-, innovation- and education-based tenants. The design of the precinct references the ambition of Victorian-era rail stations as well as factories and industrial spaces.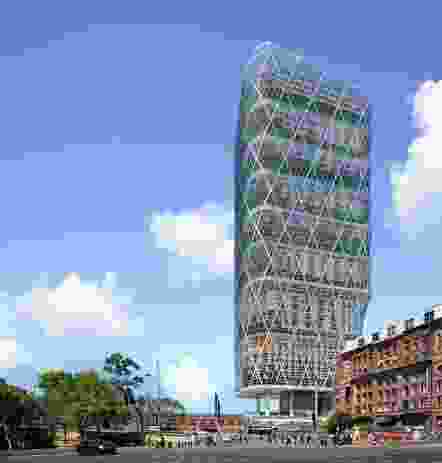 And at 8 to 10 Lee Street, Australian tech company Atalssian is planning to build its headquarters – a hybrid timber building designed by New York-based Shop Architects and BVN that will be the tallest hybrid timber structure in the world at 40 storeys.
Also having its planning assessment accelerated is the NSW Cricket Centre, a dedicated, year-round cricket, training and administration facility at Sydney Olympic Park that will serve both regional and metropolitan cricketers.
Designed by Cox Architecture, the facility will include a two storey cricket centre and two ovals. "In response to the surrounding rectilinear warehouse sheds adjoining the site, the proposed NSW Cricket Centre's indoor centre and high performance building takes cues from its context, where each long span roof form is in response to the function it contains," Cox Architecture states in planning documents.
The most valuable project on the list is Blacktown City Council's planning proposal for Blacktown CBD. Worth $1.1 billion, the proposal calls for increased building heights, the removal of floor space ratio controls and the introduction of incentive building heights for key and gateway sites that achieve design excellence.
Also on the list are similar planning propsals for the renewal of Wentworthville town centre ($690 million) and Kensington and Kingsford town centres ($384 million).
Other projects to be fast-tracked include: a new school for up to 120 students aged between 15 and 22, Warakirri College by Koturic and Co. Architects; a $100 million warehouse and distribution facility, Horsley Drive Business Park designed by FDC with Geoscapes Landscape Architecture; the $177 million Crows Nest Metro Station development; and a number of railway projects.
Planning minister Rob Stokes said the 13 new could inject $4.3 billion into the NSW economy if approved.
"This latest tranche of projects could enable the next step in Central Sydney's technology transformation, as well as major revamps for the Kensington to Kingsford light rail corridor, a billion-dollar renewal of Blacktown CBD and a new over-station development at the future Crows Nest Metro Station," he said.
Decisions on the projects will be made by 14 August 2020.