Some special alchemy can emerge when a successful and thriving architecture firm has a crack at designing their own offices, particularly when a change of venue occurs at the end of a long tenure in a previous location. A certain amount of self reflection – otherwise known as constructive designer navel-gazing – can occur as the business considers its prospects and attempts to balance the current needs against the potential for future growth.
Techne Architecture and Interior Design has been in the business for many years and understands its market thoroughly. The team knows what it does and knows what it does well, and indeed they do it very well by all accounts – with a long list of repeat clients testifying to a high degree of client satisfaction. Working primarily in the hospitality and commercial/retail space, Techne has partnered with some of Melbourne's most vibrant venue hosts to create what they consider as neighbourhood-favourite "locals," pubs and other venues scattered all over inner Melbourne. The legendary rock venue the Terminus Hotel in Abbotsford, the Prahran Hotel, and Garden State Hotel in Flinders Lane are just a few from their rollcall, and there are many more.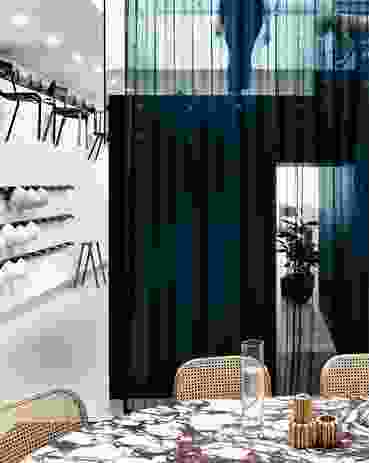 Techne was located in Hardware Lane in Melbourne's CBD for more than a decade and had roots there – the close proximity of good coffee and vibrant ground-level street life suited the team very well, even though its large number of staff were shoehorned into a tight footprint. Like many practices that grow over time, the need for more space drove the move, and the tight market in the CBD led the team to consider options just off the Hoddle Grid. A whole building on Rathdowne Street in Carlton North became available at the right terms, and the rest is history.
The team finds themselves in a very different setting, exchanging the bustle of Hardware Lane for the verdant – perhaps even somewhat Zen – precincts of Carlton Gardens. The two-level standalone building is occupied entirely by Techne, giving the team a great deal of flexibility with how it chose to occupy and design the space.
The ground level and reception area have certain hospitality qualities, in keeping with the work that the practice produces. There is a distinctive "venue" vibe to the breakout area in reception, with room for breakout meetings and briefings from suppliers. A Shaker-style chair rail is positioned on one wall to store samples and the breakout space also includes a long hard hat rail, a feature the team brought over from the previous office. The ground level has two meeting rooms – a front room with sepia-tinted curtains (giving a "nostalgic" light, according to one of the firm's directors) and a rear, internalized "war room" complete with a distinctive stone table. Along with the reception breakout space, these form the main formal meeting venues for the practice.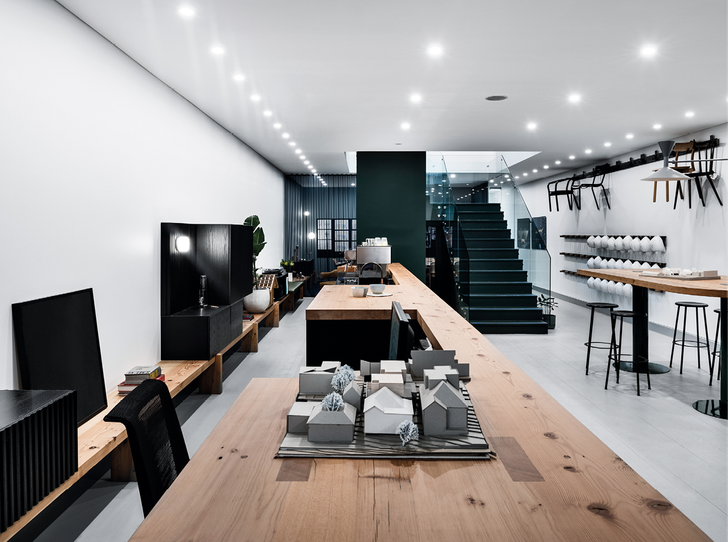 Moving up the open stair toward the natural light, one arrives in the middle of the bifurcated workspace. In the great tradition of architect's studios everywhere, this is primarily open-plan, with everyone possessing a sit-stand desk to facilitate good body movement during long work days and general physical wellbeing. On the topic of wellbeing, the studio dog Millie rates a mention – the benefits of non-human creatures in the workplace are well-documented, and the cocker spaniel is happy to greet visitors and spread her furry love to everyone throughout the day.
The workplace is divided by the core and is flooded with natural light from a bank of linear skylights overhead. The Techne project teams churn about the space according to project requirements, with teams co-located to ensure good communication during tight delivery timeframes. All in all, it works very well. A great feature of the base building is a generous terrace set into the eastern facade above the lower meeting room, which is equipped with a well-used barbecue for regular staff events.
Out the back, in the garage, a large red neon 'P' salvaged from the silos in Collingwood when the practice did a project for Porsche illuminates a well-equipped workshop, which features a central ping-pong table in lieu of a meeting table. The hope is that the workshop will encourage more physical model-making in the future, and one of the directors has supplied tools inherited from a beloved grandfather's workshop.
Techne Architecture and Interior Design has evolved into an organization that thrives in a well-defined niche, one that the firm's founders expertly carved out over time to suit them and their collective aspirations. With their new home, they have carved out a different kind of space for themselves – one that will serve them now and well into the future.
Products and materials
Walls and ceilings

Existing timber ground floor. Lacquered solid timber flooring. Keystone Cut Pile carpets in 'Lapis' and 'Cinnabar' in meeting rooms from Whitecliffe Imports. Infusion carpet tile in 'Onyx Pearl' on level one from Godfrey Hirst.
Lighting

Arancini Lamp by Moda Piera in brass and Italian travertine in meeting room from Modern Times. Lampe De Marseille wall lights in grey from Cult in reception above communal tables. Crisp wall light by Rich Brilliant Willing from Living Edge behind reception. Lona 600 pendant light from Light Project on level one.
Furniture

O Stool in reception and level one from Cafe Culture Insitu with Bask green leather from Kvadrat Maharam. Eames plastic chair from Living Edge in Peach meeting room. Think task chair from Steelcase. Hoffmann chairs in natural timber, rattan and leather seat in Viola meeting room from Thonet. Signorino marble table in Viola meeting room from Living Edge with Herman Miller Eames Segmented Base. Reception bench, bar and communal tables in reception custom-designed and made by builder. Shelves are designed by Techne and Grazia & Co in collaboration. Utrecht Armchair from Space Furniture. Backeanzahn Stool from Living Edge.
Other

Rocket fabric curtains in Viola meeting room from Kvadrat Maharam. Pinboard in meeting room from Cube Pinnacle.
Credits
Architect

Techné Architects
Melbourne, Vic, Australia
Project Team

Justin Northrop, Nick Travers, Steve McKeag, Gabriella Gulacsi, Dana Hutchins, Jonny Mitchell, Kate Archibald, Cameron Gordon
Consultants

Builder Blueprint Commercial

Site Details

Location Carlton, Melbourne, Vic, Australia
Site type Urban

Project Details

Status Built
Completion date 2018
Design, documentation 2 months
Construction 2 months
Category Interiors
Type Workplace

Source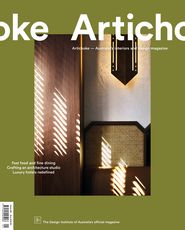 Project
Published online: 16 Jul 2019
Words: Marcus Baumgart
Images: Kate Ballis and Tom Blachford
Issue
Artichoke, March 2019