Ahh, the bachelor pad – is it a yesteryear dream that feminism trampled forever, or is it still a thriving male fantasy that is locked into a mid-century aesthetic? If the term "bachelor pad" evokes for you a sleek masculinity derived from leather, chrome and animal skin surfaces, plenty of remote-controlled technology, the obligatory cocktail cabinet and the suggestive bed, then you're probably not alone. James Bond, Rock Hudson and Hugh Hefner helped establish the genre that boasts playboys as its acolytes, and it still gets an airing in real estate terminology.
When Ian Wrightson and Steven Stewart of Wrightson Stewart Interior Design were commissioned to renovate an apartment in one of Brisbane's old Woolstore buildings for a bachelor who wanted a pad, they knew they had found their dream client. "Our work has always had a very masculine edge to it," says Ian, "and we've always liked a sort of Brooklyn aesthetic. So we were over the moon when our client asked us to create a 'pad.'"
The pad, in this case, was no man cave to be dominated by a giant television and speakers. Instead, the allure was in responding to the rawness of the original building and creating a logical flow between comfortably proportioned spaces. Not that Rock or James or Hugh would be disappointed, but this project is not a backdrop for gadget-driven wizardry. Instead, spaces were reconfigured and a suite of well-crafted joinery units was docked into place. The units not only provide amenity, but also establish a terrain that is delightfully human in scale within the vast and lofty shell of the building.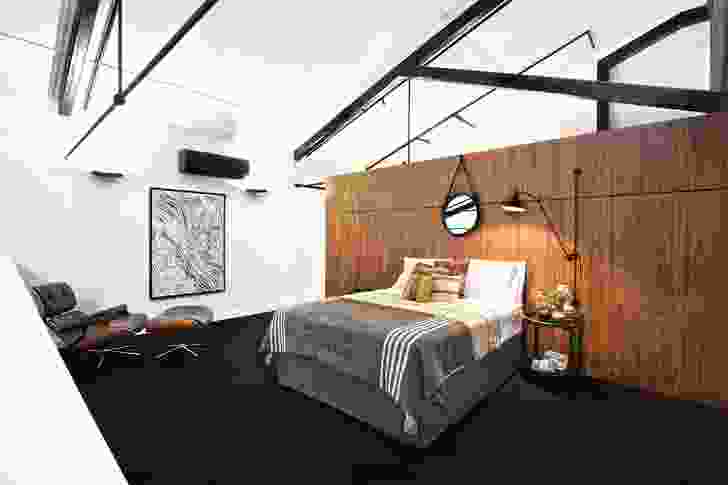 The historic building was one of the first in a row of woolstores to be repurposed in the 1990s. Four floors of apartments were organized around a central void and light well. The adopted plan is unprepossessing and the inserted building materials cheap and unconvincing. Public spaces were cynically ignored in favour of what lies behind them. Original timber pillars and beams were retained and exposed, as were crafted brick walls, alongside decommissioned exposed piping. Despite these factors and the premature decline of the inserted elements, the rawness and directness of the place appealed to the client, who had lived in a warehouse in Melbourne's Richmond and was a convert to the cause.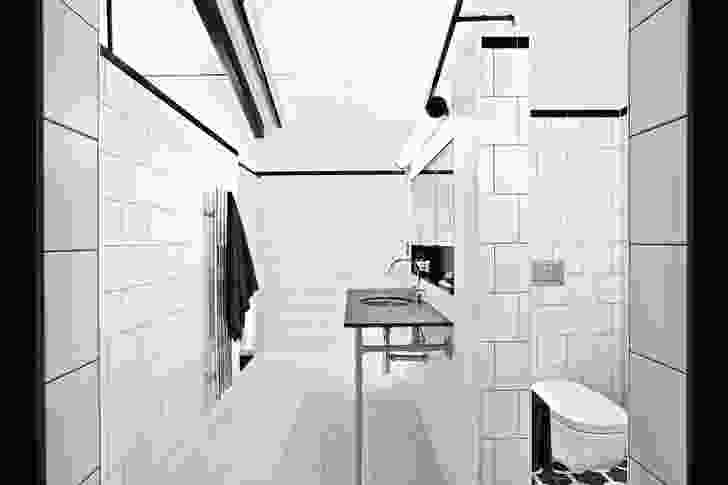 A difficult floor plan has the entry in a compressed corridor that opens to a tall, triangulated room with a band of clerestory windows high above it. Wrightson Stewart removed the previous owner's flimsy partition walls to make the space whole. A low ledge of seating runs into the apex of the triangle, providing storage underneath. A central pillar remains, partly obscuring the room (designated as a library) from the entry door. Carrara marble tiles now pave the entry, and a custom-made bracket for the owner's racing bike hangs on the wall where a more pompous hatstand or lowboy might usually be. A custom-designed light is the single object above the banquette on the wall opposite, elevating mechanical/industrial objects to work-of-art status.
Two bedrooms, a laundry and a bathroom were reconfigured as a central core, dividing the entry zone from the main living area. One of the bedrooms now opens onto the entry/library zone via a large sliding panel of reclaimed timber on exposed steel rails. The flow and conjunction of the spaces adheres to the owner's vision of "not building a home inside a box." The cleverly placed pod of spare bedrooms and amenities has a compressed corridor to one side. This leads to the pièce de résistance of the lounge, dining and kitchen zone. Original brick walls form a handsome edge to this space, which has been decked out in a minimal way with a custom-designed leather lounge, a bench seat and a wonderfully textured woollen loom rug, circa 1950.
A modular kitchen takes the place of the previous "caravan kitchen," according to Wrightson Stewart, with its long Carrara marble counter acting as a servery. American walnut dominates, and a splashback of solid, glazed black bricks adds to the warmth. The de rigueur built-in cocktail cabinet that opens into the lounge also has a masculine edge, with its Georgian wired glass-door panels, which were made to match the large bank of clerestory glazing.
A mezzanine bedroom and ensuite overlook the lounge, dining and kitchen zone. Here, black carpet and American walnut veneer continue the palette and lines are simple and strong. The ensuite bathroom is an elegant arrangement of three open, roofless niches, each boasting a combination of tiles and marble and neatly recessed storage cabinets. An old hospital sink is repurposed as the vanity basin, with exposed pipes underneath, powdercoated in silver.
In a playful reference to the cliché of the nude portrait above the bed, there hangs instead a round Hermes-style mirror, encircled in thick straps of leather detailed like saddlery. In an elegant act it catches the view through full-height windows opposite and reflects back the textures of the brick walls, the architecturally S-folded swathes of sunblock curtaining and the suffused southern light.
Products and materials
Internal walls

Painted Dulux 'Natural White'.
Flooring

Brintons Carpets Highpoint collection carpet in black; existing flooring with semi-gloss finish.
Lighting

Deltalight Grand Carree, Mini Carree, Spatio, Be Cool and Canvas lights, and Platform light, all from Inlite; wall lamps from Luke Furniture; custom chandelier by Wrightson Stewart Interior Design.
Kitchen

Perrin & Rowe U Spout mixer; PGH Bricks and Pavers Nobel bricks with black gloss finish; Barazza Wolo oven and B-Free cooktop from Abey; Transtherm Studio wine fridge; Carrara benchtop, honed, from WK Marble and Granite.
Bathroom

Brodware City Plus mixer and shower; Burke Mercer sink; Christiaans bottle trap; Kolum heated towel rail; Parisi Dial wall-hung toilet; Popham Design tiles in kohl and white to shower; Vogue Ceramics matt tiles to walls.
Other

Custom-made vanity in galvanized pipe; custom-made slider door with track from Specialty Doors.
Credits
Interior designer

Wrightson Stewart Interior Design
Fortitude Valley, Brisbane, Qld, Australia
Project Team

Ian Wrightson, Steven Stewart, Charlotte Russell, Elle Trevorrow
Consultants

Builder Douglas Construction and Development
Joinery Dimensions by Design
Landscaping Inlite Brisbane

Site Details

Location Brisbane, Qld, Australia
Building area 210 m2

Project Details

Status Built
Design, documentation 6 months
Construction 3 months
Category Interiors, Residential
Type Adaptive re-use, Apartments

Source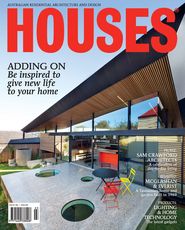 Project
Published online: 16 Aug 2013
Words: Margie Fraser
Images: Kylie Hood
Related topics