Tent House by Sparks Architects commands a small clearing within a ten-hectare remnant swathe of rainforest on Queensland's Sunshine Coast Hinterland. The fluid curves of the canopy structure have a kind of ephemeral impermanence against the backdrop of the forty-metre-tall vestigial landscape in a setting reminiscent of a temporary camp, which reveals itself incrementally from a winding forest track. More complex than the rudimentary structure suggested by its name, Tent House is a building that cannot be considered in isolation from its abstract or physical context.
The dwelling represents a convergence of ideas that began a trajectory decades ago and embody the teachings and experiments of Dan Sparks' mentor Gabriel Poole, along with the evolutionary development of concepts and systems that define the formative practice of Sparks Architects. If the building were to be categorized, it would belong to a subset of the Sunshine Coast "school" – to a collective of "tent houses" that contribute handsomely to the identity of the semirural and coastal communities concentrated between Eumundi and Noosa Heads. These houses advance ideas about climate-responsive architecture in fervent opposition to developer-driven housing.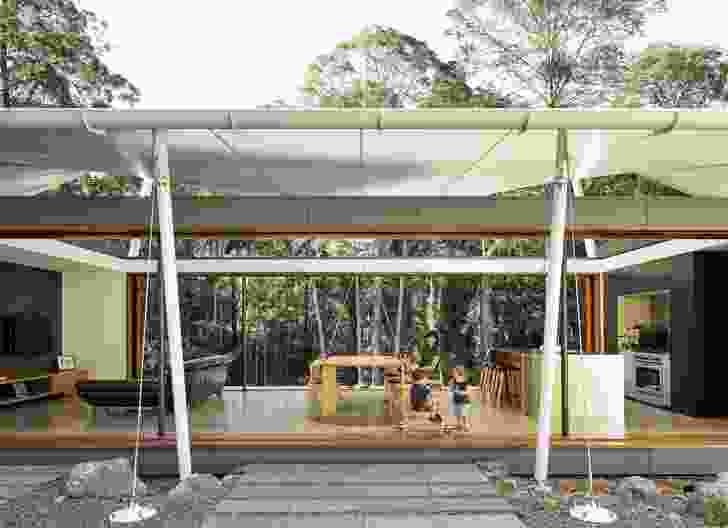 Obvious lines are drawn to Tent House (1990) and Lake Weyba House (1997), both designed by Gabriel Poole, and the revolutionary nature of these buildings and their exploration of fabric roofs. While these earlier examples have membrane roofs created by stretching fabric over a static structure, both curved and flat, Tent House by Sparks Architects relies on the inherent tension of masts, cables and fabric to create a double curving, tensile roof. This distinguishes the building from the experimental beginnings of its older kin.
Tent House is more than a tent. It is also a sophisticated, insulated box, or an "esky." Dan uses these colloquial terms, popularized in architecture by Troppo Architects, to simply describe the logic of two opposing concepts that ensure that basic shelter and comfort can be achieved year round. Thankfully, when Dan first met with the owners, Nick and Nicole, and posed the question "Do you like camping?" they answered with an enthusiastic "Yes!" From that moment Dan had permission to entertain ideas about such an unconventional and dual way of living.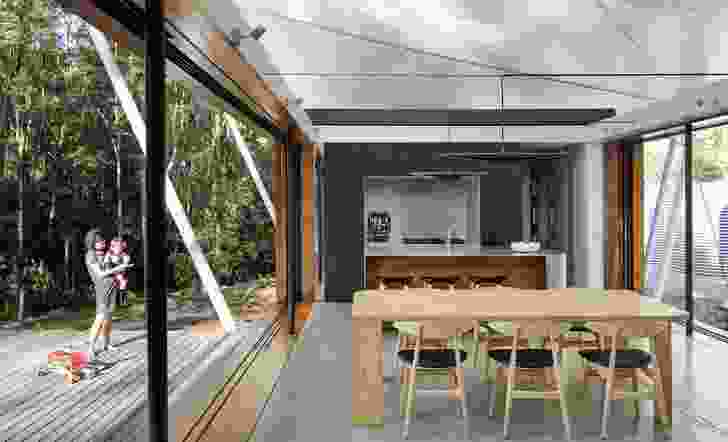 During the spring/summer months and on warm days and nights, which on the Sunshine Coast is about nine months of the year, the house operates as an open platform sheltered by a fabric roof. This is possible because exterior glass walls of the "box" can be opened manually and the flat roof, which is motorized and track- mounted, can also be stacked away. This allows the central living, dining and kitchen space and two end bedrooms to enjoy minimal enclosure below a translucent fabric ceiling. In winter after 4 pm and during seasonal storms, the walls and roof can be closed down, with small screened and louvred openings allowing natural ventilation to be maintained within a more controlled interior environment.
Carefully tuned to every nuance of the subtropical, coastal climate, this paired system enables a large number of possibilities to control the passive comfort of the living environment. A less understood but most appreciated effect of the canopy structure is the natural cooling system generated by the movement of air over parabolic curves. As the warm air rises and escapes the roof canopy, rainforest-cooled air moves in to replace it, offer- ing a constant flow of fresh air inside. When the roof is closed, the tent takes the majority of the heat load, allowing the insulated box to remain comfortable during extreme heat or when bush- fires threaten.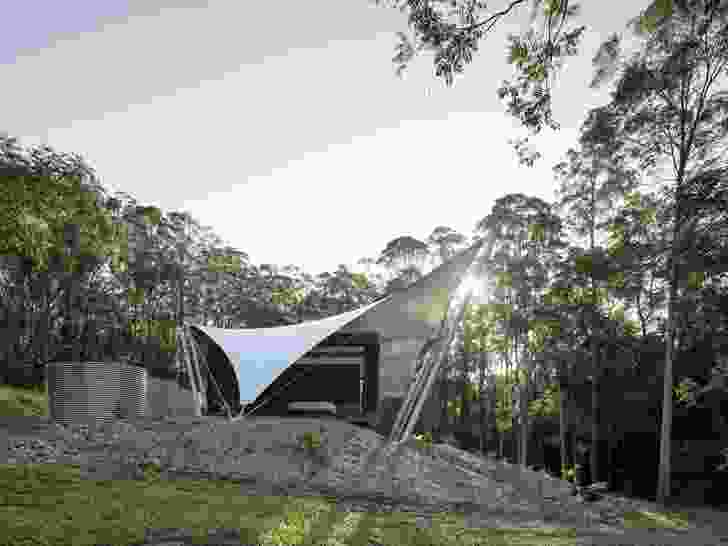 Function and pragmatics aside, it is the emotional effect of this dual system, resulting in a large variety of spatial and lighting conditions, that justifies such a double-roof proposition. The sweeping animation of birds flying overhead, captured in silhouette against the fabric ceiling; the stargazing opportunities on a balmy night, from the bedroom; the light play of leaves cast in shadow on the ceiling; the rainforest wall that becomes part of the interior paradigm – it is impossible to put a commercial value on such poetic and emotionally charged experiences, which characterize daily life here. On the flipside, it would be considered a disservice to the clients not to enable full immersion in the life and seasonal cycles that the natural wonderland of this setting provides.
Tent House is a very personal project for Dan Sparks, powerfully symbolic of the influences and learnings from six years spent in Gabriel Poole's Sunshine Coast studio, and demonstrative of the independent direction he has forged in professional practice since establishing Sparks Architects. "A perfect storm" is how he describes it – a collision of events, both planned and serendipitous, that have manifested in this rather unconventional home in this spectacular part of the world. It is a project that will no doubt emerge as a benchmark for prototype housing in the region, contributing, as its forebears have, to the advancement of architecture more broadly.
Products and materials
Roofing

Fabritecture tensile membrane in PVC-coated polyester; Lysaght Custom Orb to both fixed and custom sliding roofs.
External walls

James Hardie fibre cement sheet with painted hardwood overbattens.
Internal walls

Gyprock plasterboard, painted; 2-pac to joinery walls.
Windows and doors

Capral Architectural Glazing Systems aluminium glazing stens and Diamond Louvres within custom site-felled and milled tallowood reveals.
Flooring

Honed concrete.
Lighting

Lighting by TJS Electrical and Solar.
Kitchen

Timber, laminate and stainless steel joinery by Minka Joinery; Ilve cooktop; Swedia multi-function mixer; Sterling Regal sink; Falcon oven and stove.
Bathroom

Caroma fixtures; Methven shower fittings; Fienza bath; Swedia tapware.
Other

Custom site-felled and milled tallowood handles and joinery details by Minka Joinery.
Credits
Architect

Sparks Architects
Peregian Beach, Qld, Australia
Project Team

Dan Sparks, Michael Cornish, Rabea Stader, Patrick Ozmin, Alex Kean
Consultants

Builder Jaicon Constructions
Engineer NGS Structural Engineers
Landscape Conlon Group
Specialist tensile roof Fabritecture

Site Details

Location Sunshine Coast, Qld, Australia
Site type Rural
Site area 60540 m2
Building area 280 m2

Project Details

Status Built
Design, documentation 8 months
Construction 10 months
Category Residential
Type New houses

Source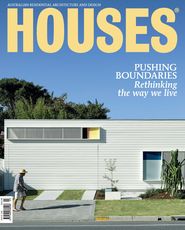 Related topics