A highly geometric visitor centre designed by Terroir has opened at Phillip Island's famed Penguin Parade.
The Penguin Parade sits inside the Phillip Island Important Bird Area, which supports up to 32,000 Little Penguins. The "parade" refers specifically to the penguins' daily commute from the sea, up the beach to their burrows. More than 4,000 penguins are thought to burrow on Summerland Bay Beach.
The new centre features visitor facilities, including retail and hospitality spaces and a theatre and interpretation space, in addition to a science centre.
The building sits at the junction of three distinct landscapes: basalt bluff, coastal dune and wetlands. Speaking to ArchitectureAU in 2017, Terroir principal and director Scott Balmforth said the design of the centre was "intended to visually embody the sense that the building is reaching out to the landscapes but also stitching the landscapes together."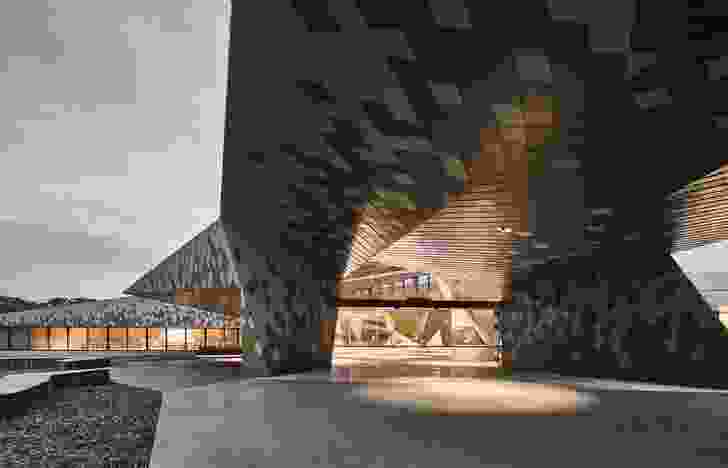 "So rather than the building drawing attention to itself, it's actually trying to create a sleeve within the landscapes around it.
"The sharp, angular form is also directly intended to, in a way, thin the building off. The form actually assists in creating a lighter appearance via the delineation between light and shade."
The new centre doubles the capacity of the previous Daryl Jackson-designed centre built in 1988. The previous centre was demolish, and its site be rehabilitated and returned to penguin habitat. The new centre is expected to cater for 840,000 visitors annually by 2030.
The Victorian government funded most of the $58.2 million cost of constructing the centre, with Phillip Island Nature Parks making a $10 million contribution.
In a statement, Victorian premier Daniel Andrews said, "The new centre will […] ensure this world-class centre continues providing a wonderful experience for more local families, and visitors from across Australia and the world."