When travelling through Tokyo, the two faces of the city fascinated me. Some streets were a cacophony of visual and audible noise; the sound of pachinko machines competing with J-pop on loudspeaker, complex networks of overcrowded footpaths with a collage of advertising signage clouding the streetscape. Yet interspersed within these outpourings of stimulation were intimate pockets of quiet restraint, where humility and simplicity were deeply revered.
Tetsujin, a restaurant designed by Architects EAT that is half sushi train and half Japanese barbecue grill, draws from these opposing characters, creating two distinctly different dining experiences. Although pinned together by a central shared kitchen, the quiet, minimal sushi train restaurant is a markedly different experience to the dark and theatrical barbecue grill. Given the sounds and smells generated by the barbecue grill, there was a desire to separate the experiences and allow the sushi train to remain unaffected by its raucous other half.
The sushi train is a predominantly white volume with floor-to-ceiling windows pouring light into the space. A dynamic timber structure, echoing Japanese architectural heroes like Kengo Kuma and Sou Fujimoto, marks the entry and frames the city views beyond. There's a pale-pink wall graphic, so pale it's almost imperceptible, that gives the light a calming, rosy hue. The design takes inspiration from the subway – given that it's a sushi train – with subway tiles the dominant material and a row of LED rings reminiscent of train handles marching over the sushi train. It's the restrained simplicity and sense of stillness that give this space its strength of character.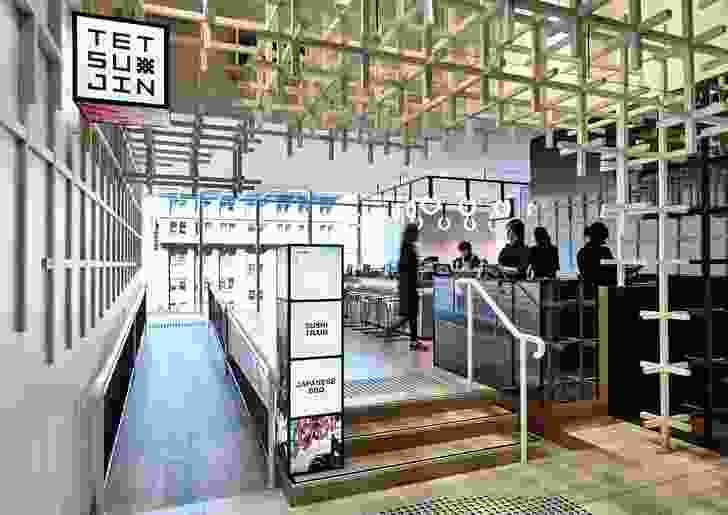 By contrast, the barbecue grill half exacerbates the theatre of barbecue and food. It celebrates the smells, flames and sound. A display case facing the main dining space showcases the array of delicacies for barbecuing. Above this, a red neon sign shouts "Welcome!" in Japanese characters. A full-sized Tetsujin figurine – the animated iron man character that the restaurant is named after – is suspended from the ceiling. A graphic mural by Principle Design is printed across the walls, gathering in intensity as it travels deeper in the space and further from the sushi train. It terminates at a full bar at the opposite end, where projections illuminate the building opposite. This side of the restaurant is loud and proudly unrestrained. Seating double the capacity of the sushi train with more communal tables and large booths, it caters for larger groups. Given its size, the noise and activity from larger groups would be essential for illuminating the theatre of the barbecue grill. At night, entry is accessed directly via a lift from the public street that leads to the bar, cementing the bar and barbecue half as primarily a night-time destination.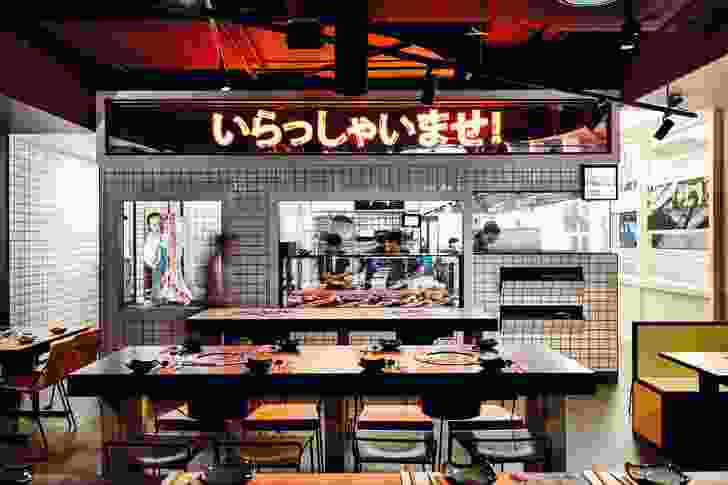 Most daytime patrons are likely to enter through the sushi train via the Emporium Melbourne food court. The dining experience is affected by the venue's location within Emporium Melbourne, the masterplanning of the shopping complex and to some extent, the greater city. Melburnians don't typically turn to shopping centres for sit-down, destination dining. However, Tetsujin is located on the fourth floor, accessed via an escalator off the main food court, and it shares the floor only with the much-hyped Din Tai Fung, a dumpling restaurant that established a cult following in Sydney. There's also the direct public entry via Caledonian Lane. Like some of Melbourne's most successful hidden laneways and bars, it's not somewhere you'd venture unless you were in the know. Its hidden location gives the restaurant cultural capital and strips it of the food court stigma normally associated with shopping centre dining. Strangely, the majority of the tenancy was originally slated as a large storage room. The unplanned decision to convert it into an 180-patron dining space has resulted in one of the most interesting food and drink destinations within the complex.
Tetsujin's hidden location within Emporium Melbourne is essential to the success of the space as destination dining and it's within this context that Architects EAT's two-sided design concept is able to unfold and flourish.
Products and materials
Walls and ceilings

Existing blockwork wall and full-height glazing. Natural grey wall panel from Concreate. Handpainted Japanese lettering on plasterboard wall, painted with Dulux 'First Love Quarter.' Walls painted with Dulux 'Lexicon Quarter' and 'Domino.' TR Ghiaccio white tiles from Classic Ceramics.
Flooring

Raised flooring with Buzon Pedestal system. European oak flooring from Woodcut in sushi train area. Blaze tile in dark finish from Metz in barbecue dining area.
Lighting

General light fittings by Ambience Lighting. Hadron-i pendant light from Satelight above bar. Custom-made LED ring lights with opal acrylic from A Better Sign with custom-made black leather straps from Made Measure above sushi train.
Furniture

Transit bar stool with ash seat and black steel frame in sushi train area and bar, and Sling chair with ash or black seat and black frame in barbecue dining area, both from Meizai.
Kitchen

Sushi train and equipment from JL Packaging. Kitchen exhausts from Stoddart.
Other

Entrance timber lattice uses hoop pine with white lime stain. Super White stone to sushi train bench and tables and Atlantic Honed stone to barbecue dining tables, both from Apex Stone. Wall graphics designed by Principle Design, produced and installed by Image Box.
Credits
Design practice

Architects EAT
Melbourne, Vic, Australia
Project Team

Eid Goh, Lachlan Cooper, Janice Teh
Consultants

Base building engineer Norman Disney Young
Builder K & K Industries
Graphic design Principle Design
Project manager K & K Industries
Services engineer ECH Consulting Engineers
Structural engineer KH Engineering

Site Details

Location Melbourne, Vic, Australia
Site type Urban

Project Details

Status Built
Completion date 2015
Design, documentation 5 months
Construction 2 months
Category Interiors
Type Restaurants

Source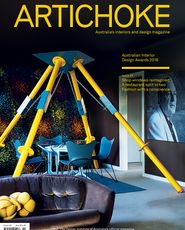 Issue
Artichoke, June 2016