Our itinerary took in fifty-three projects, selected during an intensive review of 138 State Award winners. Commencing in Melbourne on 10 July 2011, it covered all states and territories before completing in Hobart some fourteen days later. Without exception, each project was presented to us personally by the responsible architects and their clients or building managers, and the opportunity to spend quality time with this echelon of Australian practitioners should not go unmentioned. Nor the bond of common endeavour forged by the jury across long days, countless flights and the endless hours driving our rented Tarago vans!
Throughout its travels, the jury noted a particular strength common to all projects – the demonstrated concern for engaging active and passive sustainable design solutions, an emphasis undiminished by the scale of projects, both public and private. The jury was impressed by the ingenuity and simplicity behind many of the sustainability strategies, and also by the clarity of planning and spatial relationships, appropriate orientation and materiality of the projects visited.
This necessary industry concern is now de rigueur and, given that all architecturally designed buildings should be sustainable, it renders debate about the appropriate awarding of sustainability increasingly relevant.
Further compliments go to the architects working in the commercial and public categories. The buildings visited displayed excellent work environments, with laudable emphasis on staff social and work patterns, a healthy work environment with high levels of staff amenity and facilitation of collaborative interaction.
Central to the execution of quality built outcomes is obviously the collaboration between architects, clients, consultants and contractors – particularly in the arena of large projects, with their commensurately higher financial risk. Given past concerns with standard guaranteed maximum price building contracts, it was noteworthy to hear how many architects had successfully produced their buildings within this frequently employed arrangement. Indeed, proponents endorsed it for assisting in the execution of design quality, and increasingly complex programs. Furthermore, they believed it dealt effectively with risk mitigation and the increasing fiscal demands placed on venture capital by lending institutions. It is clear that this type of contract is continuously improving to support the key role of architects.
The jury took pleasure in reviewing the international work of our colleagues, but of course the decision making can only be based on the material provided which, at times, makes this category quite difficult to judge. The inclusion of our international colleagues in the judging of this category via the International Area Committee has recently been agreed at National Council. This will no doubt enrich the process and bring greater relevance to this category while providing another appropriate link with our country's international architects.
While the jury developed common decisions quite naturally throughout the tour, only the residential house category prompted occasional disparate reaction. The rich vagaries and drivers in the briefs of residential clients – their diverse personal living styles and needs, peculiar space sensitivities and requirements, budgets, sites and so forth – inevitably reveal the individual sensibilities of those who visit and dare to judge. In fact, it became clear that unlike other categories, judging of residential houses could have become quite subjective and prolonged. So, in order to more evenly judge this category – arguably the favourite of practising architects – a qualitative matrix was developed, individually applied to each of the fifteen residences visited, then compared as a basis of decision making. The results were clear-cut, with all jurors happy to compromise their views a little here and there.
In conclusion, I would like to thank my jury colleagues for an unforgettable and inspiring "road trip" through architecture of the highest order. Our diverse backgrounds – education, practice, the international promotion of architects and government architect – fostered energetic interaction, spirited debate and broad viewpoints. Yet, almost invariably, the group consensus evolved clearly, relatively quickly and, yes, unanimously.
On behalf of the Institute, the jury would like to congratulate all the winners of 2011 and, in general, Australian architects for their extraordinarily high level of design skills and their commitment to a sustainable built future.
Source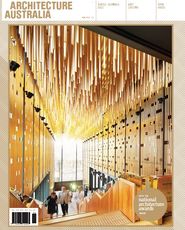 Issue
Architecture Australia, November 2011
Related topics