POE is an acronym on notice. While architects have embedded practices to deal with the ongoing and latent need to manage a building's life after occupancy, at present these grow out of binding legalities stemming from obligatory contracts, warranties and guarantees. Therefore, a shift in whose responsibility it is to ensure the correct functioning of a building and its components often takes place. However, there is a wider paradigm shift in how we think about the duration of the relationship between the designed and the designer. Like the reasoning behind dropping the category of sustainability from the (NSW) 2012 Australian Institute of Architects awards – "sustainability should be embedded in everything that we do" – the performance of the built environment post occupancy should also be implied in everything that an architect does. Essentially this entails two processes: knowledge creation and the ability to act upon this knowledge.
Szencorp, 40 Albert Road
For an understanding of the current professional approach to post-occupancy evaluation, Szencorp at 40 Albert Road, South Melbourne provides a standard, contemporary model. In 2005, the 40 Albert Road building was announced with a fanfare as "the first refurbished 6 Star Green Star office building" in Australia. SJB retrofitted a rather bland, 1980s concrete office block via modifications, introducing skylights, opening up the stairwell and incorporating passive heating and cooling systems, among other things. Not only is this an amicable project from a green perspective, it also serves as a fair indication of contemporary POE practices and standards.
"Following the handover," SJB founder and director Michael Bialek comments, "SJB had no practical involvement in the post-occupancy evaluation (POE) report but has been working in collaboration with Szencorp to share the 40 Albert Road case study with students, professional bodies, government authorities and international groups." The two POE reports did not involve the direct involvement of the architect, but instead were conducted independently by Encompass Sustainability; one in 2006 (a year after the building's completion) and one in 2009, to capture knowledge for improving existing conditions and to feed into future built projects. The methodology included a Building Use Studies (BUS) occupant survey, and the benchmark practice of judging these findings against a wider data set of fifty-five projects from Australia. There were forty-five variables measured, including the image of the building, ventilation, productivity, satisfaction and comfort. The report revealed that staff were dissatisfied with their inability to manage ventilation, cooling and heating systems. Between 2006 and 2009, 40 Albert Street saw improvements against most benchmarks.
Perhaps of more interest here, however, is the building's metering system, with the installation of fifty-nine meters measuring energy use, and a Building Management System (BMS), an integrated monitoring system that monitors temperature, humidity, daylight, air quality and occupation throughout twenty-one zones in the building. The BMS stores this information in an extensive internet database that is available for public viewing, and uses this to record variations and compute trends in different aspects of building use and management. Michael Bialek remarks that "The unique technology incorporated in the building means people can log on to a website to look at the building's consumption of operating systems at any time of the day. The technology not only shows faults, it also provides intelligence as to why things weren't working as they should be." Here we begin to see not only the potential of integrated knowledge creation systems – the ability of data to feed back into monitoring the operation of the building – but also the sharing of this information with the wider community, a collective knowledge for comparison and action.
Collective input
Open data, or knowledge collection enabled by the internet, can be traced back to a critical monad in the 1990s, with the development of softwares such as the Linux operating system, made solely through the collaboration of dispersed coders and made up of completely free software.1 This and the development of other free softwares using open-source intelligence provide a typical example of the potential of self-organizing, decentralized processes. And, since this time, as a method of knowledge creation, it has gained in both popularity and refinement, creating sites like Wikipedia and the Gannett newsroom (which since 2006 has been operating a crowd-sourced news production where the public participates in the production of news).
With collective participation and feedback central to the creation of such bodies of knowledge, it was only a matter of time before this logic was applied to understanding and relating to the physical environment. In 2010, architect Usman Haque launched Pachube, a web service that enables people to tag and share real-time sensor data from objects, devices and spaces around the world, facilitating interaction between remote environments, both physical and virtual. Since its launch, it has seen various open-source applications, including Natural Fuse, a project using network plants to harness the "carbon–sinking" capabilities of plants and create a city-wide network of electronically assisted plants that act as both energy producers and as shared "carbon-sink" circuit breakers. More recently, the site has been used as a platform for visualizing crowd-sourced information on radiation levels in the environment as a result of the Fukushima nuclear power plant disaster – results that were not immediately made public.
One of the core ambitions of the site is to explore the potentials of shared information in relationship to its ability to be applied to an end goal for the physical environment, making "data aggregation and comparison possible between wide ranges of energy consumers to facilitate aggregation analysis; but, the point really is to make it easy for people and companies to build in this kind of connectivity and invent new uses."2 The site also enables individual-user monitoring, giving individual citizens the power to measure and monitor, a role usually assumed by architects, consultants and management.
Intelligent output
Discourse around embedded intelligence today revolves around Web 3.0, or the internet of things (IoT): the notion that there are more objects communicating together presently than object and subject, and that these objects have an intelligence. While the advancement of packaged, analysed, and filtered data collection is clear, how this intelligence is applied is of equal importance.
The potential of this critical mass was demonstrated in one of Haque's earlier collaborative projects, Reconfigurable House 2.0, a structure in which various sensors and actuators have the ability to reconnect endlessly as the occupants change their minds, giving the house the ability to take on completely new behaviours. Walls and other devices in the house are programmed to respond to a series of diverse inputs, from phone calls, MP3 players and other remotely connected spaces to footsteps and changes in light and sound. "And if the house is left alone for too long, it gets bored, daydreams and reconfigures itself."
The sentiment of this project was extended in May of this year when the Serpentine Gallery opened a solo exhibition by Mark Leckey. The exhibition, entitled See We Assemble, investigates Leckey's fascination with the idea of objects "communicating and assembling themselves."3 Leckey presents his 2010 piece Samsung, in which a Samsung refrigerator shares stored information, thoughts, dreams and aspirations with the audience. The fridge chants and recites, while images of its compatriot Samsung appliances, functional diagrams and eatable visitors are projected, as though this seemingly inanimate object has been harvesting data since its inception. "The transmission of coolant begins with messages sent to the compressor … my goal is to keep cold … my goal is to keep cold … " Leckey presents a somewhat surreal but poignant vision: what if objects central to our occupation of the environment could collect, receive and learn enough to contribute to their own evaluation?
As a building outgrows itself, can it react to shared information, make intelligent comparisons, and feed back into an updated model? And rather than thinking within the constraints of the individual building (as object), are there other ways to monitor, manage and connect to the broader environment? Can we give a building more subjectivity to achieve this? For example, what if the building could retain enough real data to argue its own case against demolition? Can a building repair and grow with a roving 3D printer? With the prospect of "smarter" buildings we always assume the role of designing for the user; what if, instead, we started to design buildings for the environment and not simply ourselves?
Architects must be more imaginative in the development of complex systems where new methods of data collection can be incorporated into information feedback loops that liberate the building from object to subject, where the building can harvest enough intelligence to perform self-evaluation and adaption while maintaining constant communication with the inhabitants. Imagine Szencorp at 40 Albert Road rationalizing with the occupant not to turn up the heat.
Read more on post-occupancy here.
1. Cody Burke, "Freeing knowledge, telling secrets: Open source intelligence and development," (2007). CEWCES Research Papers, Paper 11.
2. Ugotrade website, "Pachube, Patching the Planet: Interview with Usman Haque," http://www.ugotrade.com/2009/01/28/pachube-patching-the-planet-interview-with-usman-haque/ (accessed July 18, 2011).
3. Mark Leckey, interview with Jared Schiller, guardian.co.uk (accessed May 30, 2011).
Source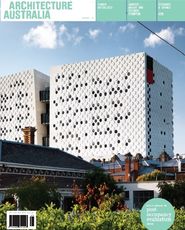 Issue
Architecture Australia, September 2011
Related topics