Though commercial interiors often have a life of less than ten years, the base buildings you find them in have generally been around for a lot longer. This means that many interior designers find themselves on site and ready to start a new job in a space that is layered with history and memories. And, whereas designers once would have simply ignored this and created a new layer of their own, increasingly they are starting to peel back the finishes of the space to uncover and expose the fabric of the architecture beneath. In part, the advantages of this approach are practical: fewer materials mean a low-cost build. But it is also an aesthetic choice – a response to the current economic downturn, a nostalgia for the past, for the value of "making do," with the result being a raw, grunge design aesthetic.
The Apollo, a Greek restaurant in Potts Point, Sydney, under the Devere Hotel, is one such space. Interior architect George Livissianis had always been the first choice to design the restaurant, being a childhood friend of chef and co-owner Jonathan Barthelmess and having worked with other owner Sam Christie on the interiors of Longrain and Shortgrain in Surry Hills. The first thing that Livissianis did on visiting the site – previously an Indian restaurant with low ceilings, little light and a dated colour palette – was crawl up into the ceiling, where he found Mediterranean arches, original cornices and a beam structure.
Before long it was a demolition site, with two ceilings pulled out, and plasterboard and column cladding ripped away to reveal the architecture beneath. A circular grinder was used to remove just the right amount of the wall's surface to get a beautiful, if raw, finish. "This style of project is all about being responsive on site," explains Livissianis. "Every step of the way was a bit of a surprise."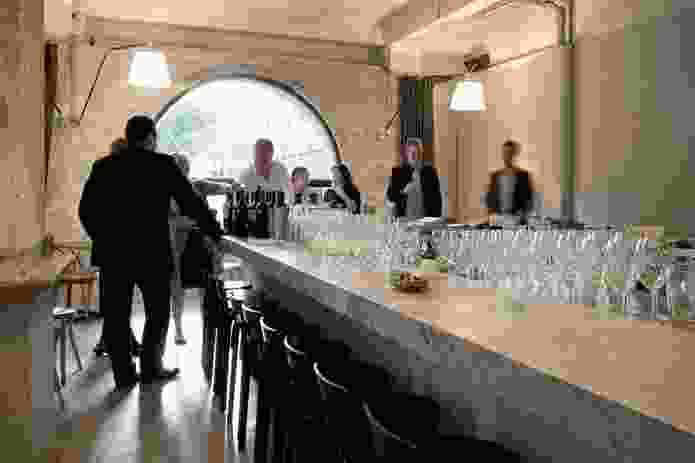 "Our intent was to expose the carcass of the building and encourage the inherent Mediterranean feel of the existing arched windows, the hidden decorative ceilings and stripped finish of the existing walls."
From here, the process was about adding back into the space, just enough to create something refined and harmonious without hiding the original fabric of the building. Concrete sheeting along some of the walls creates a smooth texture. A datum line was added in pink to the existing walls and columns at the same height as the top of the concrete walls, creating a visual connection between them. Ideally, the kitchen would have been visible from the main dining space, but the services made this impossible. Instead, the bar – in grey marble – was extended into the space to provide a sense that you are watching the action happening within the room.
A separate dining room has been set up adjacent to the kitchen as a chef's table – an informal space surrounded by shelves of produce that double as storage for the kitchen. And the kitchen itself – a marble island – creates a sense of community for chefs and kitchen staff, which, in combination with the white wall tiles, makes this feel more like a large home kitchen than a cooking space.
Much of the inspiration for Livissianis came from the food itself. "For me, Greek food is something you have at home," he explains. "It's not made to look refined. This atmosphere lends itself to that style of food. It has that simplicity in its balance of rawness and refinement. The finishes are simple, naked and desaturated in colour, and this dusty palette emulates the rocky Greek island landscape, rather than the predictable blue and white.
Against the textural blend of raw (walls, columns and arches) and smooth (concrete walls and marble bar), is a suite of tables and chairs that are equally tactile. The Thonet chairs soap-finished on site, bring gentle curved wood to the space, as do the oak tabletops – sandblasted to highlight their grain and texture.
Colour is important in the interior, but in a controlled and inventive way as a subtle highlight of neon pink – an homage to the recurring use of red in Greek imagery, sourced during the concept development. The colour was sourced from newsprints dating back to 1939 – from signage, floral prints and traditional dress. Livissianis has reinvented into a neon stitch detail for The Apollo's banquettes and the thin datum painted around the walls columns. It's used as colour "pop" in the restaurant's graphic design.
There is a certain romanticism in stripping an interior back to reveal its layers of history beneath, but it is the attention to detail with regard to what is added back into the space that is the difference between simply revealing the raw bones of a space and creating a refined interior.
The Apollo was named Best Restaurant Design (joint winner) at the 2012 Eat-Drink-Design Awards.
Products and materials
Walls

Existing facade painted in Taubmans 'Woodcliffe.' Existing internal walls manually ground until desired finish achieved. Additional internal walls are new compressed fibre cement board lining with penetrating sealer and curved corners using quarter rounds from James Hardie Artista column range. Quietspace acoustic panels with Hilti fixings.
Windows

Existing timber-framed arched windows. Custom-made curtain rod using galvanized pipe and folded steel wall brackets. Dominique Kieffer Cloque De Coton curtain fabric from South Pacific Fabrics, curtains manufactured by Blind and Drape Store.
Doors

New doors lined with compressed fibre cement board and edged in steel plate, Penetrol finish. Custom-finish Lockwood Symphony Arpeggio levers.
Flooring

Compressed fibre cement sheet general flooring with brass joints, polyurethane finish. Epoxy floor to bar and kitchen, custom colour.
Lighting

Tolomeo mega wall-mounted mini desk lamp, Mega Suspension Pendant and Basculante suspension light with parchment shade from Artemide. Manufactum brass cellar light imported from Germany to external and bathrooms.
Furniture

Thonet No. 18 Bentwood cafe chair and Le Corbusier armchair, custom soap finish. Tables custom made with sandblasted and stained solid oak tops, cast iron bases. Custom-designed, steel-framed upholstered banquettes by Inde Studio. Orchestra fabric with custom-dyed fluorescent pink stitching from Dickson.
Kitchen

All stainless steel benches, splashbacks, bench frames and appliances from Cater Search. Super white granite island top from CDK Stone. Tapware from Galvin Engineering.
Bathroom

Duravit D-Code toilets. Caroma Cube 320 basins. Galvin Engineering Laboratory taps. Dyson Airblade hand dryer.
Heating/cooling

New Mitsubishi multi-head system.
External elements

Custom-made sandblasted steel signage with custom fixing pins. Berlina folding arm awning with Dickson fabric from Ozsun Products.
Source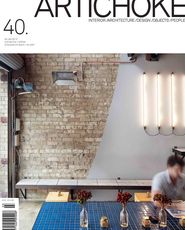 Issue
Artichoke, September 2012
Related topics