Arriving at The Bae Tas, as this apartment is playfully named, one could mistakenly think that it is simply a light-filled, minimalist sitting room; an elegant anomaly hidden within a stack of tiny, student bolt holes, where one might sit and look out to the Derwent River. Architects Liz Walsh and Alex Nielsen purchased this tiny flat in Tasmania without stepping inside. They knew immediately that it had good '70s bones and its wall of timber-framed glazing captured the view. As with their project The Barn, they were interested in continuing their exploration of design solutions for residential spaces that support uses beyond the domestic. As playful as its name, The Bae Tas reveals itself, through occupation, to be a deft box of tricks offering a surprisingly rich experience for its diminutive twenty-six square metres.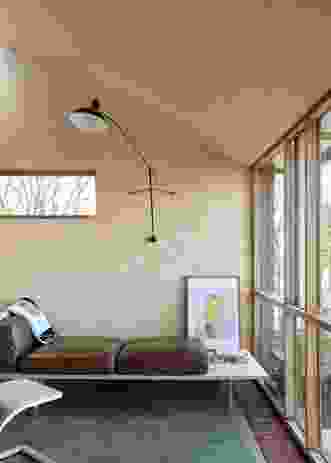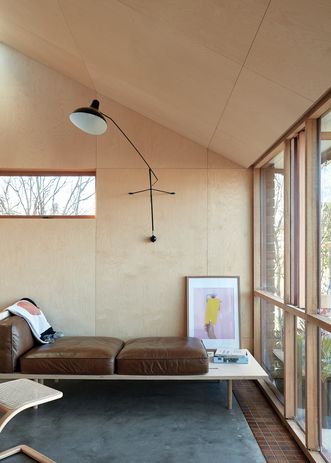 Stripping the existing shell back to its concrete block outer walls and the underside of the shared apartment roof, Liz and Alex have reimagined this apartment as a changeable room. The vital device in this re-crafting is the wrapping interior plywood skin. This material offers continuity across walls, ceilings and joinery and the architects have used all the available height, between floor and roof, to make a vaulted space that is the first of many surprises. With the standard 2.4-metre ceiling removed, the plywood now angles up to almost a metre higher while also dipping down to 2.1 metres in order to shape a unique, vaulted volume. At each high point, a skylight washes light into the volume.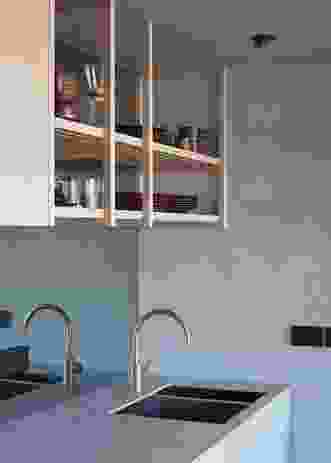 Punctuating this flush skin is a series of joinery incisions marked by discreet leather or dowel pulls. Opening one – a large bi-fold door – exposes a full kitchen in the rear wall, all of its surfaces wrapped in cement sheet, its fittings also secreted behind continuous cladding. Grasping another opens a weighty door into a jewel-like bathroom, clad in glossy, ruddy red tiles that give a nod to the '70s. Brass fittings glow in this small, sky-lit space and a delicious, matt black ceramic basin by local ceramicist Lindsey Wherrett is a centerpiece on its custom folded vanity. An occupant might need instructions to know that the dowel "coat hooks" in the wall operate as a way to pull down the fold-out bed, but it is from here, perhaps upon waking, that the various intentions of the design are revealed. The vaulted ceiling maps changing light and defines a series of subtle zones within the room. One can admire the handful of custom, curated furniture or fittings, such as the mid-century light by Bernard Schottlander. There is always the view out to the boats on the river or, desiring splendid isolation, an occupant might draw the lush, gold curtains to transform the room once again.
Credits
Architect

Liz Walsh and Alex Nielsen

Consultants

Builder and joiner Andy Otto Woodwork
Electrical Harvest Energy
Engineer Aldanmark Engineers
Plumber Swell Gas Fitting

Site Details

Site type Urban

Project Details

Status Built
Completion date 2018
Category Interiors, Residential
Type Apartments

Source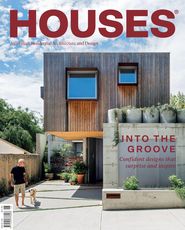 Issue
Houses, December 2018