The art hotel is an international hospitality concept that has been slow to catch on in Oz. The central idea, in its purest form, is to create a hotel environment for the quintessential boutique traveller that is enhanced with a collection of an artist's key works. The Blackman Hotel on St Kilda Road, Melbourne, is a derivation on the theme and is the third in a five-star series undertaken by build-and-construct company the Art Series Hotel Group, headed by Will Deague and his philanthropic family.
The Blackman follows the success of the Olsen in South Yarra and the Cullen in Prahran, which also celebrate the diversity of Australian painting. Each element of the current triptych seeks out a different audience depending on its locale. The Blackman has opened for a corporate market on the boulevard strip.
The Deagues are avid collectors of art, and the art hotel concept emerged out of workshops held at Lake Eyre and their commitment to reviving Australian landscape painting. There is an intention that some original artworks will make an appearance, but for the moment there are 400 archival-quality prints throughout the Blackman.
The hotel piggybacks the opulent and well-sited Airlie Mansion. The bustling reception area is flanked on one side by Depot de Pain patisserie and on the other by Italian restaurant Classico, both contracted to provide on-site facilities to the business-person clientele.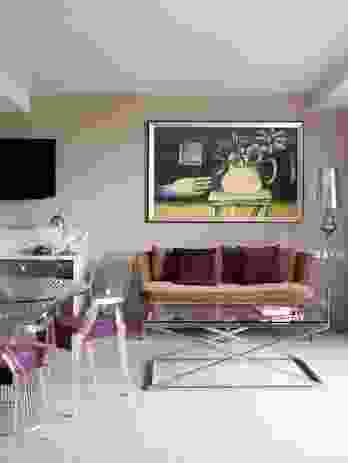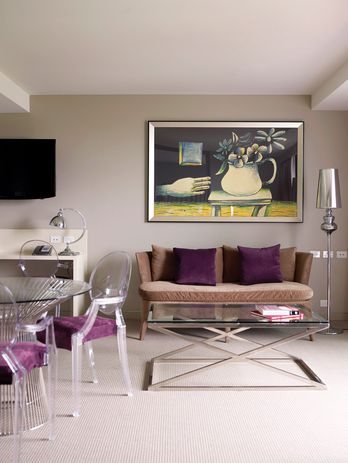 Above reception, there are 207 impressive suites – combined spaces that are carefully planned with a palette of materials and colours subtly lifted from Blackman's work. These are fashionable spaces, glamorously furnished to impress. The penthouse suites take in the stunning views over Albert Park Lake and to the city and, in doing so, require little more intervention.
The design work is in-house and a clear sense of the designer's method is not forthcoming. The key salutes to Blackman are the signature "bunny ears" from the Alice (in Wonderland) works that were inspired by the Lewis Carroll book. These are in continual iteration throughout both the public areas and private suites, becoming a notational salute to Blackman, yet remaining a decorative device. Hues of purple and deep pinks reference the daydream of Blackman's figurative works and mimic the artist's prints. Is it a gimmick? Most likely it is, but it is no less legitimate than any other hospitality hook.
Like all designers in search of architectural truth, I head to the bathroom – it is here that a built work lives or dies in the critic's eye. The detailing and fittings are standard. Where is the Aesop?! Nonetheless, something worthwhile is happening here – the collision of art and design and a reciprocal relationship between two pure creative practices. The art hotel arrives!
Credits
Designer

Art Series Hotel Group

Site Details

Location 452 St Kilda Road, Melbourne, Vic, Australia

Project Details

Status Built
Category Hospitality
Type Hotels / accommodation

Source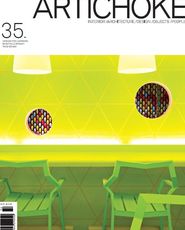 Issue
Artichoke, June 2011
Related topics