When I first saw The Cloud on television during the Rugby World Cup, I wondered why it had taken so long for a major public 'cloud' building to occupy this land of low-lying mistiness known as Aotearoa. The project joins a whanau of cloud-inspired buildings, including Pattersons' Cumulous and Geyser. To some it might seem strange to have a cloud lurking around at ground level, but having recently travelled the hazy Waikato farmland route from Auckland to Thames at dawn, the concept makes total sense. Besides, if you need to create an iconic building, then naming it after a familiar weather form in two easy syllables is sure to stick in the minds of the people.
Located on Queens Wharf in downtown Auckland, the $9.8m Cloud structure is unusual for New Zealand; I think it's fair to say that we're not that accustomed to expansive organically-formed tensile structures. So, it is admirable to see it utilised as an excellent piece of placemaking, aimed at both an international audience and a nation full of outdoor-loving campers, for whom the tent form holds nostalgic resonance. While it's probably not to everyone's taste; the ephemeral nature of an undulating tensile structure is anathema to anyone who likes solidity and straight lines. The Cloud is part of a growing breed around the world: from Rogers' Millennium Dome (now O2 arena) to Grimshaw's Eden Project to PTW/Arup/CCDI's Water Cube.

At 178.5m long, this curvaceously-shaped 'tent' is sculpted in white PVC (roof), glass (walls) and 'super' clear ETFE (walls and roof) and underpinned by a geometric steel structure. Combining art and architecture, the form creates an exciting visual movement along Queens Wharf, an area primarily dedicated to receiving cruise ships and tourists. The design works within its elongated harbourside location and has already generated a persona of its own; you only have to mention The Cloud and everyone knows what and where you're talking about.
Despite being the younger sibling of an architectural competition that was eventually aborted amid a great deal of contention, it is fortunate that the overall success of the project and of the rugby competition to which it was dedicated is what we are now left with. Following the competition, Jasmax and Fabric Structure Systems, who had earlier worked together on the Telecom Shed, had the foresight to approach the government directly with a proposal for a temporary tensile structure. The powers-that-be avidly embraced the idea and The Cloud was born from a redeveloped brief that required the building be built in one-and-a-half years, be temporary in nature and deployable elsewhere at a later date, to house the crowds visiting for the RWC, receive subsequent cruise seasons, and act as a government-led showcase for New Zealand innovation.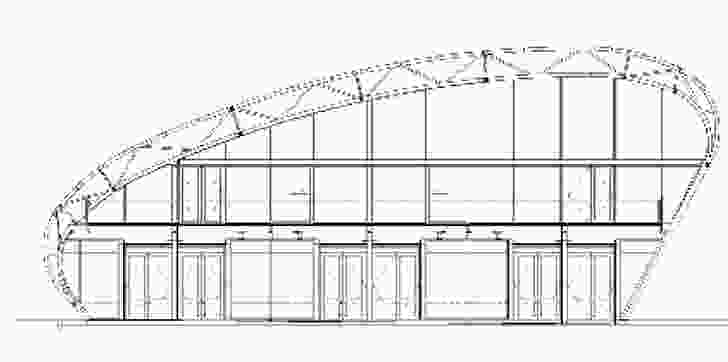 The result is a repetitive structure of 30 identical truss frames, with several 'individual' elements at each end, pre-fabricated to speed up construction and installation. The twisted form is created by randomly altering the lengths of the legs of the repetitive structure to build up the roof at varying intervals. The simplicity of the leg and truss structure creates a column-free rectilinear space, ideal for housing exhibitions and large audiences, and dividable into three separate event spaces, if required. As tensile fabrics don't like to sit flat, by bowing the walls into the roof the fabric follows its natural contours. Transparent ETFE side walls ensure that the building touches very lightly on the wharf, creating its floating presence. The space is naturally ventilated and it seems to work well, maintaining a comfortable temperature.
The day of my visit, I was greeted by a very full-on innovation fair inside The Cloud, haphazardly filled to the brim with signs, exhibits, people and screens, which to my mind (and probably the architects) did not do the architecture justice. While the 4,500m2 floor area is large by most standards, the minimal lightness of the form really needs to house a tidy, streamlined interior exhibition or a sea of people to truly show it off.
Located at the seaside end of the structure is a media centre for the world's rugby press, with a second floor VIP area above for the entertaining of dignitaries. Both spaces have spectacular views onto the harbour and are designed to work like contemporary airport lounges – air conditioned and highly flexible. Again, I think the spaces would have worked better if the furniture was laid out more uniformly; an uncontrollable issue when spaces are designed to a brief that requires maximum flexibility. However, it's still a sharp, functional interior space with English tawa wood detailing and timber flooring in the VIP area, while the media area below features a spongy black rubber floor, good for cleaning no doubt. The interior highlight is the glossy white faceted feature panels under the stairs and on the media desk; it just would have been great to have seen them utilised more visibly throughout the spaces.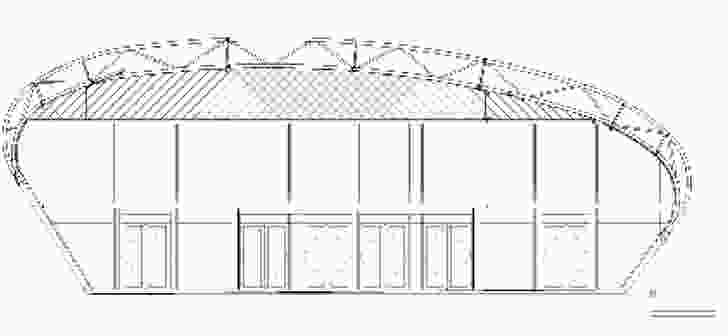 Designed and built over 18 months, The Cloud was under construction when the Christchurch earthquakes struck and numerous questions asked of built projects around the country as to their resilience during unforeseen 'events'. In this case, being a flexible tensile structure, it was clear that The Cloud would perform well during an earthquake, with the entrances and exits being fixed separately to the structure to ensure rapid evacuation. Being sited on a wharf may at first seem seismically precarious; however the wharf is in fact designed to be nudged by some seriously rotund cruise ships, and was upgraded prior to The Cloud's construction.
It was recently announced that The Cloud may now hang around the wharf for at least a few more years before moving to pastures new, with its next home as yet to be confirmed. Clearly, in the long-term the high value of Queens Wharf requires it to host a more permanent fixture, hopefully one that draws in both a local audience, as well as an international one. Rather than just restaurants and bars, it would be great to see it become a cultural and recreational hub, catering to all ages. But, I sense that when the time comes to dismantle The Cloud, the scheme will already be part of the fabric of Auckland. There is something about a tent that brings people together and good public architecture should also do just that.
Products and materials
Lighting
Credits
Architect

Jasmax
Parnell, Auckland, New Zealand
Project Team

Tim Hooson, Valentina Machina, Harry Rowntree, Eric Zu; Fabric Structure Systems; The Fletcher Construction Company
Consultants

Builder The Fletcher Construction Company, Fabric Structure Systems
Electrical engineer Bishman Electrical Contractors
Hydraulic engineer Norman Disney & Young
Interiors Jasmax
Mechanical engineer Aurecon, Airpro
Project manager RCP
Structural engineer Holmes Consulting Group, Wade Design Engineers Pty Ltd

Site Details

Location Waterfront, City Centre, Auckland, New Zealand

Project Details

Status Built
Category Commercial, Public / cultural

Client

Client name The Ministry of Economic Development/Waterfront Auckland

Source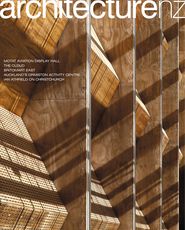 Issue
Architecture New Zealand, November 2011
Related topics