Leon van Schaik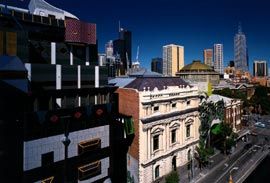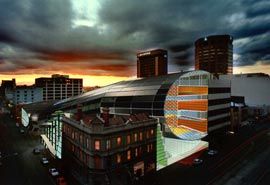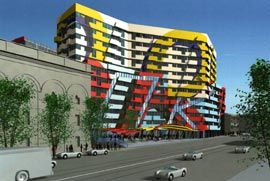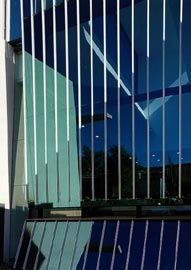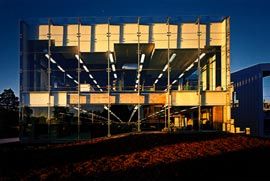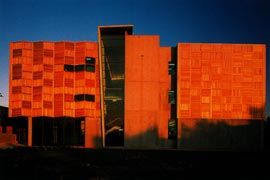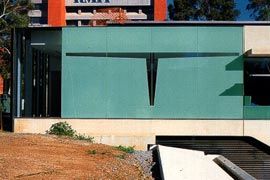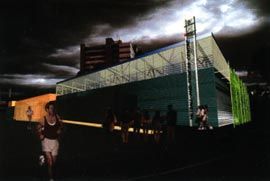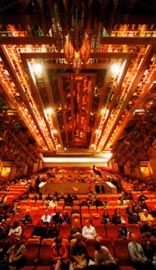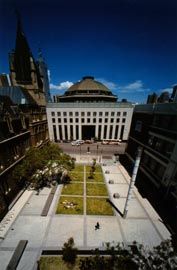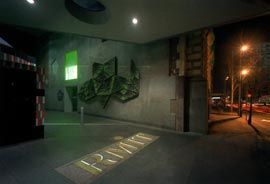 Why does architecture matter at RMIT? In a sense it has always mattered, much as it has in the intellectual life of Melbourne from its earliest days. But, since my first engagement with RMIT in1986, we have worked consciously to establish processes that reinforce architectural and institutional ambitions. Some of these processes are discipline specific: the public exhibition of students' major projects, the deliberate capturing of local knowledge in publications, the re-orientation of intellectual focus away from visiting internationals towards engaging with internationals through the reflective examination of the bodies of work of our liveliest practitioners. However, the ambition for the institution to draw on this reflective practice was also directed at RMIT's commitment to re-engage the city in the manner described by an RMIT Centenary Review committee chaired by Winsome McCaughey. The politics of institutional survival also came to play a part, but the challenge that I helped direct to the university, and which it accepted, was that its facilities procurement program should reflect its mission.
The language of that engagement has shifted in emphasis over the years. Currently I would argue the case for what we have done, and will do, as folows:%br% Education is a transformative process. Universities are responsible for an important part of anyone's capacity to fully engage in civil society: they take care of some of the rituals of intellectual change. This is a crucial body of knowledge, and it is looked after and developed for society as a whole. These transformation experiences are a species of "abiding event" – investments in development that every generation makes for the benefit of those that follow. Architecture spatially reinforces useful social rituals within the various "collectives" that nurture the core competencies of a society. While technology seems to change around us with bewildering speed, it is the ability of communities to change practices in advance of forced and cataclysmic restructuring that ensures that social capital is nurtured and extended.
The first stage of our campus development program sought to convey, through a few significant buildings, messages about our values. Edmond and Corrigan's Building 8 speaks about our connections to the city – to the civic spine of Melbourne – through a series of visual references to its surroundings, and through a plan that accepts change as a fundamental of organisational life. As the first building in the world to use the Penrose tile, ARM's Storey Hall indicates our commitment to the forefront of technology and to the scholarships that create it, integrate it and disseminate it. Its colour scheme reiterates our core value of service to the community. John Wardle's Print Building reiterates – through its play on extrusions – the theoretical basis of practicality. These buildings indicate that we try harder, that we offer a radical but real alternative, and that we are engaged with our city, our society and its needs.
Is a slow practice like architecture relevant in an electronically interconnected, place-disengaged techno-sphere? There is abundant evidence that those disengaged from spatial support seek it out. Professionals who have dispensed with purpose-designed offices nest in highly designed spaces for their most effective work. They settle in cafes, restaurants and hotel lobbies, selecting those spaces that best support their current activity. Out-sourced architecture. This is what the second stage of our program at RMIT is about: providing the university community with spatial supports that facilitate meeting and conversation within the blurred and ambiguous structures that encourage innovation. Innovative communities are composed of self-motivated people who have dispensed with the traditional organisational structures, and want to get on with what is interesting and with whomever is interested. Our campuses are becoming open, welcoming spaces where people will want to linger with others.
Peter Elliott Architects are designing spaces for reflection, for experimenting with new ideas, for collaborative risk-taking. The major accomplishment of this next phase, the redevelopment of Building 1 into a series of meeting rooms served by a cafe, is a radical investment in open-interaction. Morgan McKenna are designing innovative learning environments. What we learn from these projects will be replicated in all the campuses and scholarship sites that we manage: local, in Vietnam, and virtual. We will work with partners who understand this as we leverage our capital investments to further our ability to provide high quality transformative experiences.
Peter Bickle
Over the last ten years there has been a significant increase in the building of new facilities at Royal Melbourne Institute of Technology University (RMIT), not only on the main city campus but also on the suburban campuses such as Bundoora and Brunswick. This increase in capital expenditure on buildings is not an isolated adventure by RMIT but has been a common feature of all tertiary institutions in Victoria.
The focus on new buildings and campus upgrades was a result of the last Federal Labor Party government rationalising the tertiary education sector. The particular practice of amalgamating smaller institutions into larger ones, and of bestowing university status upon them, has seen institutions such as Swinburne, VUT and RMIT becoming direct competitors with Melbourne, Monash, La Trobe and Deakin universities. The additional requirement for self-funding that came with the advantages of amalgamation has concentrated the need to market the image of the particular institution. All these institutions have used new buildings to attract student and corporate involvement. New buildings have played a particularly important role in terms of Australian institutions' increasing desire to attract overseas fee-paying students as part of self-funding. These changes are a de facto method of privatisation, which, in Victoria, has been most virulently pursued by Melbourne University attempting to establish a separate institution called Melbourne University Private.
The increased competition between tertiary institutions appears to be manifested in a common requirement for new campus buildings to exhibit an architectural quality and imagery that reflects the institution's status. RMIT has been at the forefront of this trend, promoting itself through the architectural content of its new buildings. Building 8 and Storey Hall, designed respectively by prominent Melbourne architects Edmond and Corrigan and Ashton Raggatt McDougall are the best examples. Both buildings and architects are controversial – the architects in their promotion over many years of a parochial, Melbourne, eccentric architecture; the buildings in their exuberant forms, the use of bright colours and complex surface patterns. While these projects have high architectural and public profiles, one needs to ask if they are an exception within the current tertiary education building boom. The answer is, probably, no!
Most tertiary education institutions in Victoria have commissioned architects with a strong design philosophy to design their new buildings. Lists of buildings designed by fashionable architects can be applied to most tertiary campuses, both city and regional.
The idea that RMIT has a special system of patronage, or is more significant in its commitment to architectural quality, does not seem to be quite true. All the tertiary institutions appear to be endeavouring to improve the quality of their building stock with a commitment to distinctive architecture, and the use of distinctive architecture to brand individual institutions also appears to be a common goal.
It seems to me that the current spate of architectural patronage by universities is not altruistic, but a patronage based upon economic determinates. It is also true that tertiary institutions, especially universities, have always been patrons for good architects.
Most university campuses can boast buildings that architects would put in the category of good design. So, if RMIT is not an exception to the idea of architectural patronage, or institutional branding using architecture, what then makes RMIT different, and what are the specific things that RMIT is doing to the main city campus that are of architectural interest?%br% The most significant difference is RMIT's location. Firstly, it is within the defined central business district (CBD) of Melbourne, but, more importantly, it addresses the city's most important civic street, that is, Swanston Street. Swanston Street is at the centre of the CBD grid and is the address of some of Melbourne's most important public buildings, for example the State Library and the Melbourne Town Hall. Swanston Street also forms Melbourne's most sacred axis from the Shrine of Remembrance in the Domain to the former Carlton United Brewery (CUB) site at its northern end. RMIT now owns the CUB site and is planning its development. Secondly, the RMIT campus is not defined as an isolated campus precinct but has developed as a collection of buildings within the fabric of the city. This is common for former institutes of technology. They were campuses that commonly occupied semi-industrial buildings on the edges of the city precinct. The University of Technology, Sydney (UTS) had a similar development. By contrast most Australian tertiary institutions that began as universities refer to English and US models where the campus is a philosophical and physical oasis for learning. The University of Western Australia is an example of this aspiration. One aspect of this model that was very popular in the development of Australian tertiary institutions in the 1960s and 1970s was the campus masterplan. These plans predetermined the format of the campus, including the location of buildings. In some cases they were prescriptive about the style of individual buildings. La Trobe University and Deakin University both began their lives by complying with a masterplan model.
Recent developments at RMIT's city and suburban campuses appear to be influenced by both informal and formal models. It is clear from buildings and landscaping constructed recently at the city campus that there is both a staged planning strategy for the campus and an emphasis on developing an informal relationship with the existing fabric of the CBD. Some of the most important new buildings have been designed as contextual elements in the existing CBD. This is evident in the explicit individualism of some of the buildings,, and in their references to the scale of the adjacent buildings in the street. Building 8 and Storey Hall have elaborate Swanston Street elevations that herald RMIT as an important public institution, and provide a symbolic address for the campus without necessarily providing a formalised campus entry. Building 8, which contains the main library and the student union facilities, has its main Swanston Street entry off an alley to one side of the building. This is a clear reference to the romantic idea that one of Melbourne's greatest assets is its labyrinth of secondary lanes and streets weaving pathways through the CBD. Storey Hall's Swanston Street facade refers to the scale and decoration of adjacent buildings. Building 8's much less elaborate rear facade refers more to the ordinary industrial character of the original buildings along Bowen Street.
RMIT intends to expand its collection of distinctive buildings that address Swanston Street. A proposed recreational facilities building, designed by Lyons, will be located opposite Building 8, wrapping itself around an existing building. Even more significant will be the redevelopment planned for the former CUB site. This development, which terminates the axis from the shrine, will entrench RMIT as a major public monument. Both projects will be colourful, with distinctive architectural forms as an integral part of their presence. Unfortunately both buildings have had their construction delayed due to economic and/or planning difficulties. These projects, along with Storey Hall and Building 8, are like coloured stones embedded among the ordinary buildings of the city and the former institute of technology. They are in stark contrast with the institutional uniformity of many existing campus buildings, like Buildings 10, 12 and 14, which physically dominated the site for the years. The former utilitarian nature of the campus architecture has been sprinkled with gold dust.
This new distinctive architecture has fostered a public recognition of RMIT both locally and in places distant from Melbourne. One might be cynical and say that these buildings are trinkets for attracting financial wealth to the university, and are substitutes for attracting intellectual knowledge and wealth that was once the mandate of universities. They could be seen as the corporate foyers of the university. A less cynical view of these gemstone buildings is that they reflect a history of the institution – a history of continual change, rather than a cultural institution stuck in the past. This idea of change is in contrast to a commonly held belief that the only significant culture of Melbourne is locked within its nineteenth century, Victorian architectural heritage. As a metaphor for knowledge, the reading of RMIT as a record of contemporary change seems progressive and dynamic.
As a counterpoint to the strategy of gemstone buildings contributing to new possibilities for the city, RMIT has embarked upon an alternative strategy for the planning of the external spaces between the buildings with the Urban Spaces Project by Peter Elliott Architects. This began with the transformation of Bowen Street. The recent external works have upgraded Bowen Street from a service street into a public plaza.
The changes began by constructing a new formal pedestrian entry from La Trobe Street by eliminating the security gate for vehicles entering the main the campus and then developing the space as a pedestrian quadrangle. The new quadrangle exposes and formalises the facades of Buildings 1, 2, 3 and 4 as historic artifacts, recording the origins of the campus. These are predominantly utilitarian neo-gothic, neoclassical and art deco buildings that probably accommodated the technical trades which formed the traditions of the institute of technology. Within the quadrangle the use of granite cobblestones, bluestone pavers, public furniture and lawn refers to the Melbourne City Council's preferred palette of materials in public open spaces. This tactic constructs the campus as integral to Melbourne's Victorian heritage and evokes an ironic reference to the "lawns" of more traditional and prestigious university campuses. The scale of the quadrangle has been determined by the existing conditions. The allied transformation of Bowen Street and its surroundings into a pedestrian plaza is also an attempt to beautify RMIT's previously ad hoc urban character. Again, cobblestone paving and sculptural landscape elements tie together and unify the rear spaces of various buildings facing onto the new plaza. The plaza smoothes over the tough inner core of the industrial teaching buildings that surround it. This space is in stark contrast to the cave-like entry to Storey Hall on Swanston Street, which accommodates the transient meetings of pedestrians and students negotiating hustle and bustle of the city.
RMIT is expanding the idea of external and internal sanctuary spaces in Stage 2 of its Urban Spaces Project. The acquisition of further properties such as the Russell Street magistrate's court and police buildings has encouraged the extension of a labyrinth of intermediary spaces between and within buildings. These spaces are designed not only to increase student amenity but also to consciously beautify RMIT University as a public precinct within the city.
The architectural changes that are transforming the RMIT city campus represent a combination of desires for the institution. One desire is to elaborate the urban character of RMIT's origins as reflecting the commercial exigencies of the CBD and the other is to consolidate the status of RMIT as a university. The first of these anticipates that the fragmentary quality of "brightly coloured architectural stones" cast into the city will provide the possibilities of new urban spaces without a guarantee of certainty. The second is a strategy that uses civic design concepts that are recognised as guaranteeing public acceptance and civic respectability for RMIT as a university.
Source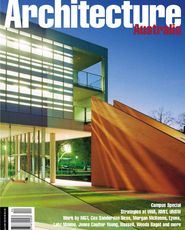 Issue
Architecture Australia, July 2001