Heller Street Park and Residences
In an inner-Melbourne neighbourhood weary of developers, Six Degrees Architects design a row of townhouses that gives parkland over to the public.
Brunswick is an inner-city suburb of Melbourne where open space is at a premium. Property values are high, so purchasing a small dwelling is the option for most. A terrace house might be affordable, but their tiny backyards are too small for children. James Legge, co-director of Six Degrees Architects, had been on the lookout for an inner-city site on which to develop medium-density, family-friendly housing next to a park. It so happened that the Moreland City Council owned some surplus land. They were under pressure from local residents to turn it into a park, but couldn't afford to take the financial risk of developing it themselves. So they offered one-third to private residential development in a tender that stipulated two-thirds must be remediated from contamination and turned into a public park. Legge and his partner joined forces with associates from McCorkell Constructions and remediation specialists Environmental Earth Sciences to tender for the project, and theirs was the winning bid.
There was great deal of distrust in the neighbourhood about a developer-driven project. It helped that the design architect was planning to live there. Even so, Legge received several calls from worried local councillors who wanted to make sure that rumours about a proposed fence going up around the park were untrue. And there is no fence. Entry is up a little rise from the footpath, between two grassy berms. Because this communal space is located on the street, not between houses, it is serving a wider community than do other "commons" developments. Graeme Gunn's Winter Park in Doncaster East for Merchant Builders (1971), for example, arranged freestanding houses in clusters around paved courts, with green space between the clusters. Yet even without a fence you are uncertain as to whether the land on which you walk is public or private.
But don't be fooled — the Heller Street project is not all about generosity to the public realm. After all, the residents effectively get a huge front yard that the council maintains. They chose to use the water collected on the roofs of the apartments to irrigate the park, rather than in washing machines or for flushing toilets. This might seem altruistic, but by watering the park themselves they can guarantee a green space even in a drought, when the council is busy switching off public fountains. The private/public ambiguity is win-win — the council saves money on maintenance and the residents get improved amenity. "We will probably do more weeding than they will," says James.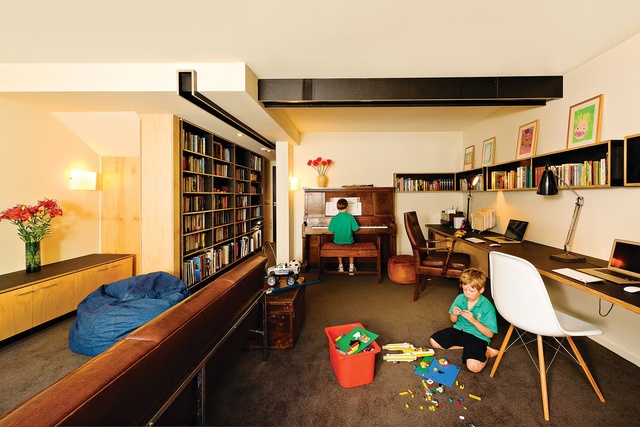 The north-facing strip of land offered by the council lent itself to the terrace-house typology, which has the benefit of shared heating and cooling between apartments, and also maximizes the public space. The three-storey townhouses are tailored for young families — each house has four bedrooms — so the park is full of kids. It is normal to find your children in another house. "And on Friday nights you usually find yourself sharing a glass of wine with a neighbour, which leads to a bottle … " says Legge. The majority of the buyers were friends, other architects, builders, planners and environmental scientists.
Some of the key public/private mediation elements are made from plants. At the moment, the lemon-scented gums in front of the apartments are just a row of saplings. They will block the views out of the apartments for a time, and limit their light. But eventually they will become very tall — simply a row of trunks between the front doors and the park. Though technically on council land, small landscaping plots in front of each unit are to be planted with the owner's selection of privacy-screening plants. Additional sun shading in summer over the porches will be via ornamental grapes or other deciduous vines.
Simon Taylor was the landscape architect on the project. "The brief was: I wanted undulation, something the kids would engage with and something you'd be comfortable sitting on," says Legge. Taylor's landscaping is not attempting naturalism. Using the soil from the half-basement excavation, he has created a new raised ground level approximately two metres above street level with a circular depression in the middle. "It's the only hill in Brunswick," jokes Legge, and the Platonic geometry makes its artificiality explicit. The circular depression creates privacy from the road, but also has the effect of further divorcing the public park from its suburban neighbours. The passive surveillance is coming from one side only — the new development. "That potentially makes it slightly uncomfortable for neighbours," admits Legge, "but I'm hoping that will change once the vegetation has grown up. Once there's a bit more of a wall, it will make this more of a public space." But it works well for the residents. "You find people lying on the slope, or sitting up the top and having a picnic, and you can still kick the footy," says Legge.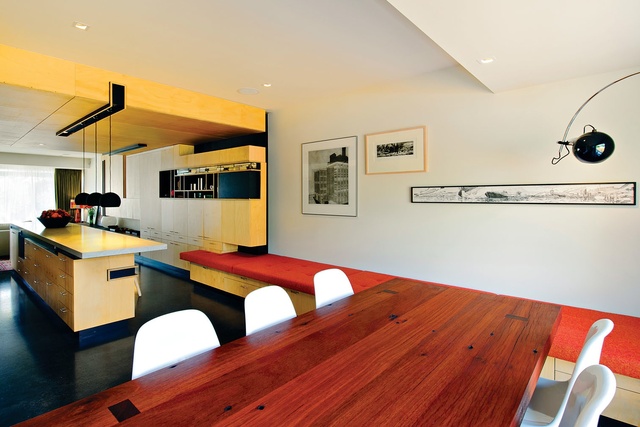 Legge was inspired by his own childhood, partly, particularly in terms of wanting to create better social connection between neighbours. When he was ten he lived for a year in an English village in a house next to a common. He remembers the 1970s as a time when more kids played on the road because there were fewer cars. He thinks of his project as being a bit like a suburban cul-de-sac in the inner city, without the cars, and grass instead of tarmac.
What role can architecture play in forming "community"? Heller Street demonstrates the role it can play in several ways. It can get out of the way, giving more space to communal open areas. It can watch over and keep public space safe. It can reduce the barriers to incidental meeting and conversation — the Heller Street development has very little division between front doors, which also reduces privacy. It can also symbolize the concept of community — the interlocking timber block aesthetic of the upper floors creates a seamless connectivity. This is a close community expertly visualized.