The rise of the co-working space as a collaborative hub has pushed at the very pointy end of workplace design in recent years. Usually peopled by small-scale enterprises, tech start-ups and creatives, co-working spaces reflect shifts in the way we think about work.
While most have individual workstations that resemble more traditional office environments, they also acknowledge that the desk might be just one site that a worker occupies throughout the day. Like many new-generation workplaces, they complement the humble desk with an assortment of meeting rooms, communal spaces and other informal working zones.
How then to combine these different modes of working in a moderately scaled office tenancy with enough flexibility for the speculative clients who may one day occupy the space, whether as regulars or occasional users?
"It's a really fine balance," says Adèle Winteridge, director of Foolscap Studio. "We try to carve out more communal space because the proportion of 'heads down' time is shifting. Our whole approach is about encouraging new ways of working."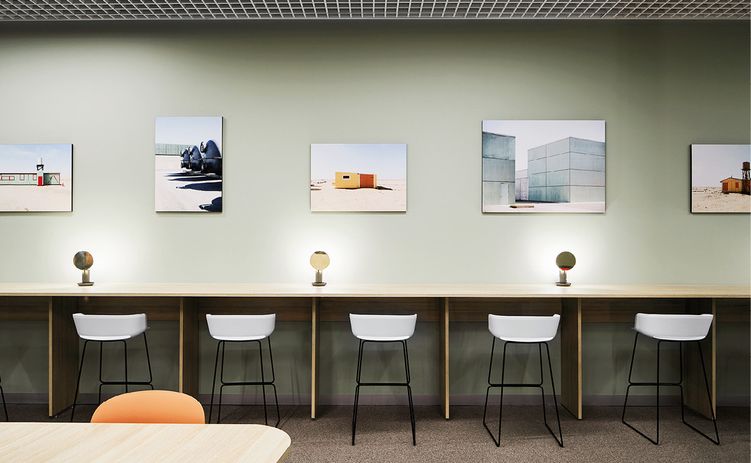 These shifting work patterns underpin Foolscap's approach for The Commons QV, the latest site for the established co-working operator, in the heart of Melbourne's CBD. It occupies an enviable first-floor space gazing out to the busy intersection of Swanston and Latrobe streets. It was previously the headquarters for developer Grocon, but in its new incarnation, it is home to an ecosystem of small businesses – an NGO, a brewery, a travel operator, an architect.
"A project like this is about options and choice. Different meetings, different types of work, different people – you've got to provide all those options," says Winteridge.
From the avocado-hued reception area, a line of private meeting rooms extends along the tenancy's northern perimeter beneath a heavyset timber beam retained from the Grocon fitout. These meeting rooms, varied in size and setup, are the most tradi tional of the site's workspaces. Opposite, a weighty grey curtain undulates like a theatre's cyclorama, wrapping around a suite of informal meeting spaces – cafe-style tables, in-built banquettes and a standup cubicle with whiteboard walls.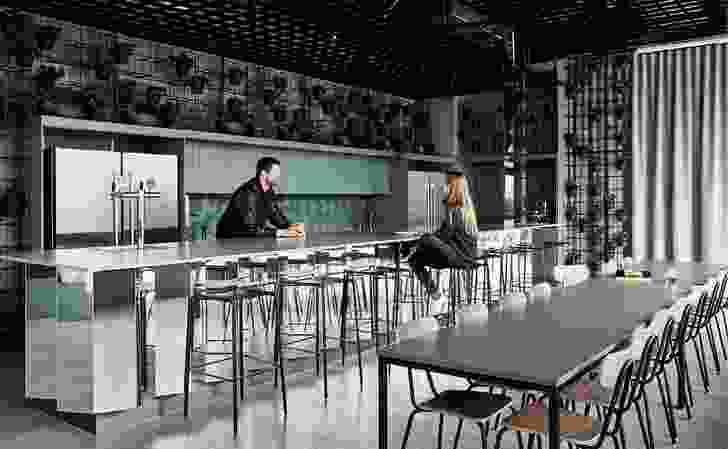 For The Commons QV's occasional users, there is a glass-enclosed quiet space, but permanent tenants occupy assorted private offices and the dedicated desk area along the Latrobe Street frontage. For this space, Foolscap prototyped the individual workstations – arrayed in banks of four, six and eight desks – extensively. The central upright unit of each bank gives the individual workstations a pinboard, an open storage space and a lockable cupboard. They are compact but clearly efficient. A narrow gap between the upright elements creates a kind of porosity, enabling easy conversation with neighbouring desks while also providing privacy when there's quiet work to be done.
It is this dedicated desk zone that perhaps best exemplifies the collaborative spirit of this project. It's like a microcosm of working life in the twenty-first century: individual micro-businesses operating side by side. Despite The Commons QV having been open for only three months when I visited, tenants had already nestled in. Some are tidy, some less so. Against a pillar, a small-scale food company has installed a set of demountable shelves laden with health-oriented snack foods. In another corner, an electric scooter sits alongside a bowl of water for one of the office's four-legged tenants.
"All the fittings are super durable. It's that old hospitality principle, that things need to be bulletproof," says Winteridge. "Ergonomics and comfort first, durability second and then aesthetics."
What's evident in the project's communal spaces is Foolscap's nuanced understanding of what makes a co-working space work. There's a high-tech golf simulator for client enter tainment or a break from desk work. Nearby, a cocoon-like sensory room, wrapped floor to ceiling in a plush, sound-deadening carpet, is designed for moments of repose.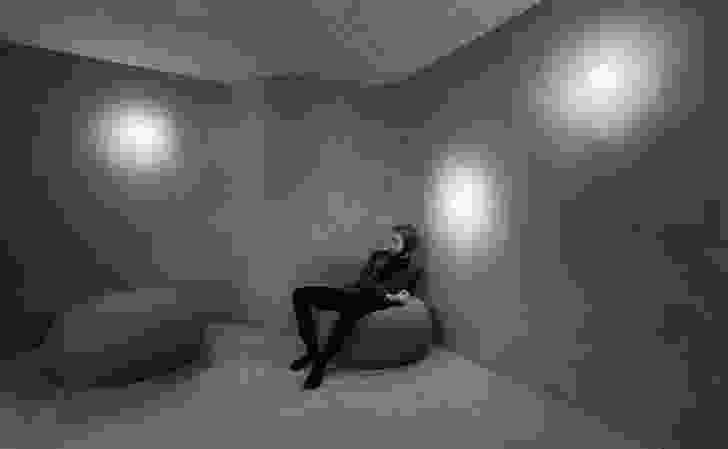 The project's centrepiece, though, is the carpeted amphitheatre alongside the communal kitchen. Beneath an array of bulbous paper lanterns, its carpeted steps in graduating blues and greys rise up to the record lounge, a generous space for informal meetings or musical interludes. The kitchen's wide island bench with in-built beer taps looks out to rows of long dining tables. Alongside, behind a two-ply dove-grey curtain (one side a heavy fabric, the other a high-tech mesh), a quiet library zone nestles in the sliced and faceted corner of the external architecture.
"It's so satisfying to see people using the space in the way it's intended to be used – but also in other ways!" Winteridge says. "It's been in our minds and on paper for so long – once it's been built and people use it, that's when we know we've added something new and different and innovative."
Products and materials
Walls and ceilings

Walls and ceilings: Suspended grid ceiling from Armstrong Ceiling and Wall Solutions. Acoustic pinnable surfaces from Woven Image.
Flooring

Engineered oak flooring from Havwoods. Broadloom carpet in amphitheatre by Supertuft.
Furniture

Task chairs from District. Neo meeting chair and ottomans from ECF. Floor cushions in amphitheatre from Lightly. Pavesino chair in kitchen from Obodo. Lanna wall garden from Arko Furniture. Ellis curved bench from Grazia & Co. Baso side table from SBW. Custom meeting table from James Richardson Furniture.
Joinery

Quantum Quartz benchtops and reception desk from WK Marble & Granite.
Other

Kvadrat Maharam & Warwick Fabrics drapery. Kvadrat Maharam and Instyle upholstery.
Credits
Design practice

Foolscap Studio
Melbourne, Vic, Australia
Project Team

Adèle Winteridge, Madeline Freeman, Sri Boriharnvanakhet, Samuel McIntyre. Emily Minchin, Aaron Shipperlee, Holly White
Decorative lighting

ISM Objects and Light Project

Consultants

Architectural lighting Ark Lighting
Builder Schiavello
Engineer Norman Disney Young
Project manager Riverlee

Aboriginal Nation

Built on the land of the Woi Wurrung and Boon Wurrung language groups of the eastern Kulin nations.
Site Details

Location Melbourne, Vic, Australia
Site type Urban

Project Details

Status Built
Completion date 2019
Design, documentation 4 months
Construction 4 months
Category Commercial, Interiors
Type Workplace

Source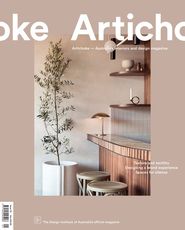 Project
Published online: 25 May 2020
Words: Peter Davies
Images: Willem-Dirk du Toit
Issue
Artichoke, March 2020
Related topics