We have experienced a design revolution in the corporate workplace over the last fifty years. Let's start by looking at the set of the Sterling Cooper office from the television series Mad Men. Designed with incredible detail by Amy Wells and Dan Bishop, the series follows the life of creative advertising executive Don Draper at a New York advertising agency during the 1960s.
At Sterling Cooper, expansive, male-dominated executive offices line the external perimeter of the floor plate, depriving the internal spaces, where the mostly female staff work, of any real natural light. There are no common leisure or break out meeting spaces, unless you count the utilitarian tea room or the well-stocked bars and elegant seating in each of the executive offices. Staff functions are held in the typing pool in between the desks which are laid out in neat lines just like an old-fashioned classroom. While the office planning sends a shiver down nearly every designer's spine, the aesthetic is beautifully elegant and restrained. Chairs match tables, the walls are panelled with a single timber species, the branding is subtle and the colour palette is limited to subdued coral pinks, foam greens and china blues. The reception foyer is beautifully simple too, with a low-slung, rectangular desk veneered to match the rear wall panels while the main building foyer is unashamedly sparse, massive, modern and intimidating. The interior design sends a clear message that this workplace is corporate and unapologetically hierarchical.
In the present day, we continue to design massive entry foyers in our corporate buildings but have done away with the intimidating sparseness. We feel a need to activate these spaces and make them as non-corporate and as "friendly" as possible. This has resulted in the popularity of the foyer cafe. Sometimes these are smartly controlled to align with the corporate brand but, more often than not, leave us with uncleared tables, delivery boxes and disorganized groups of replica designer chairs as a first impression. What started as a welcoming entry has ended with corporations leaving the first impression of their brand in the hands of small operators, franchisees and coffee chains.
The non-corporate aesthetic has continued from the foyer and into the interiors. We have finally worked out that natural light is good for everyone. Most executives have finally let go of their offices and are happy in open plan workstations, the need for privacy replaced by strict employee confidentiality agreements or open information policies. In some cases, individual ownership has been replaced with hot-desking, making use of spaces left by those on the road or on leave. There is often not much difference between the space of a junior or senior staff member – something that is easier to achieve because those in the typing pool, renamed "the call centre," have been moved to cheaper real estate off site.
There has been a huge increase in workplace amenity, which is considered a benefit to attract and retain the workforce. The addition of these spaces has also helped the employer to soften the blow for long working hours. Transparent meeting rooms have replaced the perimeter offices and the exclusive executive seating groups and bars have been superseded by hospitality-style shared break out and entertainment areas. These are designed to resemble a local bar or a dream kitchen, merging residential and hospitality amenity and resulting in a new direction in corporate aesthetics. Restrained and hierarchical design is out; eclectic, witty and warm is in. Country kitchen boardroom tables are contrasted with mid-century-modern chairs, while a mixed bag of feature pendants hang above "fun" custom rugs and ottomans. Every space needs to have its own personality. Unfortunately, unless the designer has the talent of Patricia Urquiola or a client who is prepared to pay the substantial fees required to develop these individual zones, the result can resemble a kids' playroom more than a serious workplace.
So, with all of this change, have designers and architects been successful in designing better workplaces? The principles of planning have definitely improved with a recognition that light and amenity should be generally accessible to everyone, but I'm not so convinced about our approach to aesthetics. Is it so bad for an office to reflect the fact that it is hierarchical and serious? Is it so wrong to fantasize about the elegance and restraint of Don Draper's office?
Source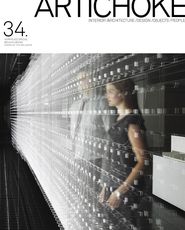 Discussion
Published online: 3 Oct 2012
Words: Kirsten Stanisich
Images: AMC / the Kobal Collection.
Issue
Artichoke, March 2011
Related topics